Qingyang sachets [Women of China English Monthly]
The "fragrant sachet," with embroidered patterns, was created by rural Chinese women during the Han Dynasty (202 BC-220 AD). For millennia, Qingyang, a city in Northwest China's Gansu Province, has been known for its exquisite "fragrant sachets." In 2006, China added the "fragrant sachets" to the list of the country's items of intangible cultural heritage.
The Book of Rites, one of China's Confucian classics (composed by Dai Sheng during the Western Han Dynasty [206 BC-25 AD]), indicated embroidered brocade sachets (that contained perfume) were popular among Chinese — especially among young people, who wore the items around their wrists, necks or waists — during the dynasty. The items were popular during the Tang (618-907) and Song (960-1279) dynasties. Back then, Qingyang's male officials and women from well-off families wore sachets filled with traditional Chinese medicine (TCM) rather than perfume. During the early Qing Dynasty (1644-1911), young Chinese used the sachets as tokens of their affection.
In 2001, archeologists discovered a sachet, embroidered with patterns of plums and lotus flowers, in Qingyang. The sachet, which dates back more than 800 years, is believed to be the oldest sachet ever discovered in China.
The bright-colored Qingyang sachets, which come in different shapes (such as the heart, a gold ingot and the butterfly), are the result of women's wisdom. In addition to characters and plants, auspicious patterns, such as a dragon and a phoenix, are embroidered on the sachets to represent prosperity and good luck. Other patterns include mandarin ducks, playing on water, to symbolize a devoted couple living in peace and harmony, and cranes under pine trees, to symbolize longevity.
Of the Qingyang sachet s , the ones created by craftspeople with Qingyang Lingyun Clothing Co., Ltd., tend to stand out, especially in terms of appreciation and artistic and practical value.
Zhang Zhifeng, chairperson of the company, is an inheritor of the craft (of making sachets). She is a State-level master of arts and crafts.
In August 1997, Zhang established the company. She has invested a lot of time and energy in starting and developing her business over the past two decades. Now, the company employs more than 200 craftspeople, including several people who are both deaf and mute. The company every year produces more than 40 million yuan (US $5.97 million) worth of products, including clothes and sachets.
The company collects the sachets created by (rural) craftswomen, and processes the products before selling them. The products have been selling well, both at home and abroad.
The company in recent years has established a sachet-production base and an embroidery-training center, which has provided training courses to more than 3,000 women, including housewives and unemployed women, to teach them how to make the items. Given the craft's smooth development, more job opportunities have been created for the women.
Given Zhang's tremendous efforts to help women find work and promote the development of Qingyang's craft of making sachets, she has received many awards throughout the years. For example, she has been named "A Qingyang Woman Model Worker," "Qingyang's Outstanding Entrepreneur" and "Qingyang's Star Woman Entrepreneur." As a result, Zhang has become somewhat of a celebrity in Qingyang.
In recent years, Zhang has won many prizes for her sachet designs during the exhibitions hosted by the All-China Women's Federation (ACWF), to highlight the federation's efforts to help women find work and/or start a business.
During the past few years, Zhang and her employees have put a lot of effort into improving and innovating the technical skills used to make sachets. They have also integrated modern artistic elements in their artworks' designs. Given the ingenious designs, and the superb workmanship, an increasing number of people the world over have become fascinated with the works of art created by the craftswomen.
In 2004, Zhang promulgated standards for the designs, raw materials and production of Qingyang's sachets. The standards are the first of their kinds in China. In 2013, the company held an exhibition in Dubai, a city in the United Arab Emirates, to promote its sachets.
Zhang in recent years has arranged for her employees to go abroad to participate in many cultural activities, during which the employees have shared their experiences in making sachets with craftspeople in other countries. Zhang said she hopes more visitors, from home and abroad, will have a better understanding of Qingyang's traditional culture through the exquisite sachets created by her company.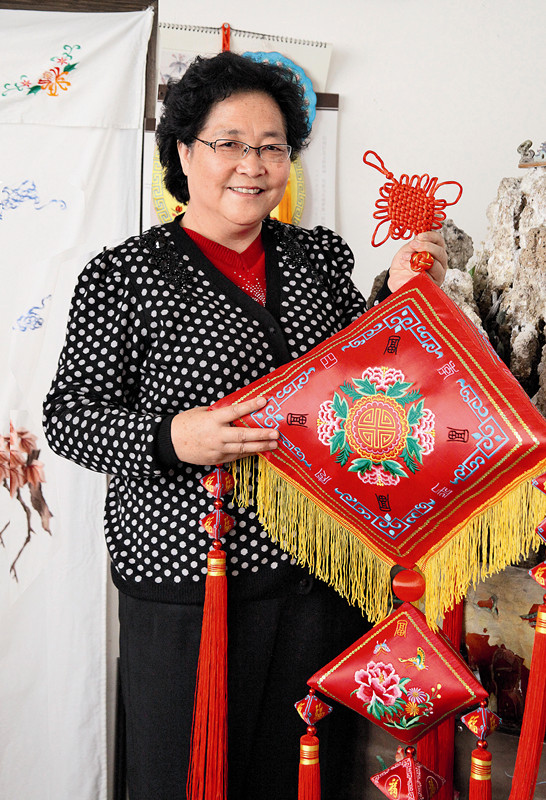 Zhang Zhifeng [Women of China English Monthly]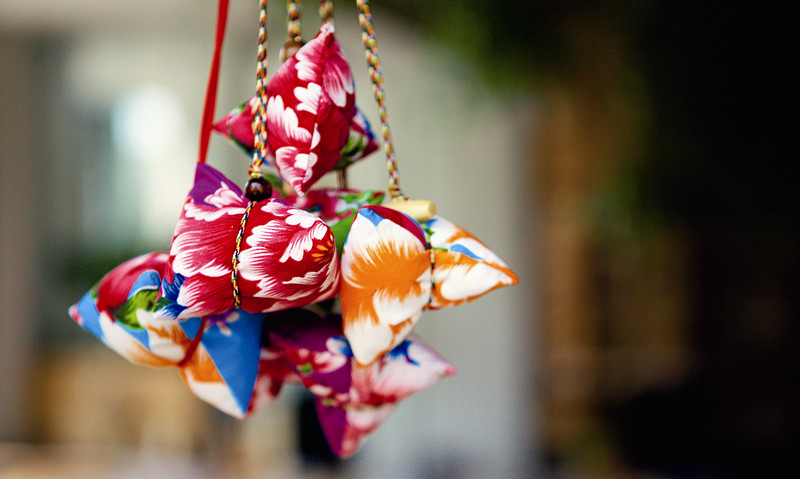 Qingyang sachets [Women of China English Monthly]
(Source: Women of China English Monthly June 2017 Issue)