The Chinese giant panda enters world of famous paintings. [Xinhua]
Along, a Shenzhen-based online illustrator, is fond of China's national treasure - the giant panda.
Recently, he has combined the panda image with various internationally renowned paintings, causing an internet sensation.
"He is so imaginative and I love his paintings. Chinese giant pandas are born to model and can be easily adapted into so many oil paintings," Weibo user Cao Xiaoli said.
According to the illustrator, he has been planning to do these creative paintings for some time, and is glad that so many people like his style.
"I not only pay attention to Chinese traditional paintings, but western masterpieces, and I want to show that the Chinese panda not only matches well with Chinese style elements, but stands as a potential image for world culture," he added.
Now, let's check out what it looks like when the Chinese panda steps into the world of famous paintings.
Portrait of a Flower-wearing Maid by Chinese painter Zhou Fang of the Tang Dynasty (618-907) [Xinhua]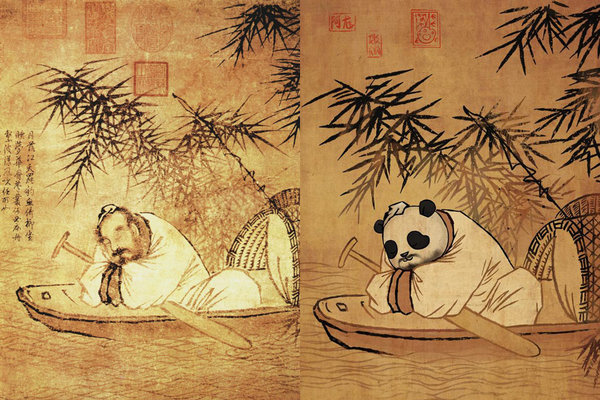 Qiuqiang Yuying, a traditional painting describing a man living as a recluse. [Xinhua]
Emperor Kangxi Reading a Book painted in the Qing Dynasty (1644-1912) [Xinhua]
Dunhuang Rebounding Lute painted in the Qin Dynasty (BC221-BC 207) [Xinhua]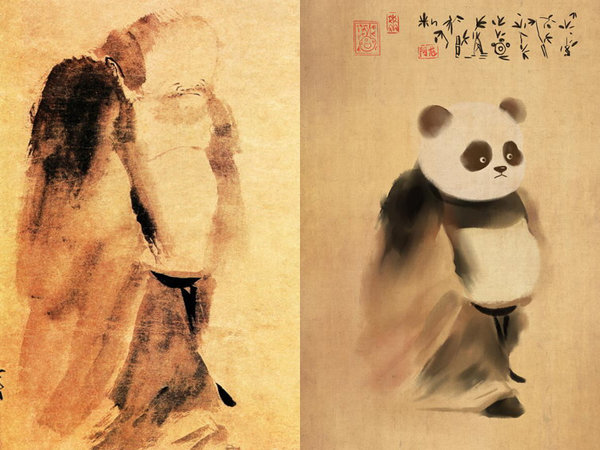 Splashed-Inked Immortal by painter Liang Kai of the Southern Song Dynasty (1127-1279) [Xinhua]
Painting of Emperors of Past Dynasties by painter Yan Liben [Xinhua]
(Source: China Daily)
Please understand that womenofchina.cn,a non-profit, information-communication website, cannot reach every writer before using articles and images. For copyright issues, please contact us by emailing: website@womenofchina.cn. The articles published and opinions expressed on this website represent the opinions of writers and are not necessarily shared by womenofchina.cn.