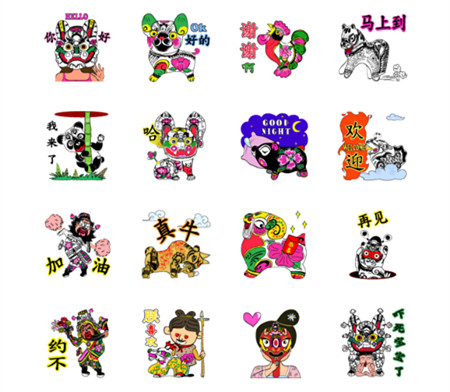 A set of WeChat emoji based on traditional clay sculptures [Xi'an Daily]
A French woman who lives in China has produced a series of online emojis featuring characters inspired by traditional clay sculptures that she encountered in the country.
The woman, called Meishan, met her husband Huang Zhen in Europe and later, in 2014, chose to settle in the city of Xi'an, northwest China's Shaanxi Province.
Being particularly fond of local culture, she became fascinated with the cheerful ornaments after receiving one from her friend as a gift.
Later, Meishan and her husband paid a visit to the place where the sculptures are made, in the town of Fengxiang, and met with a local expert named Hu Xinmin.
There, the three decided to promote the figurines online and Meishan set about designing small animated cartoons which can be used within messages on the popular social media app WeChat.
"We designed a group of 16 emojis featuring animals and people. Also, I added some movements, and humorous words in order to better reveal the sculptures' implied meanings," Meishan explained.
"Each expression has a unique story. For example, the most famous time the character of 'Wealthy Goat' has appeared was on a set of stamps," she said.
"In comparison, we drew the animal as sending red envelops while carrying a huge peony on its back, which implies both happiness and prosperity," she explained.
The innovative artistic creations have gained huge popularity on WeChat. Over 1,900 people downloaded the sticker set within 14 hours of its release, Meishan reported.
Moreover, she hopes her next design project can introduce this particular Chinese cultural element to children via illustrated books.
(Source: Xi'an Daily/Translated and edited by Women of China)