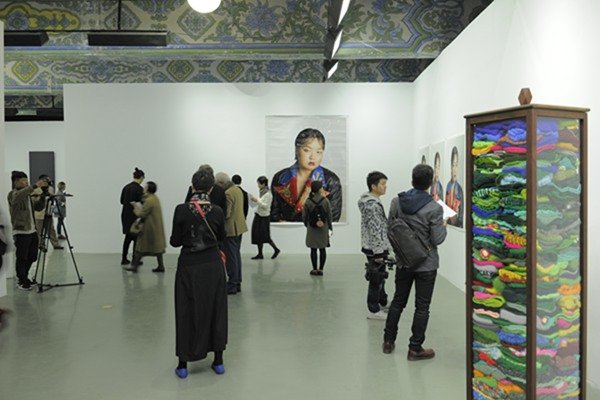 Finalists of the Yishu 8 Prize show their works in Beijing. [China Daily]
The nomination of three young female artists for the Yishu 8 Prize, a project funded by philanthropists from China and France, is reflective of changes in Chinese society and art circles, according to the award jury.
The jury comprises museum directors, curators and artists from home and abroad.
The finalists' ongoing exhibition, titled As the Story Goes, started on April 8 in Beijing and displays installations, videos, sculptures and photos by Zhang Ruyi, Hu Yinping and Cao Yu, all of whom were born in the 1980s.
Xia Yanguo, the show's curator, says huge changes have taken place in China's contemporary art scene in recent years, especially seen through the evolution of both artists and audiences.
Zhang, an artist from Shanghai and the winner of the prize, focuses on materials with industrial significance, such as concrete, tiles and bricks, to demonstrate human emotions that can't always be described in words.
Fellow artist from Beijing, Hu, mainly discusses the subject of identity in large photos of herself copying strangers' dressing styles that she found online.
And Cao, a 29-year-old artist from Beijing, uses her body as a medium by filming it after the birth of her child.
"One is questioning modernity, one is questioning identity and another is questioning femininity - very interesting," says Christine Cayol, founder of Yishu 8, the nonprofit that manages the award that funds an artist's residence program in Paris.
Cayol says the jury was surprised to find that the finalists were all female following a selection process which hides the identity of the candidates from the panelists until it's over.
The art language and the attitudes of the artists are very innovative, indicating changes in society, she adds.
For instance, Hu printed out six of her portrait pictures, in which she copies the dressing styles of strangers she came across online. She made various identity cards with each shot.
Artists in China used to focus more on collectivism, but now there's emphasis on individualism, especially from a female point of view, says Cayol.
After living in China for more than a decade, Cayol says she's seen women come a long way. And, female artists have also grown in numbers here.
For the artist Zhang, the word "gender" does not exist in her dictionary. She tries to turn invisible feelings of individuals to concrete things in her sculptures.
"Her works are rational. She is very good at transforming industrial materials," says Xia.
Cayol adds that Zhang's works create a poetic sense.
Zhang graduated from the fine arts school of Shanghai University in 2012. For three years after that she taught painting to children to support her career. She says she explores feelings such as depression and anxiety through her pieces using common industrial materials.
The 32-year-old recently married another artist. She says the pressure on women from parents to get married is gradually reducing because these days more women live in big cities for work and have the freedom to pick the time of their marriage.
As the winner of the Yishu 8 Prize, Zhang can stay in Paris for two months to work on her art and hold a solo show there.
Since it was established in 2012, Yishu 8 has supported many young talented Chinese artists.
If you go
10:30 am-6:30 pm, until May 10. 20 East Huangchenggen North Street, Dongcheng district, Beijing. 010-6581-9078.
Finalists of the Yishu 8 Prize show their works in Beijing. [China Daily]
(Source: China Daily)