Cui Xueqin [Women of China/Zhang Ping]
Zanhuang, a county in Shijiazhuang, capital of North China's Hebei Province, is known for its soft, durable handwoven cloth. Yuancun (a village in Zanhuang County) Handweaving Cloth Cooperative in recent years has strived to revitalize the traditional craft. The craft was added to the list of Hebei's items of intangible cultural heritage in 2013. Also that year, Hebei Department of Culture included the cooperative on the list of the province's experimental bases to protect intangible cultural heritage. Cui Xueqin, the third-generation inheritor of the craft and president of the cooperative, during the past decade has put a lot of effort into promoting the craft, and into helping local women attain greater wealth by selling their handwoven cloths.
Cui is proud of both her mother and grandmother. Wang Yuhong, Cui's grandmother, was the first-generation inheritor of the craft. She made the first loom in the village, and she taught many women how to use the loom to weave cloth.
Wang in 1951 adopted an orphaned girl, named Qin Xichen, who was then 12 years old. A few years later, Qin began studying how to weave cloth under Wang. Under Wang's guidance, Qin became the second-generation inheritor of the craft.
"My mom moves her hands so nimbly when she weaves cloth that one can hardly believe she is 87 years old," says Cui.
In 2006, Cui decided to fulfill her mother's wish to promote the craft's development. So, she returned home after she quit her job in downtown Shijiazhuang.
Under Qin's guidance, Cui and several villagers collected soil and tree leaves, which are used to dye the cloth, on the mountain near the village.
Since dozens of years ago, when China began using machines in the textile industry, few people have woven cloth by hand. Therefore, Cui had a hard time preparing looms (to weave cloth) before she opened a store in Shijiazhuang to sell cloth woven by Yuancun's residents. She went to dozens of villages, in several of Zanhuang's neighboring counties, to buy looms from the villagers. Eventually, she bought and repaired more than 350 looms.
In August 2007, Cui established Yuancun Handweaving Cloth Cooperative in downtown Shijiazhuang. The cooperative is the only enterprise that produces and sells handwoven cotton products in China. As a result, Cui has become somewhat of a celebrity in Shijiazhuang.
Given Cui and her employees' efforts to develop the business, the cooperative has evolved into an enterprise with an annual output value that exceeds 50 million yuan (US $7.69 million). The cooperative is known for its top-quality woven products, including clothing and bedding. The products have been selling well, both at home and abroad.
The cooperative has a cloth-weaving factory and eight cloth-processing plants. The cooperative collects the woven products made by Yuancun's residents, and it processes the products before selling them. Given the sound development of Cui's business, she has been able to employ more than 2,500 villagers to work for her cooperative.
Cui and her employees in recent years have invested much time and energy in developing the skills needed to make the crafts. To make the cloth, craftspeople must complete more than 70 complicated procedures, including collecting and spinning cotton, and dyeing and weaving cloth.
"If you want to stay fit and be fashionable at the same time, wearing clothes made with our handwoven cloth is an ideal option. Why? Compared with machine-made cloth, our cloth is softer, and it does a better job of 'massaging' the skin and preventing static electricity," says Cui.
To meet people's aesthetic preferences, many craftswomen integrate traditional Chinese and Western cultural elements when they design patterns on cloth.
"We must use natural, pollution-free materials to produce our products, and we must guarantee the products' quality, so more people will receive the items' health benefits while they use them," Cui has reportedly told Chou Sha, her daughter. Chou is the fourth-generation inheritor of the craft.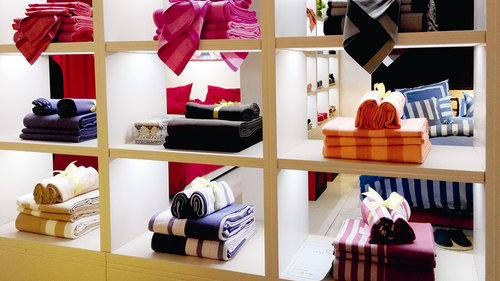 Exhibited handwoven cloth products [Women of China/Zhang Ping]
Exhibited handwoven cloth products [Women of China/Zhang Ping]
Exhibited handwoven cloth products [Women of China/Zhang Ping]
(Source: Women of China English Monthly November 2016 Issue)