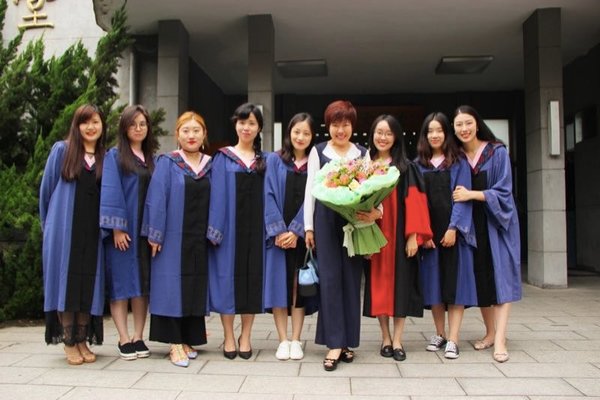 Yu Dan (R4) and graduates [Women Voice]
A renowned Chinese scholar recently shared her unique philosophy and ideas on life with graduates during the annual "moving-off-campus" season.
Yu Dan, who is also a bestselling author, delivered her speech highlighting the hardships students may encounter in their later lifetime.
As a media studies professor at Beijing Normal University, Yu suggested three tips to deal with "necessary lifetime lessons".
Tip 1: Don't Be Bothered by Any Pseudo-propositions
Many problems young people encounter nowadays are actually fake. The internet exaggerated those difficulties, leaving people angry or stunned.
In fact, real, unavoidable problems await us in the society, such as career dilemmas, relationship worries and family disputes.
In a TV program, I asked some young people to give an evaluation about themselves.
One young man said: "After graduation, I lived in a basement with my girlfriend in Beijing. My meager salary prevented me from enjoying any out-eating meals with friends."
This is a typical pseudo-proposition because his stay in Beijing already out-competes his peers.
Moreover, his strong capability for a human relationship can be shown from the stable relationship with the girlfriend and regular meal invitations from friends. This quality would further enable the student to pursue a higher social status, which is just a matter of time.
In conclusion, the pseudo-proposition implies a chance for correcting self-evaluation, which serves as the starting point of a logic to make connections with the world.
Therefore, we should avoid being stuck in any fears caused by those pseudo-propositions.
Tip 2: Be Responsible for Your Own Life
In China, the offer of a university only proves a student's academic capabilities, instead of one's living abilities in social life.
Life is like a school without setting a definite graduation date. To obtain a lifetime certificate, one should learn to be responsible for his or her own life.
Ancient scholar Zeng Guofan (1811- 1872) once said, "Laziness builds a mediocre person, and arrogance makes a person neglect others."
In short, both laziness and arrogance are human defects. To overcome them, we can start by getting up early and never teasing people. Otherwise, there would be a situation shown by another proverb saying "an idle youth, a needy age."
Tip 3: Miseries Are Disguised Blessings
People tend to say blessings, for example phrases like "We wish you all the best."
Actually, everybody knows the truth that life cannot be going well all the time. Moreover, frustrations may be normal. In my opinion, lifetime hardships are disguised blessings that we are destined to experience and accompany.
Please keep the quote of Confucius (551–479 BC) in mind: "There are three marks of a superior man: being virtuous, he is free from anxiety; being wise, he is free from perplexity; being brave, he is free from fear."
In the end, I hope everyone could embrace a better person in future. And it is my pleasure to meet the great people of our youth on campus.
(Source: Women Voice/Translated and edited by Women of China)