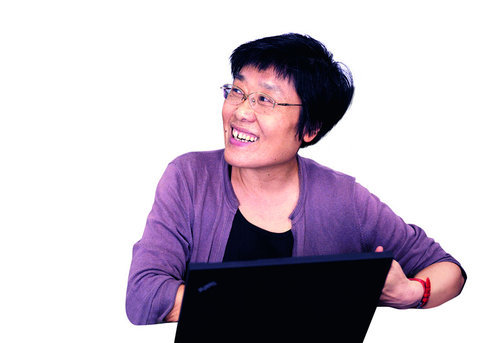 Liu Bohong, a professor at China Women's University [Women of China English Monthly]
Yu Xu, one of China's first and arguably best-known female fighter pilots, died in an accident during routine flight training on November 12, 2016. Her death resulted from a failed parachute jump as her plane crashed in Yutian County, in North China's Hebei Province.
Yu was born in 1986 in Chongzhou, a city in Southwest China's Sichuan Province. She joined the People's Liberation Army (PLA) Air Force in 2005. Four years later, she graduated from Aviation University Air Force and became one of the first group of female fighter pilots in China. She joined the PLA Air Force August 1 Aerobatics Team in 2013. She was one of the four female pilots in China capable of flying the third generation of jet fighters. She served as lieutenant and flight squadron leader.
In 2009, she piloted a training plane during the military parade that marked the 60th anniversary of the founding of the People's Republic of China. She participated in the air shows in Zhuhai, in South China's Guangdong Province, in 2014 and 2016. Her nickname was Gold Peacock, because she was good at singing and dancing, and because she was gorgeous like a peacock. As a top-level pilot, her life was brilliant but too short.
Upon hearing the bad news, men and women, old and young across China mourned Yu and expressed their deep regret about her death. Air Force service members from several other countries spoke highly of Yu, and they expressed their condolences to Yu's family. On the Internet and various social media platforms, netizens discussed topics about the air force, female pilots and heroes. Whether women are capable of piloting fighter jets, participating in air campaigns during war and/or performing aerobatics have become hot topics since Yu's death.
Who Says Women Cannot Pilot Fighters?
In early 1951, China's Air Force began recruiting and training the first group of female pilots soon after the founding of new China. During the past 60-plus years, the Air Force has recruited 545 female pilots, in nine batches, and 328 of those pilots have graduated to become Air Force pilots.
Most of them have piloted various types of transport aircraft, and have successfully participated in military exercises, delivered material readiness and joined rescue and relief work. They have also flown charter flights, and performed flight tasks related to artificial rainfall enhancement and aerial and scientific research. Fifty-three percent of the women pilots have become special-level or first-level pilots. Many of the female pilots hold various leadership positions. Three of the women — Yue Xicui, Liu Xiaolian and Cheng Xiaojian — have become generals.
In 2005, for the first time, China's Air Force recruited female fighter pilots. Thirty-five women were selected from among 200,000 applicants. On April 2, 2009, 16 of those women graduated from the Flight Academy Air Force, and they formed China's first group of female fighter pilots. Thus, China became the eighth country to have female fighter pilots.
In 2013, four of the 16 female fighter pilots qualified to pilot China's third generation of fighter jets (J-10 and J-11), and to perform aerobatics. Yu was one of the four. Those women were among the country's top fighter pilots.
According to statistics provided by Chinese Air Force, 16 countries in the world, including China, the United States and the United Kingdom, have female pilots. Of those countries, eight — including China, the US, the UK, Germany, Spain, Israel and Pakistan — have female fighter pilots. Many foreign female pilots are capable of flying the third-generation fighters, or even the fourth-generation F22 fighters. The women are every bit as good as their male counterparts.
On May 5, 2015, Lt. Col. Christine Mau became the first woman in the US Air Force to pilot the fourth generation of F-35A Lightning II fighters. She is satisfied with her job. "I like my job in the Air Force," she has said. "The fighter treats everyone equally, regardless of gender. All you need to do is to pilot the fighter, and to finish your task." Mau joked that the difference between her and a male pilot was that "I wear a smaller-sized flight suit and helmet." The US Air Force has more than 200 female fighter pilots.
Who Says Women Should Stay Out of Wars?
Shortly after Yu's death, some netizens resumed the cliché that women should stay away from wars. "As men, we should fight in wars. Women should stay at the rear. It is not discrimination against women. We have different roles," one netizen wrote. Such people should know that throughout history women have never shied away from wars. Many people, though, tend to forget, or they just don't realize, that women have a long history of participating in wars.
The first documented female fighter pilot participated in World War II. After the War on the Eastern Front broke out in June 1941, the then-Soviet Union Air Force, at the request of women, recruited three groups of female pilots. During the following three years, thousands of female pilots flew 23,672 times, and they dropped 100,000 bombs. The German soldiers were frightened and they called the female pilots "horrible angels."
Lydia Litvyak was a talented pilot. She flew 168 missions and individually shot down 12 enemy planes. She also assisted squadron mates in downing three enemy planes. She died in a firefight just 17 days before her 22nd birthday. She was honored as a heroine.
The experiences of the then-Soviet Union's female pilots are proof that women have never shied away from wars, and that women have demonstrated their strong will and made contributions to their home countries during wars.
The US abolished the prohibition against women to pilot fighters in 1993. In the same year, Jacquelyn Parker became the first woman pilot in the world who was capable of operating an F-16 fighter jet. She piloted an F-16 and defeated the pilot of an F-15 fighter jet during a combat training. Nicole Malachowski became the first female pilot in the US Air Force's Thunderbirds Aerobatics Team. She piloted F-15 and flew 26 missions during US military operations in Kosovo and Iraq.
Sue Gardner has the most-extensive combat experience of the female pilots in the UK's Royal Air Force. She flew many missions in southern Iraq before the war in Iraq.
In modern times, fighter jets have become highly automatic and electronic. Piloting a fighter jet is not entirely a matter of physical strength. Women call for "gender equality in cabin" and gender equality in all fields. Women regard fighting in wars and opposing wars as their shared responsibility.
Who Says Women Cannot Perform Aerobatics?
Aerobatics pose a great challenge to pilots. It is referred to as "dancing on the point of a knife." Are women capable of such flying maneuvers that demand such a high level of intensity and difficulty? Yu once said frankly that women's sense of space and sense of direction were not as good as men's, but that women could make up for it through training. She said she was proud that she was an aerobatics pilot.
Malachowski, born in 1974, graduated from the US Air Force Academy in 1996. She participated in the Thunderbirds' show for the first time in 2006. Prior to that, she had flown 2,100 hours, and she had more than 300 hours of operational flight time. As an F-15 instructor, she is not in any way inferior to the male pilots.
Experiences in several countries reveal that female pilots have many advantages over their male counterparts. For example, they are careful, thoughtful and sensitive, and they exceed men in terms of manipulating weapons, using precision instrument and terrain recognition. Women's heart function is also stronger than men. Therefore, we have no reason to underestimate women, even after Yu's death. On the contrary, we should draw lessons from the past, select pilots more strictly and train them in a more strict and scientific manner. That is the way to support and care for female pilots.
Yu said she never regretted being a fighter pilot. She also said her dream was to become a female astronaut. She fought for her dream throughout her life. She was a pioneering woman in aviation. She challenged her limits and overcame the "impossibilities." Yu created miracles and she set an example for hundreds and thousands of women. Sacrifices are unavoidable if people want to make progress. Let us follow the martyr's footsteps and forge ahead dauntlessly.
The author is Liu Bohong, a professor at China Women's University.
(Women of China English Monthly December 2016 Issue)