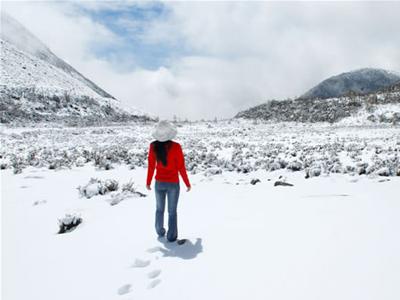 A woman stands in the snow. [Women Images]
We must take a gender perspective in making policies, measures and strategies to deal with climate change. We must empower women to ensure they exercise their full potential as we deal with climate change. Why? That will help women move beyond their insecurities, and it will help increase society's ability to cope with climate change, so that we can guarantee society's sustained development.
Climate change is a hot issue globally; in fact, it is an issue that affects all of us, even in daily life. Climate change knows no boundaries; many suggest it harms people, regardless of race and gender, while others suggest climate change, at least in part, contributes to the rising number — and severity — of natural disasters.
The effects of such disasters are not limited by gender. However, bias embedded in society emerges during such disasters; for example, in the movie Aftershock (2010), a mother chooses to save her son when asked by rescuers if she wants them to rescue her son or daughter first.
In China, most of the governments' statistics regarding victims of natural disasters fail to identify the victims by gender. That may be the result of ignorance about gender perspective when dealing with climate change and natural disasters.
Overseas
Gender inequality — especially in terms of accessing social resources, enjoying opportunities and rights, participating in social development, and having fair access to salaries and benefits — still exists in most regions of the world.
Women generally have a lower position, compared with men, in the home and society, and that lower social standing leaves the women, especially those who are living in poverty, sidelined and more vulnerable to the climate change.
First, compared with men, women are much more likely to die in natural disasters. Eric Neumayer and Thomas Plumper, two famous economists, researched natural disasters that occurred in 141 countries between 1981 and 2002. They discovered that the disasters killed more women than men, and that the female victims tended to be younger than the male victims.
For example, 90 percent of the 140,000 people who died during the 1991 tornado that ravaged Bangladesh were women. In 2004, the tsunami in the Indian Ocean killed two times more females than males. When Hurricane Katrina ravaged New Orleans in 2005, most of the trapped residents were African-American women (the poorest people in the area) with their children.
Second, water shortages, caused by climate change, are threatening people's health and placing greater pressure on women. Presently, nearly 2.4 billion people, most of whom live in developing countries, lack clean drinking water. Women in underdeveloped countries do most of the housework, and they walk long distances to fetch water.
Third, climate change contributes to crop failures and the extinction of various species, and such developments affect food safety and women's lives. In developing countries, most of the women work on farms, which means women are responsible for more than half of the world's crop output.
Given the extreme climatic conditions globally, some experts predict Africa's crop output will soon fall 20-50 percent. By the end of 2050, they add, between 18-35 percent of all species — including some herbs and traditional crop plants — will be eliminated. Therefore, women will no longer be able to take advantage of the diversity of species to cope with climate change. Instead, women will have to work harder to compensate for the reduced crop output.
Fourth, climate change, especially global warming, has enhanced the spread of some terrible diseases, including malaria, dengue fever and other infectious diseases. Millions of Africans die from malaria every year.
In Africa, women, especially those who are pregnant, are more vulnerable to infectious diseases, because they generally lack sufficient food and healthcare. World Health Organization statistics (from 2008) indicate that nearly 10,000 pregnant women and 200,000 infants die from malaria every year in Africa.
Fifth, as climate change negatively affects public sanitation, food safety and drinking water, an increasing number of people leave their homes to migrate to other parts of the country — or the world. Unfortunately, many women, children and the elderly are left behind, to live in worse conditions (than those who left) because they cannot afford to resettle.
Yet, migration presents various risks — especially involving healthcare — to pregnant women, the elderly and the disabled. They also run the risk of being victims of sexual violence, human trafficking and domestic abuse.
In China
Do the above-mentioned problems exist in China? Of course! During the Wenchuan earthquake, which occurred in 2008, researchers' findings indicate more women, compared with men, died in the disaster. The researchers believe there are three reasons to explain their findings: First, the earthquake occurred at 2 p.m., when women tended to be at home and men tended to be at work. Second, after the earthquake occurred, the women had to rescue their children and elderly family members, which lowered their chance of survival. Third, given traditional Chinese culture, women tried to get dressed before fleeing their collapsing homes, and that prevented many from getting out in time. Unfortunately, there are no official statistics to back up the researchers' assertions.
Chinese have only recently begun studying gender as it pertains to climate change, especially the progress of disaster prevention and mitigation.
In terms of disaster prevention, there is a substantial difference in the ability of men and women to survive natural disasters. There is also a difference in their ability to access relevant information about natural disasters.
According to a survey, men in rural China are more willing (compared with the women) to learn about disaster prevention. In fact, most of the respondents said men should make it a priority to learn about disaster prevention.
Furthermore, women are burdened with housework and, as a result, have no time to attend disaster-prevention lectures. In addition, women's education level tends to be lower than men and, as such, they have a harder time understanding some lectures.
Second, in terms of disaster relief, gender differences are not taken into consideration when relief facilities are established and materials are allocated.
For example, most of the disaster-relief shelters in China do not provide specific rooms for women; the women, especially pregnant women, breastfeeding women and menstruating women can't protect their privacy. Some shelters don't provide toilets especially for women.
When it comes to the distribution of relief supplies, women sometimes cannot obtain the materials they need. For example, during disaster-relief efforts that followed the Wenchuan quake, some women were not able to receive enough milk powder for their babies.
Third, there is a substantial difference in the ability of men and women to participate in and make decisions about post-disaster reconstruction, and to seize development opportunities.
As women are more likely to perform housework due to the traditional stereotypes, they are less likely — compared with men — to have job opportunities and/or to benefit from the house-distribution system during post-disaster reconstruction.
For instance, a local government provided reconstruction funding to a village, and told the villagers' congress to decide how to spend the money. Most of the village's men wanted to build a road, while most of the women wanted to build public toilets as they had no access to toilets when they did farm work.
In the end, the road was constructed, because most of the villagers' congress members were men.
Conclusion
When it comes to climate change, gender issues exist in China, even though those issues haven't attracted much attention.
From overseas experiences, we can see that women play an important role in combating climate change, even though they are victims of climate change.
I think we should consider a gender perspective when we develop strategies to deal with climate change. We must empower women to ensure they use their full potential as we deal with climate change. Why? That will help women rise above their insecurities, and it will help increase society's ability to cope with climate change, so that we can guarantee society's sustained development.
(Source: Women of China English Monthly January 2014 Issue)