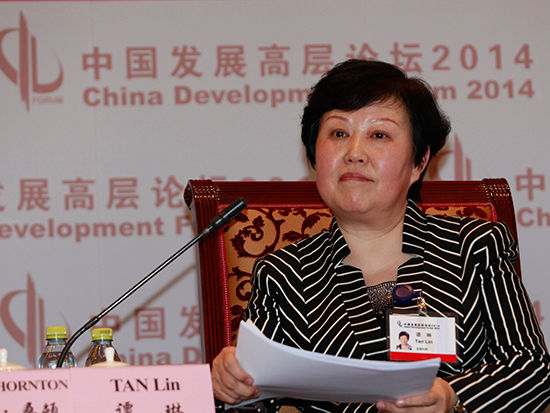 Tan Lin at the China Development Forum 2014 [wisc.ac.cn]
Tan Lin, member of the Secretariat of the All-China Women's Federation (ACWF), recently attended the China Development Forum 2014, which is centered around the theme of 'To Comprehensively Deepen Reform' this year. At the forum, Tan shared her opinions on women's development during the next phase of reforms to be implemented in China.
  
Tan, who is also director of the Women's Studies Institute of China, thinks the organizing committee of the forum is insightful and has a robust strategic vision to have organized a women's issues-themed forum as part of the China Development Forum, since the development of women is of great realistic significance to China and also to the world.
Tan feels that, against the great background of 'deepening reform' in China, the investment in women will be pushed forward by the great strides being taken in this new period of reform, by enacting more laws and policies that will release women's innovation and power in an effective way, and will even become a new driving force behind China's next round of development. Tan emphasized that the investment in women would be much more important than what people might have thought. Since China has a female population of 650 million, if all of these women can enjoy domestic rights, equal development opportunities and a share in development benefits equally with men, then China would be a totally different country, and therefore the whole world will change for the better.
Tan explained her ideas with many supporting facts. She said female labor in China accounts for 46 percent of the total and in rural areas, the percentage is even higher, reaching 60 percent. Considering the high percentage of female labor, it would be nonsense to talk about upgrading the industrial structure and the modernization of agriculture without paying attention to the development of women.
In addition, female migrants account for 46.8 percent of the large migrant population, which reaches over 200 million in China. Almost 90 percent of migrant women are in work, most of whom are in the tertiary industry and manufacturing industry. Tan said if these industries need to be upgraded, then the overall development of the women who work in these industries shouldn't be neglected. For other population groups, women also feature strongly. Among all the university students, including both undergraduates and postgraduates, female students account for more than 50 percent. Tan said from this, we can see that China's human capital is composed of women.
More than 40 percent of Chinese civil servants are women. Because of this, when we consider the reforms of public policies and when we try to upgrade public services, we must contemplate how to ensure women get involved in the reform process, and how to let their voices be heard by people.
Tan said all the things she mentioned could help us understand why Chairman Mao (1893-1976) once said 'Chinese women hold up half the sky', let alone the family roles that women play.
On enhancing women's rights in education and employment and on the human capital investment on women, Tan said the Chinese government has made a lot of efforts and has gained great achievements. For example, Chinese women's average years in school attainment has reached 8.4, only one year shorter than Chinese men's. On women's health, women's average life expectancy has surpassed 77, which is 5 years longer than men's. And another important indicator is maternal mortality. The maternal mortality rate in China is now 26.1 among every 100,000 births, which represents great progress.
Although great achievements have been made in protecting women's rights and interests and in education and health, Tan noted that we shouldn't neglect the unbalanced development between rural and urban areas, and between the east and the west of China. Tan noted that in the future, China should enact more measures to promote the balanced development level in China.
Lastly, Tan, as an expert in women's studies, offered her ideas on the key fields in women's and children's development in the future, once the reforms have taken hold.
Tan thinks the most challenging part in protecting children's rights and interests and in attaining gender equality in China lies in rural areas, and it especially lies in young girls from disadvantaged families in rural areas. Their nutrition and their security problems during their growth should call more people's attention.
The second challenge regards rural women's rights and interests, as well as the upgrading of their skills in life and work. Rural women's rights on land ownership should also be highlighted. All these require further reform and relevant policies.
The third challenge to consider regards fair opportunities in the labor market available to different genders. Although Chinese laws have ensured that men and women enjoy equal rights, in the real world, much work still needs to be done to secure that women can have equal opportunities with men.
For example, when graduates have their job interview, male graduates are usually asked about what special talents they have. However, female graduates are more frequently asked about whether they have given a birth or not. It's very unfair for women who have achieved the same level of education as their male peers. The unfairness faced by women can also be seen in employees' promotions and retirement.
On enhancing equality between men and women in the labor market, Tan noted that besides implementing the current policies on securing women's equal rights, more innovative work needs to be done in the arenas of public services and public management.
For example, the maternity insurance system needs to be further developed. The coverage areas of the system need to be enlarged. The insurance level should be improved and more responsibility should be taken by both the central government and local governments.
Another key reform should be on the development of nursery services and the development of elderly care services, both requiring more investment from the government and the rest of society. The development of nursery and elderly care services could help women free themselves from care-taking responsibilities, enabling them to have more opportunities to display their power and talent in social life.
The last key reform, Tan noted, regards migrant women and left-behind women in China, whose husbands work in far-away and more developed cities. More work is needed to take care of these women's physical and mental health, including their reproductive health.
(Source: wisc.ac.cn/ Translated and edited by Women of China)