Yu Dan, well-known female professor from Beijing Normal University, gives a lesson. [Chinanews.com]
Yu Dan, a well-respected female professor from Beijing Normal University known for her expertise in traditional Chinese literature, recently gave an interview on October 24 in Beijing to talk about her understanding of quality of life.
Yu said, "My father and grandmother were the best teachers for me in my childhood. My grandmother usually accompanied me at home, which made me feel very warm and happy. And my father often spent time traveling to places with me when he was free." In the eyes of Yu, life for her was not bad in her youth.
"Some experiences in life seem to be not good, but they are sure to contain precious value," Yu stated.
"I have a habit of keeping a diary or listening to music when I am in a bad mood. One person must learn to 'enjoy' loneliness and bravely face it," Yu maintained.
Meanwhile, from Yu's perspective, a good state of mind has a close relationship with one's happiness. She recalled that one reader asked her why some people own a lot of things but they are still not happy and feel negative. For this, Yu believed that it is of much significance for people to properly judge and evaluate themselves.
In recent days, some scholars have started to take part in various recreational programs. When Yu was asked why she refused to attend such programs, she stated, "I do not want to reveal too much in public in terms of how to make me happy. I think it is a private matter for me."
However, Yu maintained that it does not mean that she is not fond of recreational activities. Yu revealed that she likes to climb mountains and travel with her students in her spare time. "I have multiple roles in life. And I do love activities, but I do not plan to participate in them as a public celebrity scholar," she concluded.
In addition, Yu said that she is just a messenger of traditional Chinese culture instead of a researcher. "I am willing to try my best to continue my work to promote extensive and profound Chinese culture in the future," she explained.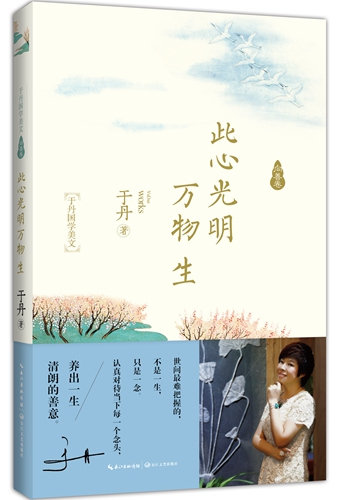 Cover of Yu Dan's book [Courtesy of Changjiang Literature and Art Press]
(Source: Chinanews.com/Translated and edited by Women of China)