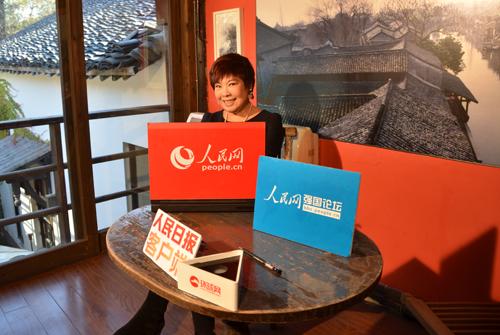 Famous scholar Yu Dan shares her views with People's Daily website on China's Internet disposition. [People's Daily website]
The Second World Internet Conference (WIC) was ceremoniously opened in the water town of Wuzhen, Jiaxing City in east China's Zhejiang Province on December 16, 2015.
Chinese President Xi Jinping attended the summit and delivered a keynote speech in which he pointed out that information technology represented by the Internet is constantly changing, leading to new reforms to social production, creating a new space for people's lives, expanding a new arena for state governance, and greatly enhancing people's understanding of the world.
"Our goal is to make the development of the Internet benefit the 1.3 billion Chinese people and, in turn, further benefit people all over the world, " he said.
As one of the greatest inventions of the 20th century, the Internet has turned the world into a "global village" and the international community into a community with a common future. The four principles to advance global Internet governance system reforms and five proposals to construct a community with a common future in cyberspace put forward by Xi will help the international community to cope with the unbalanced development, unreasonable order, and unsound rules in the Internet realm, as well as promote the integration between the Internet and social economy.
During an interview with the People's Daily website, China's famous scholar Yu Dan, Professor at Beijing Normal University, shared her views on Xi's address, new inspirations brought about by her stay in the scenic water town, and China's Internet disposition.
People's Daily: What's your view on President Xi Jinping's speech?
Yu: Xi's speech has released plenty of fresh information. At the first WIC, I thought that the Internet was merely a technology-related platform belonging to science majors. It seemed like a remote, vast world to me. However, the four cardinal principles and five specific proposals by Xi actually help close the distance between the Internet, culture, and comprehensive governance, as well as people's lifestyles.
Xi gives priority to Internet sovereignty, which means that sovereignty has crept from physical spaces like territorial air space and waters into a virtual space, such as the Internet. I'm really into the topic of this year's WIC because it tells us how to share and govern cyberspace in an era of interconnection. The Internet has brought humans together in a community with a common future.
In addition, collaboration was another buzzword during the conference. From economic to cultural cooperation, collaborative development in the international community has reached a new high.
I attached special importance to Xi's second proposal, that is, taking the Internet as the best platform for cultural exchanges. At present, every corner in the world is a potential news spot and every citizen is a news publisher and discourse leader. Central discourse power has been seeing fading influence and the international community is no longer dominated by a unified civilization. Diversification calls for every civilization to manifest its own traits.
In ancient times, Chinese culture proposed seeking harmony without uniformity, that's why people claim oriental civilization might demonstrate its role in the 21st century amid a myriad of clashes of civilizations.
Through these five proposals, China, as a major country, makes a promise of contributing to building a community with a common future. Being a big country not only means a vast territory, a big population, leapfrog economic development, more military and diplomatic discourse power, but it also represents a responsibility to the rest of the world. Common consensus and baselines of rules achieved by China and the US will play a leading role in the development trends of the world, to some extent. The Internet has in actuality become a lifestyle closely bound up in everyone's lives.
People's Daily: This year's summit is held in Wuzhen, which boasts a longstanding history and classical beauty. Do you have new inspirations while staying here this time?
Yu: I have a special affection for Wuzhen. I came here for the first time in the late 1990s when the water town had not yet begun to develop to its present scale and take on today's climate. Now I can scan a 2D code with Alipay to buy a 3-yuan "victory cake" (a local pastry). The dramatic changes remind me of President Xi's comment that we need to look at a place with new eyes. For me, the memories of its days past and the surprises of today interlace together. Years of wind and rain fade colors but history remains on flagging paths.
Meanwhile, Wuzhen is also a landscape brimming with modern idiosyncrasy. Aside from my first trip I have also been here several times to attend theater festivals. You can follow the trajectory of literary masters including Feng Zikai, Mao Dun, and Mu Xin and you can also feel that Wuzhen is a modern town with a global outlook, whilst in Dongzha and Xizha you see the tacit understanding of local residents to stick to tradition. They have been trying to avoid destroying its serenity with excessive hustle and bustle that belongs to modern times.
Now it's cold and chilly but I feel a warm attachment to this scenic town where I could always find something fresh whenever I took a walk. I feel at home when staying here.
People's Daily: Just now you mentioned the disposition of Wuzhen. What do you think is the disposition of China's Internet development?
Yu: In ancient times, Chinese people were described as elegant, reserved, benevolent, persevering, wise and courageous, which I think can summarize the characteristics of our nation. The Internet features speed and innovation. As is mentioned by President Xi, it will take on a clearer disposition with time. We don't like smog floating in the air, neither do we like morbid conflicts in spiritual space.
I have always been convinced that for online content, the language is internationalized but grammar is nationalized. Every nation speaks with its own style. When talking about the French, we think of their romance; Germans are known for their precision; British for their elegance, and Italians for their hospitality.
Then how about the Chinese? Shouldn't we get across our erudition, gentleness, honesty and sincerity to the rest of the world? We are also using the Internet, but in our own grammar. In my opinion, after the WIC the Internet will increasingly become a common community with a common human destiny, which will create more consensuses in our values. A China with its own disposition will be more involved in the development of common views.
Famous scholar Yu Dan shares her views with People's Daily website on China's Internet disposition. [People's Daily website]
(Source: People's Daily website/Translated and edited by Women of China)