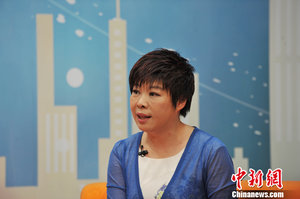 Yu Dan, a professor from Beijing Normal University [Chinanews.com/Zhang Yue]
In traditional Chinese culture, it is customary for a father to set the moral standards and dictate the way of life of the household; he is the pacesetter of the family, says scholar Yu Dan.
Yu, a professor from Beijing Normal University, made the remark on June 17 when she was invited to share her ideas on fathers' family role, in contemporary and historical terms. She spoke about respect for the elderly and family values at a talk show event hosted by China News Agency, as Father's Day (June 21) is just around the corner.
Yu explained, that in Chinese, the counterpart for the character for father "父" is actually the upper half of the character "斧" (literally "axe"), and that "父" originally meant "he holds a tool", according to one early 2nd-century Chinese dictionary. That is, he who holds a tool is indeed a role-model and thus a father is the pacesetter of a family.
The Chinese classical saying that "A child is better unborn than untaught"—taken from an ancient text which embodies Confucianism, and was suitable for teaching young children—is a sympathy shared by all races rather than just being confined to China, noted Yu.
"When you produce a kid, you take on more than just a biological role. As a father, you are responsible for your child's whole life, as his or her earliest moral ideas are learned from you," said Yu.
In the scholar's opinion, a father stands for families' rules. "The earliest family letter was from the Duke of Zhou [who was alive during the late Shang Dynasty (1600 BC–1046 BC)] to his son to remind him of their royal family roots and to live up to the reputation of their elders," she added.
"Other well-known family letters include those written by Zeng Guofan (1811–1872) [a devout Confucian scholar of the late Qing Dynasty (1644–1911)] and acclaimed Chinese translator Fu lei (1908–1966), who sent letters featuring his instructions as a parent," said Yu.
"However, today's fathers are losing their value as they are less active in spiritually guiding their family. Many think they just have to work hard to support their family and thus have the right of authority over their child, whilst they ignore that family virtues and values needed to be handed down," she said.
"In actual fact, a father is the 'bottom line' of family values. This is something which a father should attach great importance to," added Yu.
(Source: Chinanews.com/Translated and edited by Women of China)