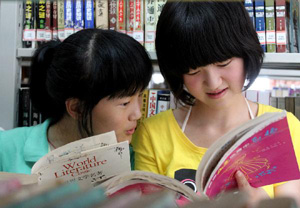 Children read books at the library in Fanchang County, east China's Anhui Province, June 26, 2010. A free reading room collecting nearly 10,000 books was set at the library of Fanchang for children to enrich their summer vacation. [Xinhua/Yang Hua]
Another International Children's Day (June 1) is upon us. As I have conducted extensive research on children's issues over the past 20 years, I would like to share my point of view on children's issues with Women of China English Monthly's readers.

Girls Face Discrimination

I was born after 1949, the year in which the People's Republic of China was founded. I received good care from both my family and society.
So, I didn't know about the suffering that many girls endure in other regions of the world.
After I joined the All-China Women's Federation (ACWF) in 1993, I assisted with the preparations for the Non-government Organization Forum for the Fourth World Conference on Women, which was attended in 1995 by representatives of non-governmental organizations from around the world.

As we prepared the Beijing Platform for Action document, African representatives suggested that we should include issues that affected girls.

At that time, I was a little bit confused; I didn't know why they wanted to place greater emphasis on issues that affected girls. When I communicated with the African representatives, I learned that African girls were subjected to discrimination. Many baby girls were drowned. Many girls suffered from malnutrition, sex abuse and/or poverty. Many girls died before they could grow up.

Given the situation in Africa, we included a special forum on the issues of girls during the conference. Admittedly, in rural China, especially in some of the mountainous and underdeveloped regions, girls also suffered from many problems, such as malnutrition, sex abuse and/or child labor.

As I live in Beijing, one of the world's largest cities, I seldom consider the issues that affect women and children in rural China. Does that mean there is no discrimination against girls in cities? Children in China's cities receive good care and protection. Girls and boys — under the law — are considered to be equal. But some parents prefer to have boys. Why? In keeping with Chinese traditions, a girl is expected to leave her family after she gets married.

Education for All

The Chinese Government and various women's organizations have made many — and significant — efforts to protect the rights of children, especially girls, since the 1990s. The Law of the People's Republic of China on the Protection of Minors was amended in 2006.

The Law of the People's Republic of China on Maternal and Infant Health Care was enacted in 1995. The development plan for children in China (1991-2020) was formulated. In addition, many projects, such as Hope Project and Spring Bud Project, were implemented. The rights of children, especially girls, are protected.
Above all, the education of girls is highly regarded in China. Thanks to the great efforts of the Chinese Government, and all relevant parties in society, China has succeeded in providing the free, nine-year education to children, regardless if they live in urban or rural areas of the country.
Such efforts have made it possible for many girls in underdeveloped regions to return to school. Why have parents in rural China become willing to let their daughters attend school? They have realized that their daughters will eventually become mothers, and that they will raise their kids. As such, their daughters' level of education will help determine the capabilities of the next generation of children.

Interestingly, the United Nations Children's Fund holds a slightly different view; the agency believes girls should receive an education regardless if they will become mothers.

I agree that it is imperative that girls receive an education regardless if they will become mothers. Why should girls receive an education? So they can function as productive members of society! Girls will look for work after they grow up, and they will play a role in society. I think we should educate our boys and girls, and I think we should encourage them to share responsibilities — both at home and in society.

Improving Education

Once, while I was riding a bus, I overheard a conversation between a girl and a boy. The girl was a bit younger than the boy, but it was clear that both were high school students. The boy asked the girl: "What is your ranking in your class, in terms of your grades?" Replied the girl: "Number 2. What about you?" Answered the boy: "Number 4." After a brief silence, the girl said, "My teacher told me that girls will not do as good as boys when they get older." The girl was saying that even though her grades were better than the boy's, the boy would do better than her in the future. I turned to the girl and asked: "Is your teacher a man or a woman?" Replied the girl: "A woman."

Ironically, a short time later, I gave a lecture, in a normal university, and I recounted that story to my students, some of whom were teachers. "Who said that girls cannot do as good as boys in senior high school?" Answered one of the male students: "In schools, all the teachers say so."

Elisabeth Croll, a professor from London School of Economics and Political Science, wrote a book in 1995. She wrote that girls in China had gradually lost their confidence because the education they had received, and the social pressure they felt, forced them to lose their confidence. I was shocked when I read her book, but I was more shocked when I heard that teachers in China discouraged their female students.

Education should cultivate students' potential, and help them develop their wisdom and creativity. If we educate our children with misleading information, we will harm our children.

During my research, which I recently conducted, I found that children in China are confined to their gender roles after birth. In the family, parents give boys toys like guns, cars and computer games, while they give girls toys like Barbie dolls and plush toys. In kindergartens, boys learn martial arts, while girls study ballet. In elementary schools, boys should be smart and naughty, while girls should be obedient and lovely. In high schools and universities, girls usually study literature and arts, while boys usually study science. According to research conducted by the International Labour Organization, men receive more job opportunities than women.

Of the 13 Nobel laureates in 2009, five were women; of those women, four received their prizes for science-related work. That is ironic considering science is widely considered to be a male-dominated field. The successes of those women scientists prove that women are as qualified as men to make achievements in science.

Ada E. Yonath, a female Nobel laureate from Israel, said gender does not determine whether a scientist can make achievements in science; instead, the person's passion for science makes that determination.

As we celebrate another International Children's Day, I ask that we all provide children — whether girls or boys — with an equal opportunity to receive an education. Also, we should improve the contents of education, so that we help our children lay solid foundations for their future lives.
(Source: Women of China English Monthly 2013 June Issue)