Students from the Miao ethnic group play an English-learning game at Peiji Village in Rongshui Miao Autonomous County, Liuzhou, Guangxi Zhuang Autonomous Region. [For China Daily/Long Tao]
Rural students have little interest in learning language; most study it only for college entrance exams
After failing for two years to find a secure office job in Shenzhen, Guangdong Province, Zeng Yixia had no choice but to return to her hometown more than 1,000 kilometers away when she was offered a teaching position at a junior high school.
Zeng, 39, headed home to Huichang, a poverty-stricken county in Jiangxi Province, where she has taught English for 17 years.
Having graduated from a Huichang vocational school with a major in computer science in 2000, the constant job rejections she received in Shenzhen exhausted her patience and ended her dream of living in a big city.
After being assigned to teach English in a rural school by a headmaster in Huichang, it later occurred to Zeng that the position was not a vacancy. It was a new role created as a result of the central government's instructions to include the language as an essential subject throughout the nine-year compulsory education system.
Zeng's family has relocated to the more-urbanized county seat, and during the week she sleeps at the dormitory at her rural school. Every weekend, she makes a two-hour round trip to spend time with her husband and two children.
Before she became pregnant three years ago and gave birth to her second son, she applied for six consecutive years for a teaching job at a county-level school, but never managed to pass the qualification tests, whose format and content changed every year, she said.
She said that if she were able to change one aspect of her job, it would be to omit English, because the subject is unpopular with rural students.
"Chinese and math are considered the important and useful subjects. Art and sports are the fun ones ... but English is way down the list," she said.
Zeng is not alone in teaching an unpopular subject to teenage students with little, if not zero, interest in learning English.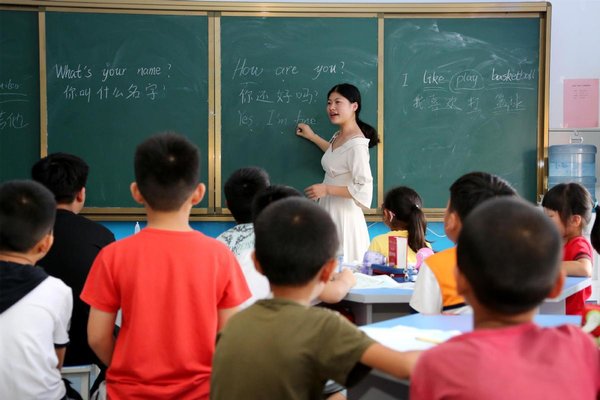 College student Li Chenxi gives a voluntary English lesson to children in Niezhuang Village, Zaozhuang, Shandong Province, during the summer vacation. [Xinhua/Song Zhongzhe]
Compulsory subjects
At the 2019 Global English Education China Assembly in July, attended by nearly 3,000 teachers and leading experts in English-language education from China and abroad, speakers said coping with examinations, especially the gaokao (national college entrance exam), is the only reason most rural students learn the language.
"More than 90 percent, if not all, students in rural schools are only learning English to get into college," Huang Guowen, dean of the Foreign Language Department at South China Agricultural University in Guangzhou, Guangdong, said during the three-day assembly in Hangzhou, Zhejiang Province.
With more than 20 years' experience of teaching English language and literature, Huang's speech centered on "the main purpose of teaching and learning English in rural areas of China".
He told China Daily, "If English was excluded as a subject from the national college entrance exam one day, most rural students might stop learning it completely."
In 1984, the Ministry of Education listed English, along with Chinese and math, as the three compulsory subjects for the gaokao.
In 2017, a nationwide survey carried out by a research team from Xingyi Normal University for Ethnic Minorities in Guizhou province produced a broader picture that echoed Huang's observations.
Polling more than 20,000 respondents, ranging from first-graders in primary schools to college students nationwide, the survey found that over 70 percent of students from rural areas said they would not spend time learning English if it was not required in the school syllabus.
In contrast, while 43 percent of students from urban areas also said that passing exams was a key incentive for learning English, all those polled gave other reasons, such as traveling abroad, watching Hollywood movies and sitcoms, or simply mastering a second language.
The survey respondents were an equal mix of students from rural and urban areas.
"Many (rural) students tell me they hardly have any opportunities to use English after leaving school," said Lu Ziwen, director of the research center and the survey leader.
Lu is an English-language teacher who has also studied pedagogy, the theory and practice of learning and how this process influences, and is influenced by, learners' psychological development.
Having devoted much of his career to some of China's remotest areas, he said the situation has barely improved over the years, despite the vast changes such areas have undergone thanks to the central government's rural revitalization program and increased investment in education.
"The gap between cities and rural areas is narrowing in many aspects, including housing conditions, income and medical care. But when it comes to education, especially English-language education, there is still a long way to go," he said.
In Beijing last year, the average score for English among students taking the gaokao was more than 100 marks out of 150, while in rural areas of Guizhou Province it was about 40 out of 150, Lu added.
"It's hard to say whether the poor performances discourage students, or whether this dimmed interest restricts the potential to learn," he said.
College student Li Peihan from Chengdu, Sichuan Province, gives an English lesson in Nanchong, Sichuan. [For China Daily/Cheng Chaosheng]
Shortage of teachers
There is widespread agreement that the biggest obstacle in rural areas of the country is the lack of professional English-language teachers.
Huang said, "The most telling contrast is that high school teachers in rural areas speak far worse English than preschool children in cities such as Shanghai and Shenzhen."
In general, primary schools in China introduce English classes in the third grade, but a number of schools in rural areas delay this to as late as the fifth grade due to the lack of specialized English-language teachers, Huang said.
Zhao Liang, director of the English Language Education Center at the University of Nottingham Ningbo China in Zhejiang, described those she helped to train as "silent language teachers".
Since 2017, the center has offered free training to more than 250 English-language teachers from poverty-stricken counties across the country. The training usually lasts one week during the summer vacation, and provides an immersive environment for participants not only to use the language in class, but also at activities such as parties and dances.
Zhao said some of the teachers not only lack the backgrounds or qualifications in English-language teaching, but used to be art or science teachers before being re-assigned by their employers as English became a mandatory subject.
"Although the teachers selected are experienced and the most outstanding ones from their own schools, our program is the first time they have spoken English in a real and practical context, and with native speakers," she said.
Teacher Zeng Yao gives an English lesson in Zhenba county, Shaanxi Province. [Xinhua/Tao Ming]
However, Rod Ellis, a research professor at the School of Education at Curtin University in Western Australia and a keynote speaker at the education assembly in Hangzhou, thinks that while exposure to foreign cultures for both teachers and students certainly helps, it is not essential.
"The challenge is the availability of adequate teaching resources. If English is to spread beyond the middle-class and large urban centers, there has to be a policy to ensure competent teachers, with sufficient skills and proficiency in English to teach the language, are placed in these rural areas," said Ellis, who is also a visiting professor at Shanghai International Studies University.
In 2006, the central government introduced a program, known as "specially posted teachers", to encourage college graduates and experienced teachers to move to less-developed areas of the country. With subsidies from the central and local governments, the program offered above-average salaries and welfare packages.
The annual program, which covers 22 provinces and regions, has become one of the most important sources of teachers in rural areas. It aims to prepare teachers to go to such areas, live in them and excel at their work.
Teachers signing up for the program must complete a minimum of three years' service. They can then choose to remain in their posts, be relocated to other positions with the help of government departments at all levels, or seek employment on their own.
In some regions, however, 97 percent of the teachers who have been sent there have developed a passion and affection for their posts and asked to remain.
In the program's first year, 16,000 graduates were sent to 2,850 schools in more than 260 counties. Last year, the number of graduates rose to 85,200.
But Lu said the program still lacks sufficient teachers. Less than 10 percent of those it sends to rural areas every year have English-teaching backgrounds.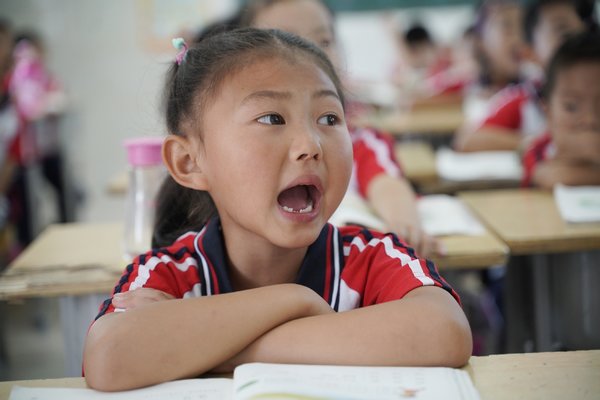 A class learns English in Xiaogang Village, Fengyang County, Anhui Province. [Xinhua/Cai Yang]
Talent development
Gong Yafu, director-general of the National Association of Foreign Language Education, said, "If you poll students about learning math, chemistry or just going to school, many might say they are learning only to pass exams and go to university."
Gong, who has spent more than 30 years fostering primary school English education in China by helping to write textbooks and train teachers, added, "Skills and knowledge aside, the very core of education today should be about nurturing well-developed talent physically, intellectually and morally. "In the case of English-language teaching, exposure to a foreign culture could help develop interpersonal and communication skills in a student's native culture, he added.
"Of course, it is our job to make the learning content more appealing and perhaps practical to motivate students to learn more happily."
Following the national poll, Lu's team developed a "minicourse" to tackle the problem.
The course features some 100 conversational sentences and greetings to be used in a scenario where English-speaking tourists and guests are welcomed to a village to dine.
Lu said, "As rural tourism rises to become a growth engine for many villages in China, attracting visitors from both home and abroad, students find it very useful and motivating to learn such language content."
As an example, he cited the "magic power" of the word "homemade".
"In a typical textbook, the word may not be taught or given much emphasis. But for the course, we tell the students how to relate it to the kitchen and to use it on a menu and during ordering, such as for homemade tofu or homemade sauce," Lu said.
As a result, guests are more likely to order the food on just hearing the word "homemade", and students using the word are greatly encouraged.
(Source: China Daily)