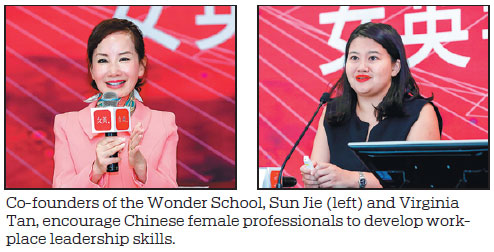 Co-founders of the Wonder Schoo, Sun Jie (L) and Virginia Tan, encourages Chinese female professionals to develop work-place leadership skills. [For China Daily]
A career development guru and the head of an online travel giant launched a new institute in Beijing designed to help Chinese female professionals develop workplace leadership skills.
The Wonder School was jointly set up by Virginia Tan, co-founder of Lean In China, a platform that supports the goals and aspirations of women, and Sun Jie, CEO of Ctrip.
At last month's launch, Sun shared the experiences of her career path at Ctrip, moving from chief financial officer to chief operating officer and then on to become its chief executive officer.
"My advice is don't let your job title limit you. You need to be brave enough to aim for higher positions," says Sun.
Sun says that female leaders should not be afraid to assert themselves, play to their strengths and highlight their achievements, whether that takes the form of improving sales returns, adding brand value or building corporate reputations through trust.
"Evidence shows that women are more risk-averse when it comes to personal finances and as managers of mutual equity funds, according to studies by the Quarterly Journal of Economics in 2001 and the University of Cologne in 2005," says Sun.
Most of these women, she says "are very hardworking, have good communication and multitasking skills, and always put the interests of their team above their personal interests."
Developments and innovation in technology have created more opportunities for women and will help them achieve better balance between work and family, Sun says.
"Technology can take care of the tedious and repetitive work, allowing people to focus on creating new value," says Sun.
She believes women in technology are fueling China's internet boom. In China, 17 percent of investment partners in venture capital companies are women and 80 percent of them have at least one female partner. In the United States, these numbers are 10 and 50 percent respectively.
To Sun, as head of an online travel service company, she regards female employees as valuable assets to the industry. Citing their proficiency with details, communication and caring for others, she believes that women are better at product design, provide better service and offer a better customer experience than men.
According to Sun, more than half the staff at Ctrip are female. They occupy 33 percent of the top management team, while 29 percent of them work in the technical team.
She also noticed that women have become more confident and daring. "Years ago, most of the staff members that came to my office to talk about promotion and pay increases at the end of a year were male," says Sun. "But in recent years, more female staff members are stepping up to express their expectations for promotion."
She encourages more women to break through the "glass ceiling" in their workplace and take on more leadership roles.
Virginia Tan also shared her experiences at Lean In China and discussed the rapid growth it has enjoyed over the past six years — it is now community of more than 100,000 members from more than 25 cities and 100 universities around China.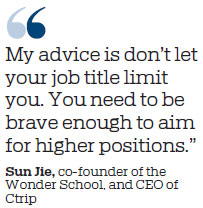 Speaking of their original idea behind the school, Tan, a finance lawyer with US experience and a "global shaper" selected by the World Economic Forum in 2014, says: "We can see women are facing both opportunities and challenges in the workplace in China. That's why we wanted to set up the Wonder School, to help them to make more informed decisions."
Tan says that modern Chinese women are often told what to do, or what not to, by society, but they should have the right to make decisions on their own.
To offer Chinese women more positive support is the aim behind Wonder School, Tan adds.
"We wanted to create an ecosphere, a platform that links women, companies and investors, and help them incubate their projects and push forward the 'Her Economy'," says Tan.
Liu Hui, a partner at the Wonder School, describes the online and offline courses offered by the institution. The online courses will focus on "thinking training," while the offline programs are presented in the form of training camps, where students receive guidance from mentors.
The Wonder School is not only "a tool and a course," but also a social platform which provides services for women in the workplace, Liu says.
In their blueprints for the school, Liu says, the course system is like a pyramid, with the top section taken up by the "entrepreneurial school," followed by the "work school" and then the "happiness school" at the bottom.
"Our plan is to start with the work school and our first product will be a female leadership course," Liu says.
The Wonder School will welcome its first intake of students in September.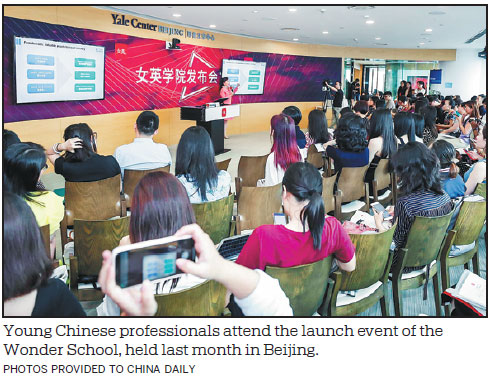 Young Chinese professionals attend the launch event of the Wonder School, held last month in Beijing. [For China Daily]
(Source: China Daily)