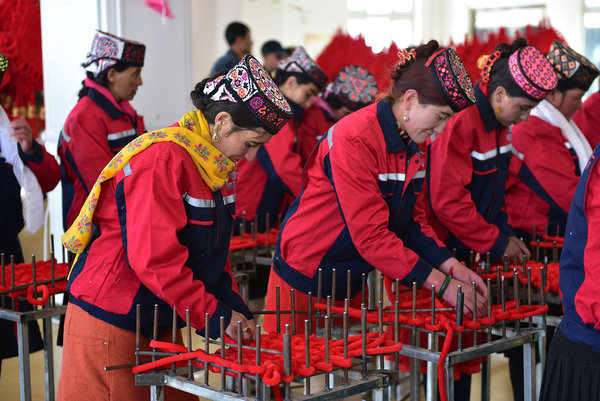 Women make Chinese knots at Tati Kuli, a settlement in Tashikurgan Tajik Autonomous County, Xinjiang. [China Daily/Liu Yuhang]
Impoverished residents of bleak backwaters in Tashikurgan Tajik Autonomous County have been relocated to Tati Kuli, a government-supported settlement that offers better conditions for farming and higher standards of education and healthcare.
The settlement in Kashgar prefecture, Xinjiang Uygur Autonomous Region, covers 980 square kilometers and is home to 1,418 people.
In the rural areas, people's lives were frequently disrupted by natural disasters, while the barren land, low levels of education and poor medical facilities made it difficult for them to escape poverty, according to the local government.
After moving to Tati Kuli in March last year, Gilmakha Kurbanjan joined a border patrol team.
"I used to live in a shabby house, whose weak structure made it unsafe in bad weather. Also, we had to collect water from a river, which usually took about two hours for a round trip," said the 25-year-old who used to live in the county's Ma'eryang town.
Before moving to the settlement, her family made a living by grazing animals, earning an annual income of 10,000 to 20,000 yuan ($1,450 to $2,900).
"Our lives have improved a lot. We now live in a clean house with free electricity and fresh drinking water," she said. "Our income has also risen since my father and I joined the border patrol team. We also do some handicraft work and plant highland barley with the help of the government. Last year, our income was about 60,000 yuan."
Long Xinxin, director of Tati Kuli settlement, said the relocation campaign was completed in May.
"Investment of 150 million yuan has been channeled into the campaign for infrastructure construction, such as houses, kindergartens, clinics and entertainment facilities," he said.
According to Long, the settlement boasts collective land, where the locals can plant highland barley, and handicraft workshops, where they can earn extra income by making Chinese knots.
Healthcare and education are also high priorities at the settlement. Aypnazar Qintimur, a physician who works at the newly built clinic, is impressed by the facilities.
"I used to ride a camel or walk to some outlying villages to see patients. I remember that it took me nearly a week to reach a patient in an isolated village, and his illness had worsened by the time I arrived," the 34-year-old said. "However, that won't happen again because the people have been brought here."
He said the clinic provides checkups and basic treatment.
"Though we can't offer the best treatment, we can help to transfer seriously ill patients to higher-grade hospitals in the county, giving them a better chance of survival," he said.
Mirgul Akhmihan, Party secretary at the kindergarten, has witnessed the great changes education has brought to the children.
She said preschool education was not available in the rural areas, and parents did not understand the importance of education.
"One child who moved here from a very remote village was afraid of attending the kindergarten at the very beginning, because he had no idea what it was," she said.
"But now, it is one of his favorite places because he has many friends here."
(Source: China Daily)