Actors from the Dashanpai Theater Art Center perform The Old Man and the Sea at Tsinghua University in March. [For China Daily]
Art center gives teenagers a chance to develop through acting, Xu Haoyu reports.
Art can help us see life's big picture and puts creativity in the frame of our lives, says Ke Lu, 41, an artist who believes the senses, and sense of wonder, we had in our youth have been dulled by the demands of modern society.
"Our senses may have been eroded by information overdose and the demand for instant gratification made possible by advanced technologies", says Ke, who founded the Dashanpai Theater Art Center in 2012.
The center aims to apply drama as a tool for aesthetic education to help restore a sense of creativity, especially among teenagers.
It is paying dividends. On June 29, members of the center will perform The Little Prince at Tsinghua University, adapted from the French novel of the same name written by Antoine de Saint-Exupery.
In the past seven years, the center, based in Wangjing in Beijing's Chaoyang district, has put on seven plays based on famous literature, and has also run themed workshops to inspire youngsters to express themselves through the medium of performance.
Ke, who as a child was fascinated by painting, didn't receive any professional art training until he attended a lecture at the Tianjin Academy of Fine Arts when he was a 13-year-old middle school student.
That lecture is seared into his memory.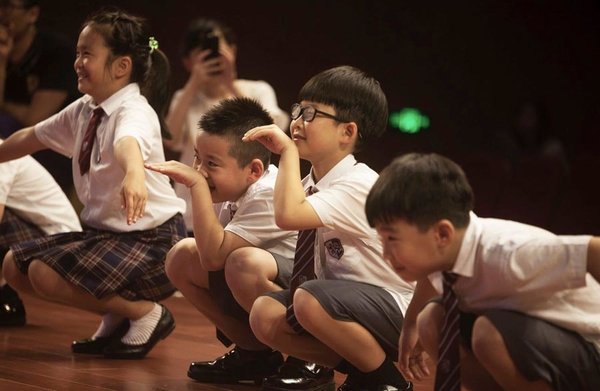 Primary school students try to act out their imitations of creatures in a workshop by the center. [For China Daily]
A defining moment
Ke clearly recalls his first meeting with what he considered the "cool", long-haired art teacher who, in his first class, compared an artist's job to that of a divine creator.
Decades later, his teacher's words still ring in his ears: "Do you know what kind of job you will be doing in the future? That is like god's job. Facing a blank piece of paper, a piece of chaotic mud, an empty room, you are god, and you have to create beautiful things in your mind."
Ke says: "That moment defined my fate and belief."
Encouraged by his master, Ke then explored various fields like painting, animation, film and television, until he found his true love: drama and the stage, and its "unlimited potential".
In 2017, his art center was acknowledged by the faculty of Tsinghua University High School. Work carried out by the center was designated a required course among their students. Last year, the center expanded its influence to launch its plays and workshops in more high schools in several cities, including Beijing municipality as well as Zhenjiang, in East China's Jiangsu province.
During the process, Ke found many educators shared similar ideas and goals.
Zhao Guoqiang, principal of Zhenjiang Foreign Language International School, says: "The drama course inspires student creativity, and boosts their ability to learn.
"It promotes the development of children, teachers and the cultural construction of the school."
Chen Shuhua, 60, co-founder of the art center from Taiwan, thinks that children and teenagers are too obsessed with electronic gadgets.
"In my childhood, I had no toys or games to play with. I just had the mountains behind my house to explore. I got the chance to feel the shape of the breeze and to hear the croak of frogs," Chen says. "It's a pity that few people today have the time to sense the beauty of the environment around them."
Chen claims that the art center wants to give the five senses — seeing, smelling, hearing, tasting and touching-back to children, and inspire them to discover their natural creativity.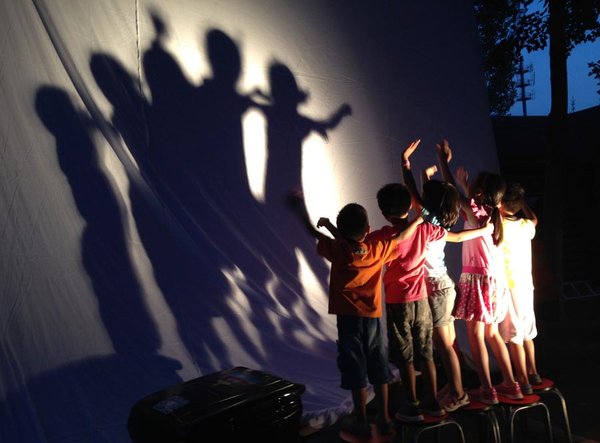 Children are encouraged to play with their shadows in the workshop. [For China Daily]
Ripples of inspiration
The center put on a performance in March of The Old Man and the Sea, based on Ernest Hemingway's novel of the same title, at Tsinghua University in Beijing.
Before the drama began, Ke ran an interactive education experiment with the audience. He dropped a sandbag, a wooden ball and a pingpong ball on stage. He then asked the audience to imitate and compare the movements of the objects.
Five audience members were invited to go onstage to perform their imitations, showing their observation and imagination. Rolling or jumping, they were all lauded by Ke and the audience applauded wildly.
The play began shortly after. On the simply set stage, the sea and the sky were projected onto the background, while wooden boards, a lamp, a rope and a small statue of the Virgin Mary served as a boat. An inflated balloon represented the moon. The body language of the actors completed the theatrical effects. For instance, when pulled taut by the actors, the rope became a fishing pole and the struggle between the old fisherman and the giant marlin was presented in the form of wresting.
The imagination of the audience is vital for the stage, Ke says. In part this is because of obvious limitations — a wild raging sea cannot be transported onto the stage — and imagination gives added value to the audience.
"We don't want to present the stage as an obvious answer, we want it to collaborate with audiences' imagination and create even more possibilities of image and understanding," Ke says.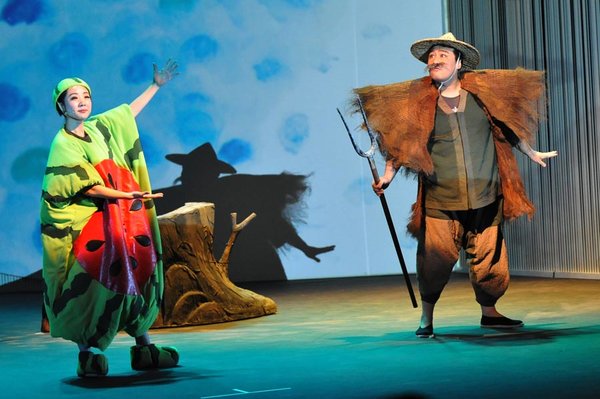 Actors are playing on the stage. [For China Daily]
Zhang Yanhua, a teacher at Tsinghua University Primary School, brought her 9-year-old son Liu Zicheng to the show. Zicheng was deeply impressed by the creativity.
Another audience member, Dorothy Jiang, a mother of two girls, says that the play can easily grab children's attention with the energetic body language of the actors coupled with the frequent audience interaction.
Ke believes that to develop the ability to spot and savor beauty, people have to start by discovering themselves.
Life's different stages
Kong Minxing, 10, a student at the Chinese Academy of Agriculture Sciences Elementary School in Beijing, has been attending Dashanpai's aesthetic education courses for two years. Last year, he joined the cast as a part-time actor, and his performance in March playing Manolin, the little boy from The Old Man and the Sea, earned widespread acclaim.
Minxing describes the art courses as "compelling". He says: "Ke let me see sounds. He tapped a bowl filled with water and I saw splashes and waves. I felt the expansion of my own body by walking on people's backs, as they created stairs for me to climb and reach for the roof."
He benefited from these exercises, saying that his "ability to concentrate has been hugely improved".
His father, Kong Weimeng, claims that his son used to be an introvert. "My son used to spend too much time playing video games. Learning to perform drama and interacting with the art center's crew opened a window into creativity for him," he says. "Ke uses artistic language to allow people to notice what's easily ignored in daily life. To 'see' sounds, to act, and to 'paint' with a voice — it soothes and comforts your soul."
(Source: China Daily)