Primary school girls attend the launching ceremony of the education and caring program for adolescent girls on June 13 in Beijing. [clady.cn]
An adolescence education and caring program for adolescent girls under the Spring Bud Project was kicked off in Beijing earlier this year.
The program was sponsored by the China Children and Teenagers' Fund (CCTF) and guided by the All-China Women's Federation (ACWF).
The Spring Bud Project is a benchmark public social welfare program which mobilizes social forces to help children and teenagers, especially girls, in the fields of education, safety and health. The project was launched in 1989 and has been implemented by the CCTF for 30 years.
The education program for girls at puberty is aimed to provide children and adolescents aged 10-14 with systematic and scientific adolescence education, creating a synergy with schools, families and society to help promote the comprehensive development of children in that age range.
As an extension of the Spring Bud Project, the program wouldwork on education and protection of girls in adolescence, said Zhu Xisheng, Secretary-General of the CCTF, at the ceremony.
"We will fully integrate all kinds of media and social resources to provide lively, interesting and useful content as well as practical, effective and professional guidance for children, families and schools, especially those in poverty-stricken areas," Zhu added.
The program plans to produce rich educational content from 2019 to 2023, including 500,000 manuals, 100 digital comics, 15 courses, 15 animations and 25 lectures. It is expected to benefit 6.5 million people from 750 schools in 75 cities in 15 provinces.
Liu Yining, Vice President of Zhongguancun No. 2 Primary School andco-organizer of the event, pointed out that senior students at primary school are in the beginning stage of adolescence and professionally prepared education programs are very important and necessary for them
At the launching ceremony, Hengan Group donated goods and money worth 7.12 million yuan (US $1,028,107) to the CCTF to support the program in the first year.
Su Yanjie, professor at the School of Psychological and Cognitive Sciences under Peking University, explained the program's knowledge system that includes physical education, psychological education, protection of children and social family education at the event.
The program will focus on education content for girls at puberty in the first year with the theme of "Hello Girl", in the hope of helping them grow healthily.
It will present 30,000 "Hello Girl" packages to schools in five provinces and cities nationwide this year.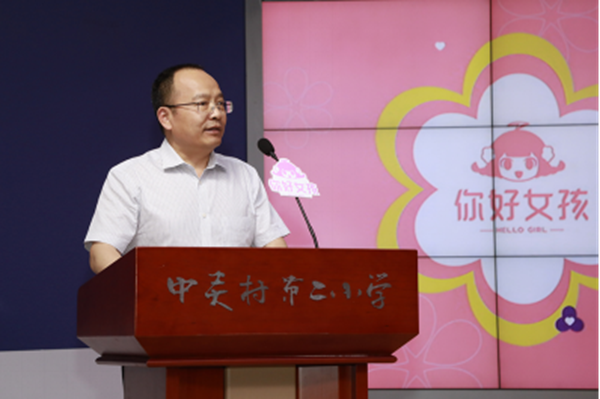 Zhu Xisheng, Secretary-General of the China Children and Teenagers' Fund, gives a speech at the launching ceremony of the education and caring program for adolescent girls [clady.cn]
(Source: clady.cn/Translated and edited by Women of China)