teamkrejados (France)
One day, I peeled an apple and the peel did not break. While holding up the long strand of peel, I gleefully proclaimed that I was good at peeling apples, and I could make a career of it. My mother intoned: "That's the thing about a career: you only get to do the one thing, over and over." I was crushed. I had expected praise, and I got slam-dunked.
After she made her devastating observation of my success, I was horrified at the idea of having to do the same thing, over and over, for the rest of my life. I vowed I would never, ever do that. And I never have.
I've been a nanny, a factory production worker, a restaurant worker and a sales clerk. I've been an office worker, a mechanic and later (after some education) an engineer, and now I am a teacher and traveler. The only stability in my life was and still is my mother's grandchildren. For them I stayed in one place, long enough to assure their future success.
At the time I thought it was rather cruel of my mother to ridicule my success, but now I see that she was giving me the freedom to experience everything life has to offer without being tied to a social must: a stable career. My life has been so rich because of her observation.
Ratfink (Australia)
I owe a great debt to my parents but in particular to my mother and her side of the family.
My mother was one of the most important influences in my early life. Despite being married my mother was for most of the year a sole parent to my brother and me. It was her that had to deal with all of the childhood illnesses my brother and I suffered, it was her that had to take us to hospital on a regular basis in our early teens when we'd bust ourselves up on motocross bikes, skateboards, push-bikes and so on. She had so much to put up with – two unruly boys who were high spirited and thrill seekers; we ran her ragged and looking back it was hard on her. At least we both were good students, top of the class academically and that was in large part thanks to her. She taught us to read, to appreciate knowledge and learning and to understand the world and how hard most of the people had to work and suffer to make ends meet.
We did lots of cool things back in England such as spending time in the British Museum stacks (where the stuff that is not on display is stored), the public records office at Kew, visiting interesting places and also the mundane such as learning to cook and learning about nature and how to care for the world around us.
It was her father who gave me the greatest gift I ever received, a love of astronomy and music. It was my mother who nurtured these and put up with hellishly loud guitar and bass in my teens, when I used to blast away in my room with a full Marshall stack for hours at time.
Mum you are the greatest and I love you!
A boy presents a handkerchief he made for his mother at a kindergarten in Hefei, capital of East China's Anhui province, May 9, 2013. [Photo/Xinhua]

objchina(Expat in China)
My mom: She carried me pregnancy for 9 months and showed me how to walk and develop myself. I appreciate the floggings because without them, I would have gone astray and become useless. She always catered for my wellbeing even when my Dad was busy with other things She will never eat or drink until I finish eating. She stopped me from following a bad gang and helped me to exhibit my talents. She disciplined me and gave me advice whenever I misbehaved. She taught me how to be independent even in face of troubles.
She taught me how to speak the truth always and treat others equally with respect. She brought me up in a unique way even in the face of challenges and tribulations. I will forever cherish her. I want to use this opportunity to congratulate every mother worldwide on this special occasion – you are all wonderful.
Sava (Canada)
I was fortunate enough to have a wonderful mother who was always able to bring a smile to my face to ease my pain and suffering through my childhood. Unfortunately, I was not the devoted son she deserved. She passed away in Egypt in 2002 while I was residing in Canada. With tremendous regret, I, unintentionally, deprived her from seeing me one last time before her death. Others ought to learn from my experience and see their mothers whenever they have the chance.
Kate008 (China)
A mother's love is the greatest and most selfless. As we grow up, our individual ideas gradually becomes different from our parents, and we like to do the things we want to do, against their advice and sometimes even tired of their nagging words although filled with care and love. It's a period we call adolescent rebelliousness. After we step into society, we suddenly realize how hard life is and what kind of burden our parents are bearing all the time. They do their best for our bright future, and care little about themselves. My mother never wears any jewelry; she always says she doesn't like it, and explains health is far more important than that. I know she hesitates to spend money, especially the things that are not necessary for life, which is luxurious behavior in her eyes.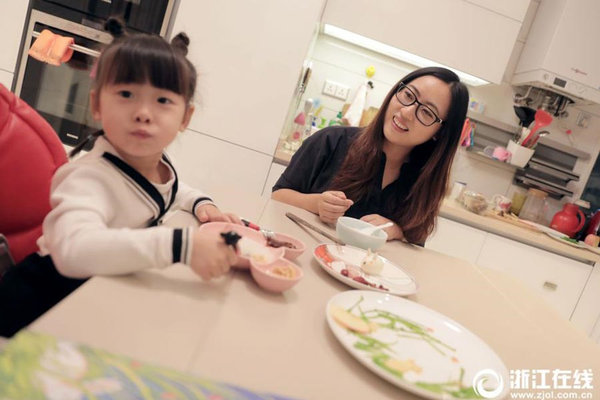 Xu Shubei makes breakfast for her three-year-old daughter at home in Hangzhou, East China's Zhejiang province. Every day, Xu chooses different ingredients to make breakfast based on the picture her daughter likes best. [Photo/zjol.com.cn]

Ashikujaman (Bangladesh)
Every Day is Mother's Day! When you know how to speak, what is your first word? It is the Mother. We grow up in the arms of our mothers. No one loves us like our mothers, no one is willing to sacrifice everything for us like our mothers. If someone asks me "Who is your favorite person and your inspiration and your everything? I will say it is my mother.
I admire my mother. She was always busy taking care family while doing her govt job. But she never said she was tired. She loves us more than her life. My mother was my teacher, friends, adviser, an inspiration for everything who can share all my problem and stories in life. When I was sad or stressful, my mother was always by my side and comforted me. Making my mother cry is the worst thing but I did. In 2009 I did not study properly, I was reading novel and newspaper. I also went outside too much. When my secondary school certificate examination result was published, it was average and not so good. It was the biggest bad situation in my life. Only one person always beside me she is my mother. I saw her tears that time.
She cried. She told me many times that I should not lose my time. I needed to focus on my studying but I ignored her advice. She always supported me anything otherwise I couldn't do anything after my S.S.C. My mother gave me everything in my life, she was the greatest women in the world and my heart.
(Source: chinadaily.com.cn)