The Anhui Telecom Customer Service Center has allowed its female employees to work from home, easing their difficulties of coming to the office for various reasons.
At the beginning, this innovation in the operation mode of the service center was targeted at female employees under pregnancy and in the lactation period. Now, those employees, who have to commute for a long time, feel inconvenient to move, or have to look after children, may also apply to work from home.
An employee of the Anhui Telecom Customer Service Center works from home. [China Women's News]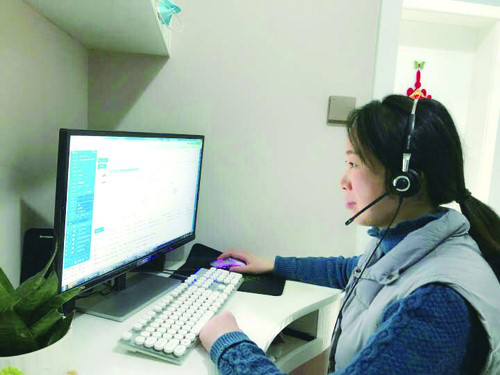 An employee of the Anhui Telecom Customer Service Center works from home. [China Women's News]
"The center provides 24/7 service for 32 million telecom users in Anhui Province, with an average monthly service volume of about 4.6 million person-times, including about 1.3 million manual services," said Hao Xiaomei, Vice-General Manager of Anhui Telecom Customer Service Center.
"We have 712 female employees out of 868 total customer service representatives in the center, accounting for 82 percent. More than half of them have one child, and the number of the pregnant and lactating women is close to each other, staying at about 50 each month," Hao added.
By the end of 2016, the center relocated its office to the development zone of the city, about 15 kilometers away from downtown area, which caused a continuous rise in the turnover rate of female employees.
Long commuting time posed big challenges for female employees with difficulties to balance work and family. As a result, many of them had to eventually resign from their jobs.
To stop losing mature staff and maintain steady high-quality services for users, the center worked out the solution of "home representative" work mode, allowing those female employees in need to work from home with technological support and guidance from the center.
As of now, 115 employees have applied for work from home, of which 21 percent are pregnant, 46 percent have children to care for, and 33 percent suffer long commuting time.
Wang Yuanyuan, one of the worried employees regarding work after pregnancy, is enjoying the convenience of working from home. "I am able to work and take care of my child at the same time, and I earn the same as before," she said.
"Except the change of work location, all the service process and requirements, such as the system interface, safety certification and quality management are exactly the same as before," said Hao. "Our survey showed the users' satisfaction rate of 'home representative' reaches 98.5 percent, which is exactly the same as the on-site office service."
This move helped maintain the employee turnover rate of the center within 3 percent, far below the industry average. More importantly, it greatly satisfies female employees' needs and supports them to continue their work.
(Source: China Women's News/ Translated and edited by Women of China)
Please understand that womenofchina.cn,a non-profit, information-communication website, cannot reach every writer before using articles and images. For copyright issues, please contact us by emailing: website@womenofchina.cn. The articles published and opinions expressed on this website represent the opinions of writers and are not necessarily shared by womenofchina.cn.