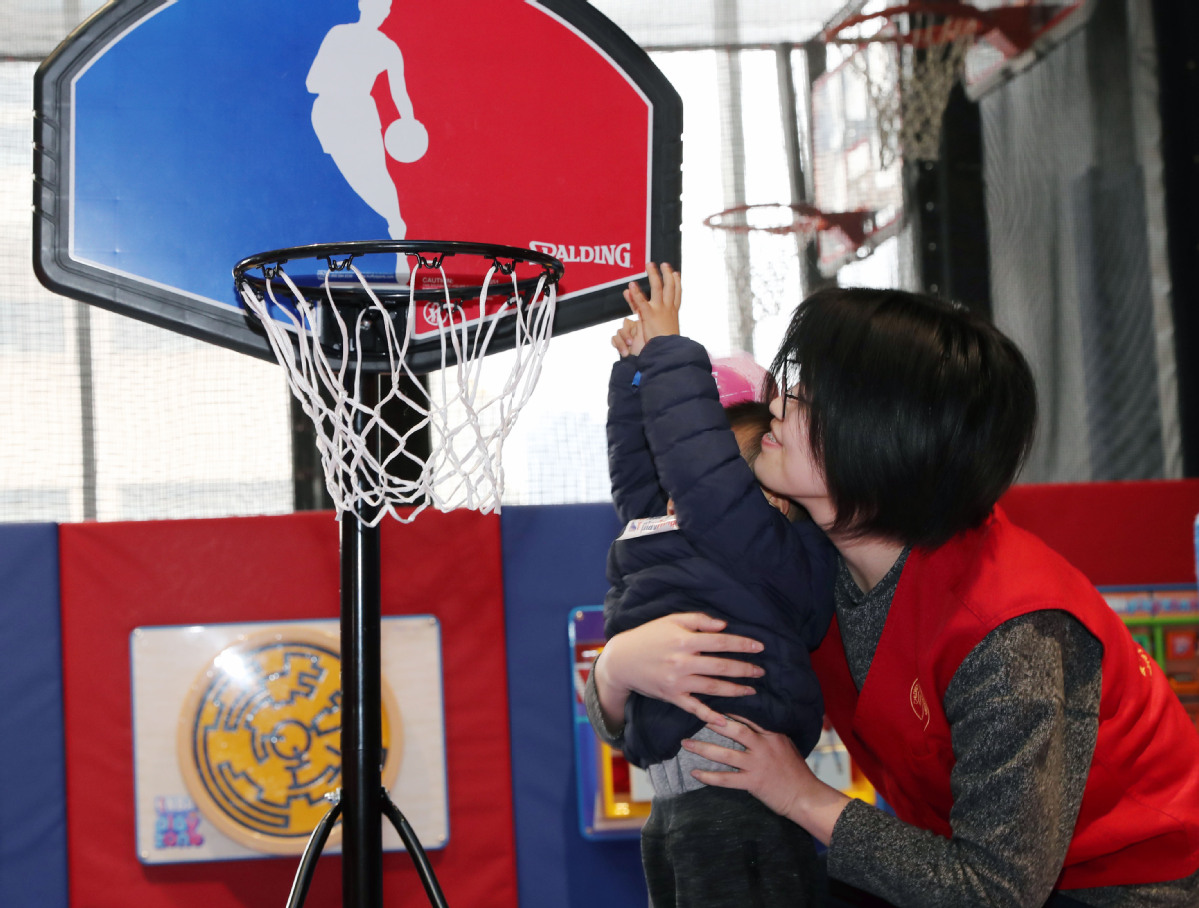 A child with autism plays basketball with the help of a volunteer during an activity held by the Children's Hospital of Fudan University on Sunday. [Photo provided to China Daily]
Two years after establishing the country's first basketball team for autistic kids, the Children's Hospital of Fudan University in Shanghai announced the start of free basketball classes on Sunday, ahead of World Autism Awareness Day on Tuesday.
Autistic people under 14 years old, especially younger ones, can sign up for the classes, which will be held once every two weeks and last an hour. Basketball is one approach to helping them boost their interpersonal skills and become more integrated with society.
Early intervention will produce better results in the behavioral development of autistic children, doctors said.
"We can clearly observe the participants' changes, including following instructions better, waiting in lines for shooting hoops and looking into each other's eyes when practicing passing the ball, which inspired us to continue reaching out to more autistic children through sports," said Xu Xiu, head of the hospital's child healthcare department and one of the country's leading experts on autism.
Coach Liu Siyuan said that the children behave better with interactivity and communication through the monthly training, in which each child is assisted by a volunteer, either a working pediatrician or a medical student, over the past two years.
"At first they didn't look at me when I talked to them, but after a year, some would look at me and take the initiative to say hi," he said.
Wu Wei, father of a 12-year-old autistic boy, said they would continue with the basketball class, especially when he heard that the training frequency would be increased, which he believed would be good.
Worldwide, the incidence of autism has been estimated at about 1 in 100, Xu said. Symptoms include differences and disabilities in social communication, motor skills and sometimes intellectual skills, as well as unusual sensitivity to sound and light.
Sports are widely acknowledged to help autistic children relieve negative emotions and boost their communication skills and self-confidence, Xu said.
"Even if they don't learn any ball playing skills, we hope they feel that sport is a way of releasing pressure and unhappiness. When they meet stress in later life, they can turn to sports," she said.
As a pilot project, toddlers in Shanghai's Xuhui, Minhang and Changning districts are screened for autism when undergoing a health check at 18 months old. Suspected cases are transferred to the hospital for diagnosis and intervention.
"Every three months, we hold training courses, each composed of eight classes, for around 80 parents of newly diagnosed autistic children, on how to interact with such kids at home to better support their development with an enriched environment," Xu said.
(Source: China Daily)