Li Li and Wei Lingling meet with students. [Women Voice]
Two National March 8th Red-Banner Award Winners addressed nearly 400 applicants for Party membership of the amateur Party school at China Women's University on May 15 to encourage them to take responsibility and serve the country.
One of the speakers, Li Li, is a national moral model and deputy of the 13th National People's Congress. She is also the chief judge of the financial trial division of the Fangshan People's Court in Beijing.
She has donated stem cells twice, and established a charitable team to serve and carry out various public welfare and law-enforcement activities.
Li has spread positive energy to society and demonstrated the spirit of selfless dedication with her actions and noble moral qualities, said organizers. She explained the responsibility and commitment of young people in the new era.
The other speaker was Wei Lingling, deputy of the 19th National Congress of the Communist Party of China, who is a researcher and doctoral tutor of the Institute of Agricultural Environment and Sustainable Development of the Chinese Academy of Agricultural Sciences. She is also the chairperson of Beijing Zhonghua Yida Facility Horticultural Technology Co.
Wei has dedicated herself to science and technology in agriculture and committed herself to technological innovation and transformation in the field of horticulture engineering.
She established China's first world-class farm, the China National Cereals, Oils and Foodstuffs Corporation Farm, and the National Modern Agricultural Exhibition Center in the Yellow River Delta.
She has also carried out much high-tech researches, demonstrations and promotion of hi-tech farming in China, with important breakthroughs in the research and development of key technologies.
She has set herself as an example for devotion to studies and for daring to make breakthroughs. She has shown students the courage and fearlessness of young women scientists in the new era.
At the event, Li and Wei also spoke with students about their confusions and problems in their studies and life, and provided advice with regard to academic development and professional experience.
Li Li makes a speech at the event. [Women Voice]
Wei Lingling makes a speech at the event. [Women Voice]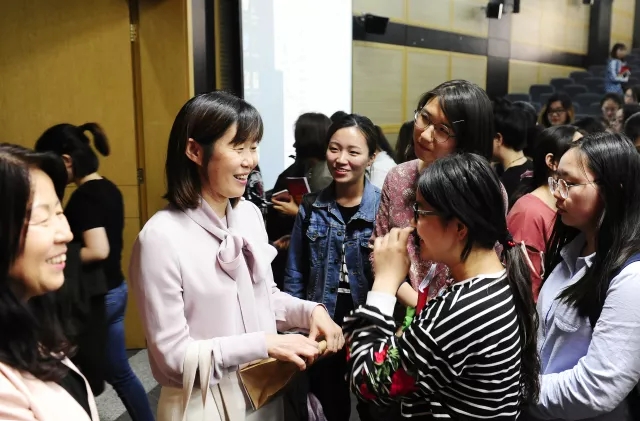 Wei Lingling communicates with students. [Women Voice]

(Source: Women Voice/Translated and edited by Women of China)