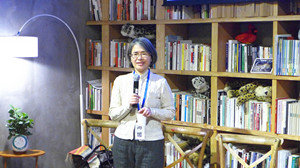 Women's Studies Center Advisor Feng Yuan makes a speech at the March 3 gala. [Women of China/Zhang Jiamin]
The first Anti-Domestic Violence Law in China's history has entered the legislative program and is expected to pass this year, on the 20th anniversary of the Fourth World Conference on Women.
In virtue of the commencement of the National People's Congress (NPC) and the Chinese People's Political Consultative Conference (CPPCC), the "2015 Anti–Domestic Violence Legislative Experts Gala," organized by the non-governmental advocacy group for legislation on anti-domestic violence, was held in Beijing on the same day that the 3rd Session of the 12th CPPCC kicked off — March 3.
A Golden Opportunity: Anti–Domestic Violence and the 'Two Sessions'
At the March 3 gala, Women's Studies Center Advisor Feng Yuan expressed that the year 2015 represents a marvelous opportunity for China to release its Anti–Domestic Violence Law. In addition, she speculated that the law would be officially enacted this August, in fitting and symbolic commemoration of the 20th anniversary of the UN's Fourth World Conference on Women, which in 1995 gathered many of the world's top minds for what is widely considered to have been a key turning point in the global agenda of gender equality.
At present, a total of 215 countries have adopted legislation that identifies and deals with domestic violence as a criminal offense. The drafting and eventual enactment of China's first Anti–Domestic Violence Law highlights the immense progress that China has made in the protection of women's rights and shows the extent to which the Middle Kingdom is keeping pace with world development.
Focus, Emphasis and Progress of China's Anti–Domestic Violence Legislation
The highlights of the current draft of China's new Anti–Domestic Violence Law stresses the responsibility of the government; comprehensively stipulates against domestic-violence infractions by touching upon the aspects of prevention, disposal, personal security and legal responsibility; and covers an integrated working mechanism of precaution, prevention and rescue. In addition, the now-draft law pays close attention to vulnerable groups such as the minors and the elderly, strengthens legal relief channels for those subjected to domestic violence, and contains a special article laying out a protection system for ensuring people's personal safety.
In the two aforementioned sessions, Shang Shaohua, member of the CPPCC National Committee and editor-in-chief of China Women's News, submitted to the CPPCC two proposals for domestic-violence studies, which focus on the topics of "violence must be met by violence" and "multi-institutional cooperation mechanisms." Meanwhile, another member CPPCC National Committee member, by the last name of Fu, also submitted a proposal regarding these two topics.
Lü Xiaoquan, director of the Beijing Zhongze Women's Legal Consultation Service Center, cited two instances to explain why the two topics should be emphasized.
Case I: Dong Shanshan, a 26-year-old woman, was beaten to death by her husband 308 days after they were married, over which period of time she went to the police for help on eight different occasions, but to no avail. Finally, her husband was found guilty of abuse and sentenced to 6 years and 6 months in prison.
Case II: Li Yan was being abused by her husband for some time. But because her situation of domestic violence did not improve even after she sought help from the local women's federation and police station several times, she ultimately killed her husband to put an end to the abuse she was being put through. For her actions, Li was sentenced to death in the first and second trial of her case; but according to the appeals of mediation, the Supreme People's Court — the highest court in mainland China — announced that the death penalty shall not be approved as suitable punishment for her actions. She is still currently waiting for a final decision.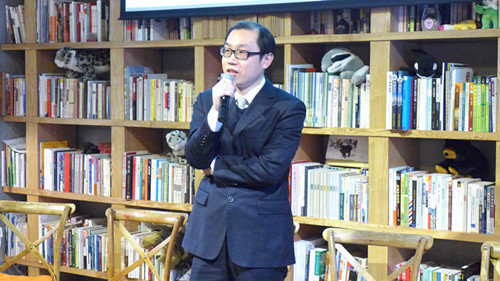 Lü Xiaoquan, director of the Beijing Zhongze Women's Legal Consultation Service Center, makes a speech at the gala. [Women of China/Zhang Jiamin]