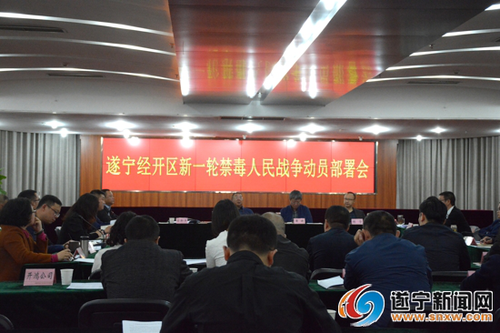 Officials in the city of Suining, southwest China's Sichuan Province, organizes a special conference to carry out a new round of anti-drug campaigns. [snxw.com]
Southwest China's Sichuan Provincial Narcotic Control Committee (SCNCC) held a special conference on December 11 to carry out a new round of its anti-drug campaign.
According to officials, over 3,000 micro bases and anti-drug promotion sites have been set up in the province as of this year.
In 2015, some 14 departments including the Office of the China National Narcotic Control Committee (CNNCC), the Publicity Department of the Communist Party of China, the Ministry of Public Security, and the Ministry of Education jointly promulgated an education program, namely the "6·27" project, to prevent drug use among young people nationwide.
The project focused on teenagers from 10 to 25 and aimed to construct a comprehensive drug prevention system in schools within three years so as to strengthen teenagers' anti-drug consciousness.
In the same year, the CNNCC launched another three-year project aiming to fight drug addiction and start rehabilitation work in communities.
The year of 2018 is the final stage of the two projects and relevant work should be paid close attention to, officials said, and the provincial public security department has deployed the work of the new round of anti-drug campaigns from 2018-2020.
During the promotion conference, Hu Gang, deputy director of SCNCC and deputy Party secretary of Sichuan Public Security Department, demanded that strict prevention and control methods should be taken to carry out anti-drug education and treatment.
Hu said the new campaign was targeted at teenagers. Relevant departments will innovate publicity methods in anti-drug education bases and organize drug prevention activities in schools, he added.
Sichuan planned to set up some 4,500 anti-drug micro bases and bulletin boards in schools by the end of 2020, according to a reporter.
In addition to schools, families are also major bases to carry out drug control activities, Hu said.
According to officials from the Legal Department of Sichuan Women's Federation, women's federations at all levels have carried out thousands of online and offline activities to fight narcotics, playing an important role in the drug control campaign.
(Source: cnwomen.com.cn/Translated and edited by Women of China)