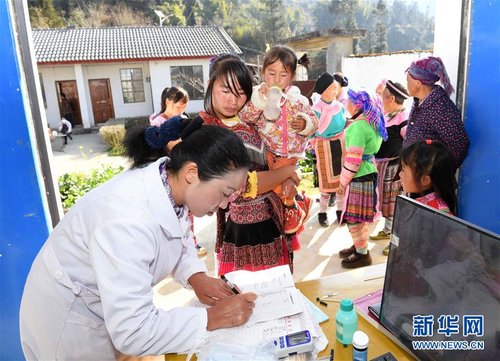 Yang Lianying, a rural doctor in Hani-Yi Autonomous Prefecture of Honghe, Yunnan Province, records villagers' medical information. [Xinhua / Yang Zongyou]
April 7 marks the 69th World Health Day, with a theme of "Universal Health Coverage: Everyone, Everywhere."
"China will promote quality medical resources to all levels to achieve universal health coverage," said Wang Hesheng, deputy director of the National Health Commission of the People's Republic of China.
Doctors in the Remote Image Consultation Center of Zhutai Branch of Linzi District People's Hospital in Zibo, Shandong Province, diagnose illnesses with doctors in the headquarters by using a tele-consultation system. [Xinhua / Guo Xulei]
A ward for needy patients in Feixiang District Central Hospital in Handan, Hebei Province. Millions of patients have benefited from China's poverty alleviation policy and are cured. [Xinhua / Mou Yu]
An automatic drug storage and distribution system collects medicines for patients in the Fuyang Hospital Affiliated to Anhui Medical University. [Xinhua / Liu Junxi]
Universal Health Coverage: Everyone, Everywhere [Xinhua / Song Weiwei]
Several residents in Chengdu exercise in a shared gym. [Xinhua / Jiang Hongjing]
The "Family Doctor" team of Shuijiang Health Center in Nanchuan District, Chongqing, diagnose illnesses in Shuijiang County. [Xinhua / Wang Quanchao]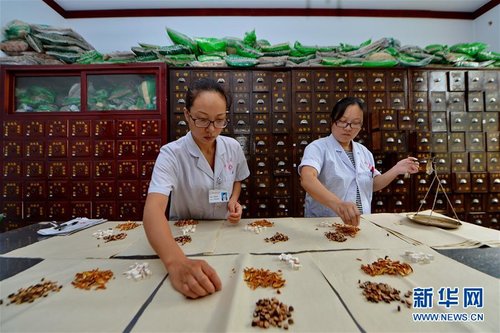 Physicians prescribe traditional Chinese medicine in at a traditional Chinese medicine clinic of Shijiazhuang, Hebei Province. [Xinhua / Mou Yu]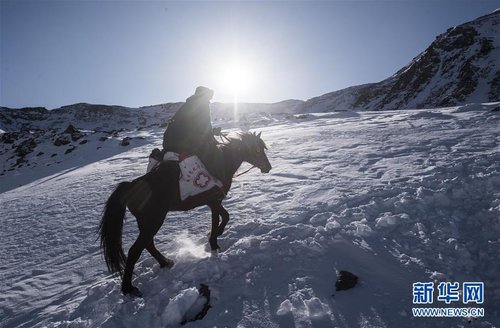 An attendant physician at Xinjiang Tianshan Mountain [Xinhua / Jiang Wenyao]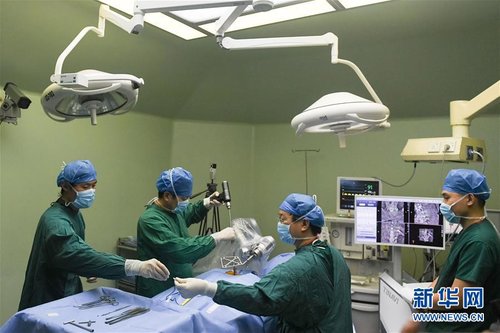 Robot-assisted orthopedics surgery in the First Affiliated Hospital of Anhui Medical University [Xinhua / Zhang Duan]
Half marathon runners gather in a national forest park in Nanjing, Jiangsu Province. [Xinhua / Li Bo]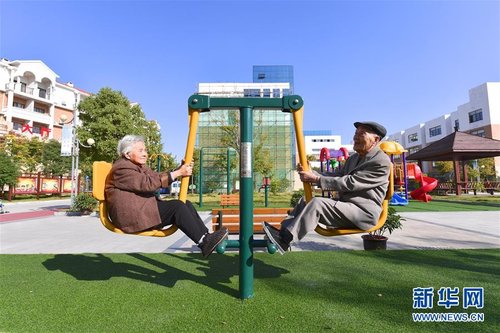 Zhang Hongye, over 90, exercises in the Qingshan Lake Social Welfare Center in Nanchang, Jiangxi Province, with his wife, Wu Biqing. [Xinhua / Hu Chenhuan]
(Source: Xinhua/Translated and edited by Women of China)
Please understand that womenofchina.cn,a non-profit, information-communication website, cannot reach every writer before using articles and images. For copyright issues, please contact us by emailing: website@womenofchina.cn. The articles published and opinions expressed on this website represent the opinions of writers and are not necessarily shared by womenofchina.cn.