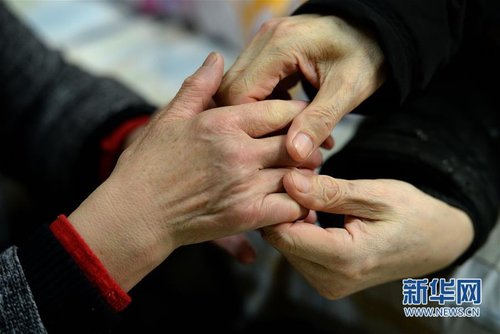 Huang's hands are deformed due to years of labor. Yang often helps her pinch her fingers when she has time. [Xinhua]
Yang Guohua, a native of Pingli, in northwest China's Shaanxi Province, was involved in a landslide in the construction of the local power station when he was 18-years-old, which caused his paraplegia. Since then, he has been bedridden.
However, Yang was not discouraged. He taught himself calligraphy, literature, law and sculpture, and became a famous figure with a cheerful and modest personality.
Huang Yuzi, then 22-years-old, worked in a firecracker factory nearby. She was compassionate upon learning of Yang's situation and went to his home to keep him company.
After their first meeting, Huang fell in love with Yang and told him, but he turned her down on the grounds that he was disabled. " never thought of getting married and didn't dare to think about it," said Yang.
However, Huang's firm attitude led Yang to make up his mind and they got married in 1980.
Huang had taken on a burden unimaginable to ordinary people. She not only had to take care of Yang, but also needed to do farm work, feeding pigs and chickens, caring for the elderly, and raising children.
God helps those who help themselves. The two worked together to overcome the suffering in their lives.
Today, as life gets better, Huang and Yang are still as loving as they were then. " love him. He deserves to be loved more than many healthy people," said Huang. Yang wrote a poem, To Yuzi, to express his love for her.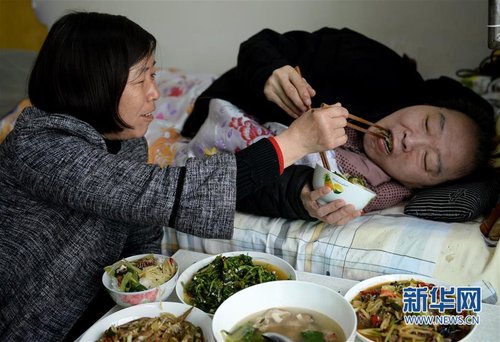 Huang feeds Yang . [Xinhua]
Yang pulls a gray hair for Huang. [Xinhua]
Yang wrote a poem To Yuzi for his wife in 1985. [Xinhua]
Huang and her daughter Yang Wei (second from left), son Yang Lan (first from left), daughter-in-law Jiang Siyu (first from right) and grandchildren. [Xinhua]
(Source: Xinhua Daily Telegraph/Translated and edited by Women of China)