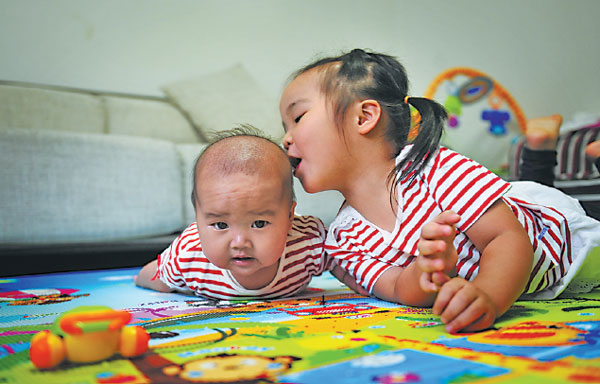 A girl and her brother play together at their home in Fuzhou, Fujian Province. [File photo/China Daily]

The end of three decades of China's one-child policy on January 1 did not bring joy for Liu Yan.

This professional woman found that her family began demanding she give up her career.

As soon as the policy came out, her husband and in-laws started telling her they want another child, a girl. The 34-year-old former vice president of a Beijing-based company already has a 4-year-old boy and doesn't want to have any more children. But the pressure is wearing her down.

"My husband even told me he'll buy me a new car if I had another child," she said. "We immediately started quarrelling. What does he think I am, a child-producing machine?"

Liu said her husband insisted Liu should not work because he makes enough money and she should make their family life her only priority.

What makes her even madder is her husband even taught their son to say he wants a baby sister. When Liu looks at the expression on her son's face, she feels helpless, because he doesn't truly understand what having a baby sister means.

Liu isn't alone in this.

Even though the change to a two-child policy received some praise for being a step in improving reproductive rights, it's also presented a tough situation for some women, as they may be pressured by their families into having a second child against their will. Furthermore, experts say that women's rights in other areas, including the workplace and in their families, are still lacking sufficient legal protections.

Policy Repercussions

Before the policy came out, Liu had just readied herself to go back to the workplace after taking maternity leave.

She got married at 26 and had her son when she was 30. After that, she quit her job and intentionally shifted the focus of her life from work to family.

"At first I wasn't used to it at all, there were no e-mails for me to reply to, no oral presentations for me to approve," she said.

After her baby was weaned, Liu went back to the workplace. But she chose a job that wouldn't require a lot of time, because she felt her family should still put the baby at the center of attention.

At the same time, she kept having arguments with her in-laws over how her child should be raised. Facing all these troubles, she hired a nanny to reduce her workload, but only to get into another fight with her in-laws, who didn't like to have an outsider around the house.

When her son turned 4, Liu thought she could finally go back to developing her career. At this time, the second child policy came into force and she started having arguments with her husband.

"If I give up this time, maybe I will be stuck being a housewife all my life," she said. "The best parts of my life are left in my 20s."

Usually when people discuss the one-child policy, the debate focuses on women who don't have the resources or knowledge available for them to cope with China's unequal gender relations. However, even highly educated professional women who understand their rights can find themselves coerced into playing the role their families expect.

Like Liu, Zhang Li, a 34-year-old former journalist, has also been stressed out by the pressure to have a second child. Zhang has devoted most of her money and energy to her son for the last seven years.

"Now that my boy is more independent, I finally have a chance to spend more time with my husband," she said. However, her husband's insistence on having a second child threw their previously happy life out of balance.

Tragic Consequences

The death of a 34-year-old mother, Yang Bing, last month shows the tragic consequences such pressure can have. She was a research fellow at the Technical Institute of Physics and Chemistry under the Chinese Academy of Sciences (CAS), and she went to the obstetrics department of Peking University Third Hospital, a prestigious institution, on December 28 and died there on January 11 during childbirth. The fetus died while still in her womb.

After her death, more than 50 people, sent by her husband's family, occupied the obstetrics department, prompting heated debate on the Internet. CAS also sent a notice to the hospital demanding a "fair, transparent and solid investigation" into her death.

But when more facts were revealed, anger that had been directed at the hospital shifted to her family.

The hospital responded in a statement on its website on January 16, saying that Yang's sudden death resulted from an aortic dissection, a serious heart condition that can be linked to pregnancy.

"Yang had over 10 years of history of hypertensive disease and gallstones … Her death was caused by an aortic rupture. When it occurred, chances of her survival were very slight," it said.

It also said that the hospital had met with Yang's family and her employer several times since her death, explaining her illness and suggesting an autopsy.

But her medical history showed that this is not the first time she got pregnant. She had many failed pregnancy experiences, but she and her husband decided to have another baby despite high risks.

At that point, her story came to be connected with women's rights and online discussions spread.

Everyone's Problem

Many netizens and experts had discussed the implications of a second-child policy long before it was introduced, and much more vehemently after it hit the ground.

Ke Qianting, an associate professor in gender studies at Sun Yat-sen University in Guangzhou, South China's Guangdong Province, wrote for feminist organization Voice of Women that "women's productive rights should be an individual right, a whole right … the second-child policy still defines it as a right given by the government … the policy still controls women's bodies."

Besides pressure received from families to have another child, negative effects on one's career are a major concern for working mothers.

Multiple media outlets have reported that many women worry employers have doubts when hiring them, and worry that protections that should come with the two-child policy, such as guaranteed maternity leave, aren't in place.

Hubei Province-based Chutian Golden News reported in March 2015 that Li Qing, a 28-year-old woman, was turned down by a company during an interview. When she asked why, the human resources manager directly said to her, "Because we are short of people, and you are qualified to have a second child. So if you have one and go on maternity leave right away, it'll affect our work."

Policies to ensure women's welfare are not up-to-date, according to Alana Livesey, a Canada-based gender equality specialist, who told the Global Times via e-mail that she believes the recent changes to China's family planning policy are a step in the right direction in terms of enhancing women's sexual reproductive and health rights, but there are many limitations and areas in need of improvement.

"Access to sexual and reproductive health knowledge and services could be strengthened, particularly for youth. Domestic violence and other forms of gender-based violence are still prevalent, and have a lasting impact on victims," Livesey said.

In addition, women's economic empowerment could be strengthened through equal pay and equitable parental leave policies for both mothers and fathers, she said.

Awareness of these problems is increasing, especially with surging activism on women's rights. The national discussion on the two-child policy proves this point.

After Yang's death, some feminists organized a conference to discuss how women can protect their rights and interests. They invited both victims and experts in this area to speak, including Wu Xia, an unmarried mother who was fined for having a child and aroused widespread discussion on the matter.

Currently, only the children of married couples can get the all-important household registration that gives them access to education, healthcare and a range of other benefits.

There are many organizations in China focusing on gender equality and women's and girls' rights, including UN organizations, international and domestic nongovernmental organizations, research institutions, and civil society groups, according to Livesey.

However, there is still a long way to go and that requires the efforts of both institutions and ordinary people.

"In order to further enhance women's and girls' rights, a multi-level approach is required that works with a variety of stakeholders in order to transform unequal power and gender relations," said Livesey.

This, as she said, includes working with the government and institutions to change policy and laws to make them more gender equitable and inclusive, and working with community members and families to change social norms and practices that discriminate against women and girls and perpetuate son preference.

"We also need to work with individuals themselves, including mothers, fathers, girls and boys to ensure this intergenerational cycle of discrimination ends," she said.
(Source: Global Times)