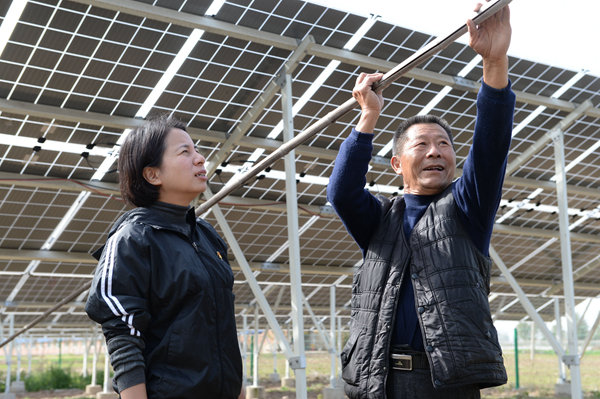 Liu Shuangyan is at work. [For Women of China]
"The eight years of poverty-alleviation work has left my heart full of love for people who live in poverty. I always remain true to my original aspiration, and I keep my mission and responsibility in mind," Liu Shuangyan, a cadre with Bozhou Taxation Bureau and first secretary of Zhuji Village, in Bozhou, in East China's Anhui Province, said on October 17, 2019. She made the comments during the ceremony for the 2019 National Poverty-alleviation Awards in Beijing.
Liu was among the 140 individuals and units that won the 2019 National Poverty-alleviation awards. Since she volunteered to conduct poverty-alleviation work in villages in Lixin County, in Bozhou, in 2012, she has been dedicated to helping villagers improve their lives, and in promoting rural economic development.
Hope
Liu, as head of the fifth group of cadres in the province to conduct rural poverty-alleviation work, became first secretary of Luxiaoying Village, in Lixin County, in March 2012. The remote village had a weak economy, and it lacked natural resources.
In spite of the difficulties, Liu made up her mind to change the backward situation in the village. "Only when the villagers see the hope will they be mobilized to fight against poverty," she said. She promoted the poverty-alleviation polices, door-to-door, and she tried her best to find proper ways to help villagers escape poverty.
She realized that lack of convenient transportation was a major factor that caused poverty in the village. She submitted a report to her superior administrative unit, and the unit allocated 500,000 yuan (US $72,463) to build a three-kilometer cement road in the village. "Thanks to the road, our grain and vegetables can be transported to outside markets, and our lives continue to get better. We will never forget Liu," villager Lu Dibin said.
In November 2014, Liu concluded her work in Luxiaoying and began her second term as first secretary in Zhuji. "Developing industries is a fundamental way out of poverty," Liu said.
She encouraged villagers to develop a breeding industry, and she helped them apply for small loans. Zhou Wenfeng and his wife, both physically challenged residents of Zhuji, were initially worried they would lose money. But they took Liu's advice, and they began breeding ducks, under the guidance of experts. Now, they earn about 50,000 (US $7,246) yuan per year.
Through four years of hard work, most of the villagers have increased their incomes, and the village has been selected as a provincial-level beautiful village. The village has a 13-hectare breeding base, and a 187-kilowatt photovoltaic power station. At the end of 2018, the total economic income of the village was 700,000 yuan (US $101,449).
Deep Bonds
Liu has developed deep friendships with villagers during the past few years. At first, they called her "Secretary Liu," which was a formal title. Over time, they started to call her by her given name, Shuangyan. The elderly villagers like to call her "my daughter."
"We are grateful that such a good cadre has come to our village," 73-year-old Zhu Liancui says. As Zhu's children work in big cities, Liu often visits Zhu. Liu helped renovate Zhu's dilapidated house.
"The villagers are as close to you as you are to them. As a woman cadre, it is the villagers' honesty and trust that give me hope and power during the difficult times," Liu said.
In 2015, she was diagnosed with patellar chondromalacia in her knees. Doctors advised her not to walk too much. After villagers learned about her disease, they offered her rides whenever they saw her walking in the village. Liu was really touched.
When she talks about her family, Liu always feels regret. Her mother was diagnosed with lung cancer and passed away in August 2012. Liu always remembers what her mother said to her, "Since you have chosen to be a poverty-alleviation cadre, you must do things that truly benefit the villagers." Liu's husband supported Liu's work, and he took good care of their daughter. Unfortunately, he died from a heart attack in 2018.
In March 2018, Liu chose to stay in Zhuji, for her third term as first secretary. "Some friends have asked me why I have stayed in the villages for so many years. I have answered, 'I want to make sure the poverty-alleviation policies are better implemented in rural areas, and I want to help make villagers' dreams come true. Also, I don't want to let my mother and my husband down.' Some villagers haven't been lifted out of poverty. I want to be with them until they begin to live better lives," Liu says.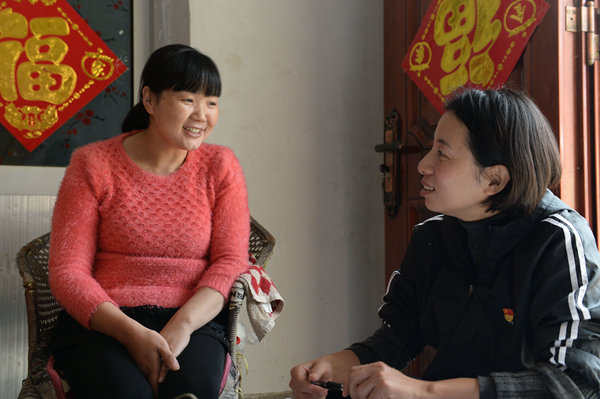 Liu Shuangyan talks with a local woman. [For Women of China]
(Women of China English Monthly February 2020 issue)