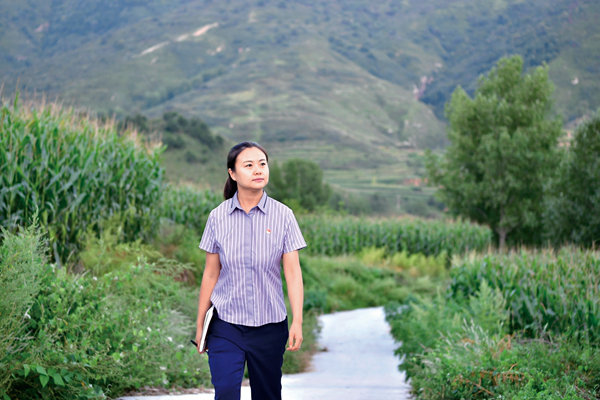 Wang Dan, first secretary of Beiwen Xicun, a small village in Wutai, a county in Xinzhou, a city in North China's Shanxi Province, walks along the only road that links the village and the outside world. [Women of China]
Wang Dan is a native of Wutai, a county in Xinzhou, a city in North China's Shanxi Province. In 2012, Dingxiang (another county in Xinzhou) Radio and TV Station employed her as a news anchor and reporter. Unlike some other women her age (she was in her 30s), who hoped to enjoy an easy, comfortable life, Wang had a much bigger dream. At the end of 2016, she was appointed first secretary of Beiwen Xicun, a small village in Wutai.
"I was fashionably dressed, and I was in good shape, when I worked at the radio and TV station," says Wang. "After I began working in the village, my skin turned darker, as I often worked outdoors. I also became fatter, as I had many potatoes (one of the village's major vegetables) every day. Now, I usually wear plain dresses during work days."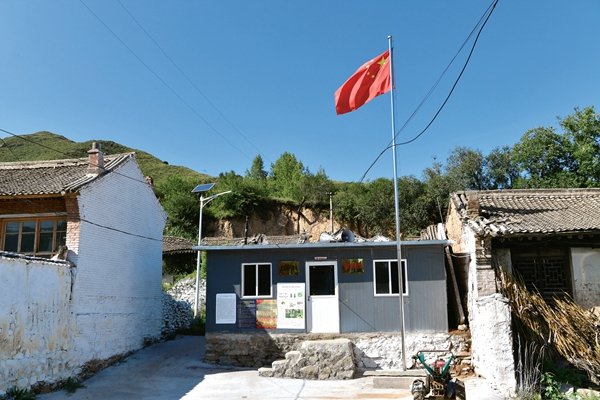 The three-roomed house is the "headquarters," where Wang Dan and other village officials draft plans to help villagers escape poverty. [Women of China]
Some of Wang's friends and acquaintances asked her why she brought "trouble" upon herself by volunteering to work in a poverty-stricken village. Wang answered, "My grandpa, father and aunt were all government officials, before they retired from their work units. When I was a little girl, I took delight in listening to them as they talked about their interesting, early days' experiences of working in the nation's countryside."
Wang, who was born in the countryside, has a natural affinity for villages. However, her heart sank every time she saw the melancholy on the faces of villagers, who lived in shabby houses, as she reported on poverty-stricken rural residents' lives. She felt obliged to do something to help the residents improve their lives. When she learned, in December 2016, the Organization Department of the CPC Xinzhou Municipal Committee would choose a cadre from her work unit to work in a village (in Wutai), to help the rural residents escape poverty, she did not hesitate to sign up. Within a short time, she began serving as first secretary of Beiwen Xicun, leaving her five-month-old daughter to the care of her parents. Wang is the only woman among the 29 cadres who were appointed, at the end of the year, first secretaries of the villages (in Wutai).
Wang Dan always carries three "treasures" — a camera, a pair of galoshes and a work-related diary — when she works in the village. [Women of China]
A few days after she arrived in the village, Wang learned Beiwen Xicun lacked capital to build a village committee office. Within a short time, she raised money to build two, single-story houses in the village.
Wang and the village's officials used the houses to discuss how to promote the village's economic and social development, and how to help the villagers escape poverty. Wang also used the houses as a broadcast studio, so she could broadcast information about the national poverty-alleviation policies among the villagers.
Wang Dan has established close relations with many villagers during the past few years, as she has visited them to learn about their needs and the difficulties in their lives. [Women of China]
During the first few months after she began working in the village, Wang worked with the villagers in the fields during daytime, and she visited villagers at night, so she could learn firsthand the villagers' needs and the various difficulties they faced. She always carried three "treasures" — a camera, a pair of galoshes and a work-related diary-when she worked in the village. Gradually, she gained the trust of the villagers.
Wang was knocked down by a frightened ox, as she talked with a villager, one day in early 2017. After that, she worked harder to improve the villagers' lives, and to lead them in building roads, rebuilding old houses and digging wells.
Wang Dan and villagers hang the villagers' housing-plane map on a wall in the conference room. [Women of China]
One of Wang's "most outstanding achievements" has been helping villagers attain wealth by promoting sales of their millet across the country. As the village was difficult to reach by public transportation (before Wang led the villagers building roads), few "outsiders" knew about the pollution-free millet. Wang has promoted the product not only among her friends and relatives, but also via Dingxiang Radio and TV Station. She has also organized various online and offline activities, to promote sales of the millet. As a result, the millet has been selling well throughout the country.
Wang feels lucky that she has a strong backing — a WeChat (a messaging and calling app created by Tencent) group, through which first secretaries of the villages (in Shanxi Province) share their experiences of conducting poverty-alleviation work (in the villages) . "Most of the group's members are more experienced in helping villagers escape poverty, as they began working in the villages earlier than I did . I often ask them to offer suggestions on how I can improve my work. Indeed, they are my great supporters and constructive critics," says Wang.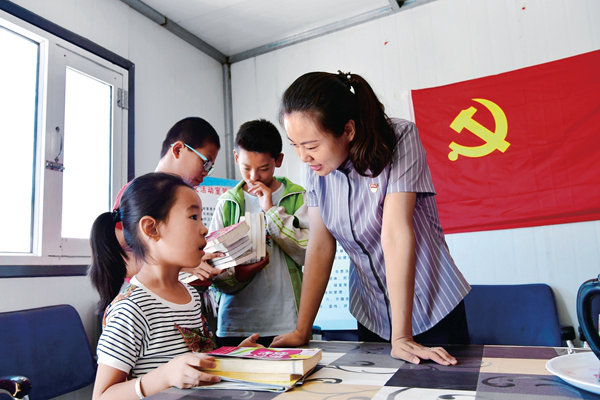 Wang Dan distributes books, donated by warmhearted people, to children in Beiwen Xicun. [Women of China]
When her term of office was about to end in December 2018, Wang carefully wrote her name on the application form to continue in her post (of the first secretary of the village). "I grappled with the decision to continue working in the village, as my family, including my two-year-old baby, hoped I would return home. However, many villagers asked me to continue working and living with them ... Eventually, I decided to work harder to help the villagers live better lives," recalls Wang.
"I'm pleased to see our efforts have yielded fruitful results; many villagers have escaped poverty, and they enjoy many convenient services. Also, many villagers have become my close friends," says Wang. "I have benefited greatly from my work experiences during the past few years. To me, the experiences are a lifetime wealth."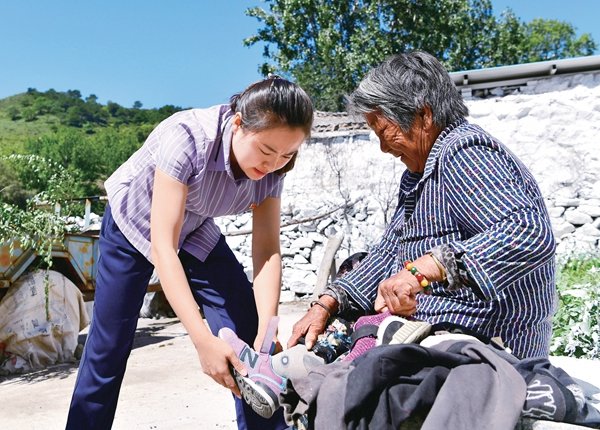 Wang Dan helps an elderly villager try on shoes. [Women of China]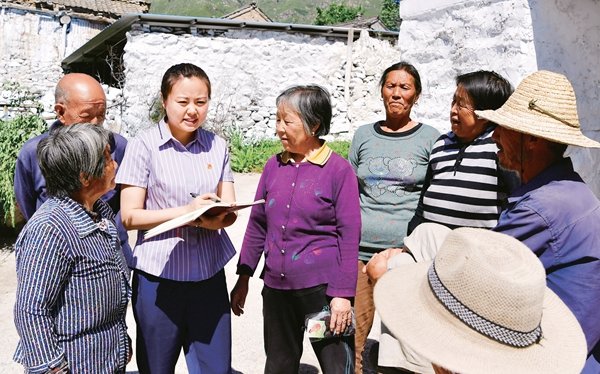 Wang Dan asks villagers about their plans to cultivate grain. [Women of China]
(Women of China English Monthly September 2019 issue)