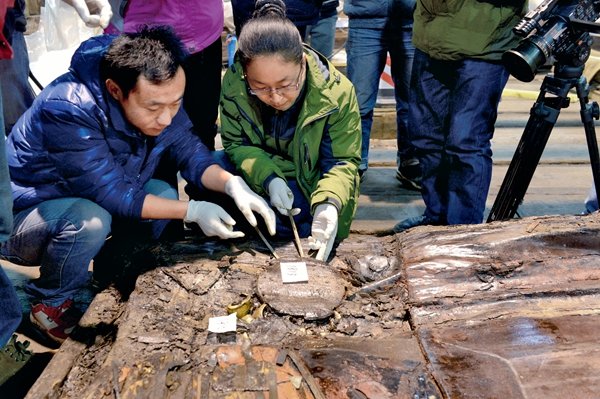 The team members of the Jiangxi Provincial Museum to preserve "movable cultural relics" are at work. [For Women of China]
Xi Jinping, General Secretary of the Central Committee of the Communist Party of China, has referred to cultural relics as "a valuable legacy from our ancestors," and he has stressed that conservation will benefit future generations. People who help preserve cultural relics know they must endure hardships to let the public better recognize the charms and values of relics from ancient times. Guan Li, who currently serves as Deputy Director of Jiangxi Provincial Museum, in 2015 organized the first team to preserve "movable cultural relics" in East China's Jiangxi Province. Guan told Women of China, "If we want to enhance our people's confidence in culture, we must first let our people know what kinds of gifts history has left on the earth where we live. We, who dedicate ourselves to the preservation of cultural relics, shoulder the responsibilities of inheriting, innovating, sharing and promoting our splendid culture."
Unveiling Mysterious Past
The unearthing of the main section of the tomb of Haihunhou (Marquis of Haihun) started in Nanchang, capital of Jiangxi Province, in 2015. The tomb, which covers roughly 40,000 square meters, dates back to the Western Han Dynasty (206 BC – AD 24). Guan was responsible for organizing Jiangxi's first team to preserve "movable cultural relics," to ensure unearthed relics from the tomb were well protected.
Architecture, murals and grottos are generally regarded as "unmovable cultural relics." Different from those relics, "movable cultural relics" refer to items — of various texture — that can be unearthed for preservation and research. "The responsibilities of our team include unearthing and timely packing relics to prevent possible damages during transportation. We transport the unearthed items to institutes that specialize in preserving and researching cultural relics. The movable relics we unearthed from the tomb of Haihunhou included bronze ware, lacquerware, jade ware, bamboo and wooden ware," Guan explains.
Guan was the only woman among the team's first six members. Since the latter half of 2015, some graduates, who had studied archeology, fine arts, cultural relics preservation or science and technology, joined the team.
In Guan's opinion, unearthing a huge number of relics from the tomb of Haihunhou was a big challenge. Her team stuck to the principle of "providing timely preservation during the whole process of unearthing." Members of the team participated directly in the unearthing of relics from the tomb's main section. By adopting various techniques, such as hyperspectral image extracting, time-lapse photography, shooting with drones and infrared scanning, a variety of relics, including bamboo slips unearthed for the first time in Jiangxi, were collected and preserved.
Guan and her teammates endured hardships while they worked in the tomb. After they arrived in the tomb's main section, they had to hang ropes from the ceiling; then, they used the ropes to fix a board, on which they could work. "The young graduates on our team showed great concentration. They lay prone on the board and worked seven to eight hours a day, in a humid environment," Guan recalled. As they repaired bamboo slips unearthed from the tomb, they inevitably touched chemical reagents, which caused their skin to peel and/ or change color. But no one gave up.
When some of the relics, unearthed from the tomb, were exhibited in November 2015, Guan and her teammates viewed the exhibit. They were excited by the fact spectators were fascinated by the well-preserved cultural relics.
"At that moment, I realized more deeply the importance of using cultural relics to tell the wisdom of history to our people. Sharing the 'legacy' of history and our splendid culture are the missions shouldered by people who work in the field of cultural-relic preservation," Guan says.
Whenever Guan visits exhibition halls, she observes carefully each item on display. If she notices a subtle change occurring with an item, she will immediately ask her teammates to retrieve the item for repair and preservation.
"Sometimes, we meet spectators who are curious about certain relics, and who ask questions concerning the historical background of those items. I encourage my teammates to tell spectators the stories hidden behind the relics. We have witnessed and taken part in the unearthing of those relics, and we should also help promote history and culture, and help more and more people better understand the significance of those relics," Guan adds.
Now, the preservation team has more than 20 members. Besides Guan, there are four women members, all of whom are of the post-1990 generation.
Guan Li and her team members are at work. [For Women of China]
Be Well Prepared
When Guan was organizing a team to participate in the unearthing of the tomb of Haihunhou, her first child, Qiaoqiao, was only one year old. At that time, Guan often left home early in the morning and returned after dark. She tried her best to balance the time she spent at home and in the workplace. She remembers clearly, on one day, she saw her little boy "riding" on his toy bicycle and saying, "I'm going to work with Mom!" Guan asked Qiaoqiao where he was going. The little boy answered, "Haihunhou, that's where Mom is working." Guan was sad that she could not spend more time with her child. But, she hoped to teach her child the importance of working hard.
Guan feels lucky that she lives in the new era, in which women are given much more opportunities to work hard and win the respect of society. Talking about her understanding of "new women in a new era," Guan says, "Women today should forget the differences between the two genders when we are in the workplace, so we strive to make the same achievements as our male counterparts. But when we are at home, we are daughters, wives and mothers, who use our feminine strength to maintain the harmony of our families."
Guan is the mother of two children. She often takes her children to Jiangxi Provincial Museum. There, she tells her children stories about archeology and cultural relics. She hopes her children will share those stories with others after they grow up. Guan is grateful that she has participated in the significant unearthing program at the tomb of Haihunhou. "I seized the opportunity when it came to me. I believe everyone should be well prepared, so they can seize the opportunities they deserve," Guan concludes.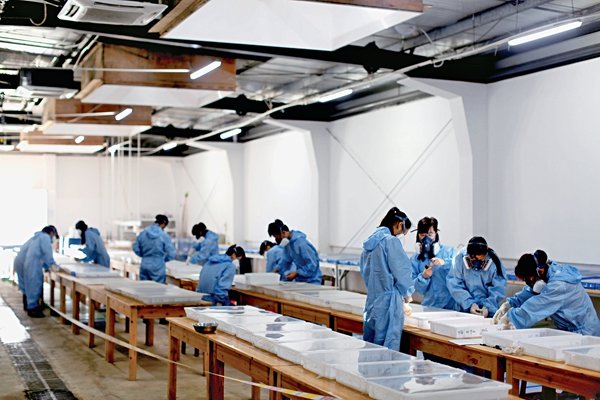 The staff members work on preserving the unearthed bamboo slips. [For Women of China]
(Women of China English Monthly November 2019 issue)