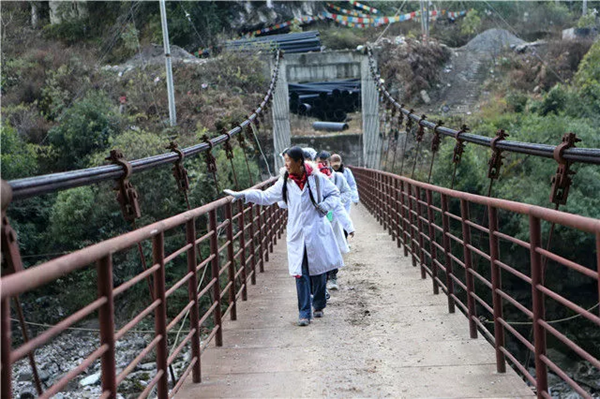 Guan Yanping (F) and her colleagues walk across a bridge. [Xinhua]
Guan Yanping has dedicated herself to providing medical services to residents in remote mountainous villages around Bingzhouluo, a town in Nujiang Lisu Autonomous Prefecture, in Southwest China's Yunnan Province. Guan has nickname — 'Basket Doctor.' Why? Many of the mountainous villages around the town are still not linked to the outside world by roads, so Guan always carries medicine and medical devices in a basket on her back when she makes house calls.
Guan, a doctor with Sanzao Hospital, in Jinwan District, Zhuhai, in South China's Guangdong Province, signed up, in March 2017, to become a member of the first group of medical workers from the district to provide medical services in Nujiang Lisu Autonomous Prefecture.
In recent years, Zhuhai has sent more than 100 medical workers to various hospitals in the autonomous prefecture to help the locals improve their health. The move has been part of the poverty-alleviation collaboration between the eastern and western regions of China, and a significant initiative in China's poverty-relief work.
Last year, Guan was honored as a model worker, under the poverty-alleviation collaboration in Yunnan Province, for her dedication to helping locals become healthier. She was also selected the "most admirable medical worker" in Jinwan District.
"What fulfills me most is the health awareness of residents in Bingzhongluo has improved, and I am really happy to see more villagers come to our hospital to seek help whenever they feel sick," she once said. Guan has applied to expand her service term from six months to three years.
Guan Yanping (L) and her colleagues walk along a trail to a mountainous village. [Xinhua]
Over the Mountains
Bingzhongluo is the most remote town in the prefecture. Guan has climbed mountains, crossed over bridges and walked along the narrow, winding trails along the cliffs more than 300 times to visit 46 remote villages.
During her first visit to a mountainous village, Guan carried a big box full of medicine and medical equipment. She became exhausted as she climbed the mountains with the box in her hands.
After she returned to the town, she bought a basket that she could carry on her back. Since then, she has carried medicine and medical equipment in that basket, and the locals have called her "basket doctor."
On January 12 this year, Guan and her colleagues visited Biwang, a village located deep in Biluo Snow Mountain. The purpose of their visit was to provide physical checkups to 65 villagers, and to ask the villagers to sign family doctor service contracts so they could receive more specific medical services.
The local government built houses for villagers at the foot of the mountain as part of the village-relocation program. Most of the villagers had begun moving to the new village.
Guan and her colleagues had to climb over two mountains to reach the residents who were still in the old village. The trails winded along the cliff, and the team had to use both their hands and feet to navigate the steep slope.
"The first time I climbed the mountain, I was out of breath and my legs trembled. Now, I am used to climbing mountains, just like the locals," Guan told a Xinhua News Agency reporter. The team set out at 8:30 a.m., and finally reached the village at 1:30 p.m.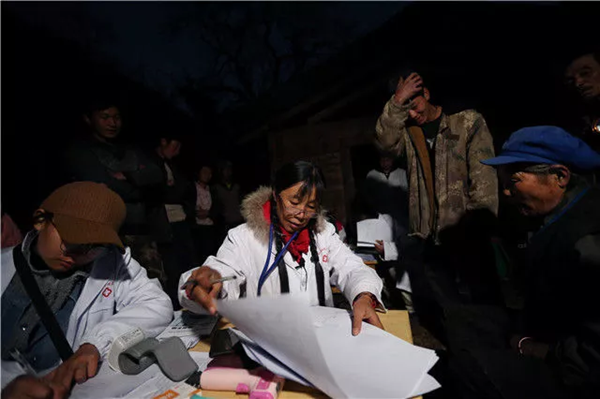 Guan Yanping (2nd, L) provides medical services to residents in Biwang. [Xinhua]
Warmest Love
After they ate their lunch, Guan and her colleagues set up three tables in the village so they could receive the villagers. Guan provided the checkups. The village's doctor, Li Zhenlin, sat next to Guan, and served as her interpreter. Li could speak Mandarin and four ethnic languages.
"Don't drink too much wine," Guan told a 61-year-old villager, who had hypertension. The locals have the habit of drinking wine. She always tries to convince her patients not to drink excessively.
Guan and her colleagues worked late into the night on January 12, and they spent the night in the village. The next day, they visited Xiaochala, the only village of the Dulong ethnic group in the town.
When they visited Xue Luojun, who had a serious mental disease, he was lying on his bed. When he saw Guan, he sat up and smiled at her. His mother told Guan that he had been waiting for her to visit.
Guan helped wash Xue's hair and cut his fingernails. She also applied ointment on the eczema on his neck. "You look great," Guan told him, as they sat in the sun outside the house. Guan still remembers the first time she met Xue. He was afraid of meeting people, and he seldom came out of his room.
Thirty-eight other residents of the town suffer from mental diseases, and Guan has visited each of them. "They actually understand in their hearts. What they need is psychosocial rehabilitation. As doctors, we give them hope, and they will have the confidence to live," Guan said.
Guan has tried her best to help the locals improve their health awareness, and she has worked tirelessly to conduct research and popularize public health information. She has established more than 5,000 health files on the residents.
Guan said she hopes, by the time she leaves, she will produce a research report, to give to the local government, to help improve local public health and basic medical care.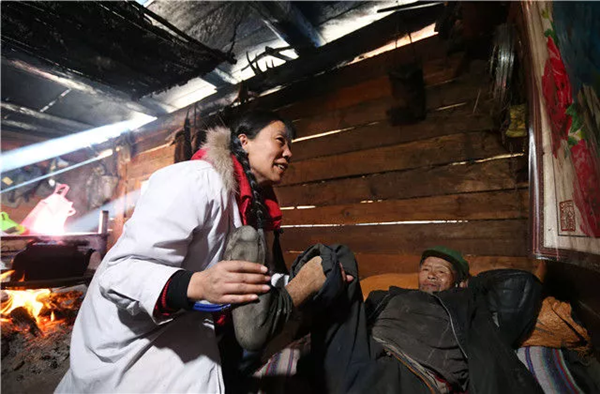 Guan Yanping (L) helps a villager perform a rehabilitation exercise. [Xinhua]
(Women of China English Monthly December 2019 issue)