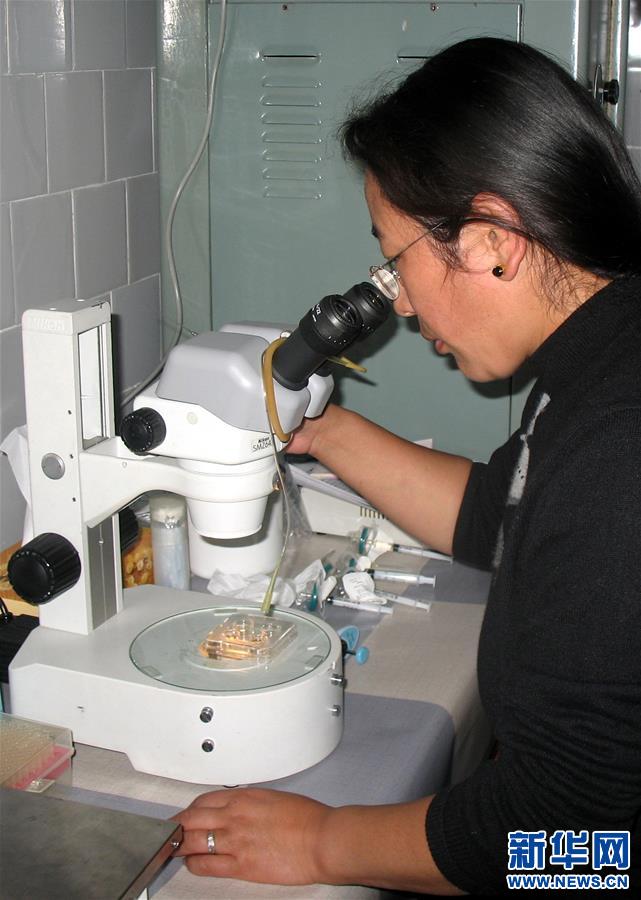 Ji Qiumei works at the lab in Lhasa, capital of Southwest China's Tibet Autonomous Region. [Xinhua]
Some people say studying yaks is scientific work "on the knife point," and some consider the work to be unsuitable for women. However, Ji Qiumei, a female Tibetan researcher, during the past three decades has led her team in studying Tibetan yaks. Overcoming numerous difficulties, Ji and her colleagues have scored remarkable achievements in improving yaks' production. They have also improved global studies into Tibetan yaks.
Obsessed with Yaks
In 1965, Ji was born in Damxung, a county in Lhasa, capital of Southwest China's Tibet Autonomous Region. In 1988, shortly after she graduated from the department of agriculture and animal husbandry, under the Southwest Minzu University, she started working as a researcher with the Institute of Animal Sciences under the Tibet Academy of Agricultural and Animal Husbandry Sciences. While she worked in the institute's lab in Qiema (a township in Damxung), from 1988-1989, Ji often visited herdsmen, so she could see firsthand their needs, and the difficulties they faced, as they raised yaks. Ji was the only woman working in the lab.
During the first few years she worked at the institute, Ji wrote several theses (on the studies of yaks), which were highly praised by Chen Yongfu, Director of the State Key Laboratory of Agrobiotechnology, under the China Agricultural University (CAU). With Chen's support, Ji from 1990-1991 studied transgenic techniques at CAU. Under Chen's guidance, she wrote a thesis on the studies of transgenic techniques of yaks.
During the First International Yak Conference, held in 1994 in Lanzhou, capital of Northwest China's Gansu Province, many Chinese and international scholars had positive comments about Ji's thesis. Also that year, the thesis earned Ji first prize during the First Youths Academic Seminar in Tibet.
In 1998, Ji began studying, in a yak-related postgraduate program, at the Institute of Geographic Sciences and Natural Resources Research (GSNRR), under the Chinese Academy of Sciences (CAS).
In September 2000, Ji began a Ph.D. program in yaks at the International Potato Center (headquartered in Lima, capital of the Republic of Peru), shortly after she completed postgraduate studies at GSNRR.
Ji Qiumei looks at an experimental sample. [Xinhua]
'I'm a Herdsman's Child'
Ji returned to her hometown in 2002, shortly after she completed her Ph.D. program in Lima. She turned down job offers from several scientific research institutes (in large cities), because she insisted on continuing her studies into yaks in Tibet. "Yaks are closely related to herdsmen's daily necessities … I'm a herdsman's child. I'll use what I've learned to repay my hometown for the care and assistance I have received," Ji was quoted as saying.
In 2015, Ji was appointed President of Tibet Animal Husbandry and Veterinary Society. During the past few years, she has led the society's members in organizing various activities to help increase farmers and herdsmen's scientific knowledge. The members have provided training, counseling and other services to farmers and herdsmen, so they can better raise yaks.
Ji cannot remember how many Tibetan farmers or herdsmen she has visited, to learn about their needs and the difficulties they have faced, as they have raised yaks. Every time Ji visited a farmer or a herdsman, his family treated her with their best yak meat. When the family saw her off, they asked her to drop into their home at any time.
"We should treat the farmers and herdsmen like they are our relatives, and try our best to help them solve difficulties in their lives," says Ji.
Ji Qiumei explains the characteristics of the yaks. [Xinhua]
No Regrets
For Ji, studying yaks is a lifelong pursuit rather than a way to make a living. "Despite the many hardships that I have endured while I have studied … I have never regretted my decision," says Ji.
As overwork and the harsh natural conditions (such as the lack of oxygen) on the Qinghai-Tibet Plateau has Tibet Plateau has adversely affected her health, Ji has had three heart surgeries during the past few years. Despite the doctor's warnings, she returned to work within a short time after each surgery.
Ji considers it her duty to improve the lives of residents in rural Tibet. She is pleased to see she and her colleagues' efforts have yielded fruitful results — many farmers and herdsmen have both markedly improved the quality of their yaks, and they have substantially increased yak production by using Ji and her team members' breakthrough technologies.
In January 2011, Ji received the L'Oréal-UNESCO For Women in Science (FWIS) Award for her outstanding research into yaks. The award ceremony was held in Beijing.
The Publicity Department of the CPC (Communist Party of China) Central Committee, the China Association for Science and Technology, China's Ministry of Science and Technology, and three other organizations in August 2019 released the list of the Most Beautiful Scientific and Technological Workers. Ji made the list.
Under her leadership, Ji's team received third prize and first prize of the Science and Technology Progress Award of the Tibet Autonomous Region, in 2004 and 2008, respectively.
When she looks back at her experiences in studying yaks during the past three decades, Ji concludes she is lucky that she lives in a good age. "Since 2004, the Chinese Government has allocated more money to support researchers in the study of yaks. That has created a favorable environment for the researchers to blaze new trails when they conduct research," says Ji.
Ji Qiumei [Xinhua]
(Women of China English Monthly December 2019 issue)