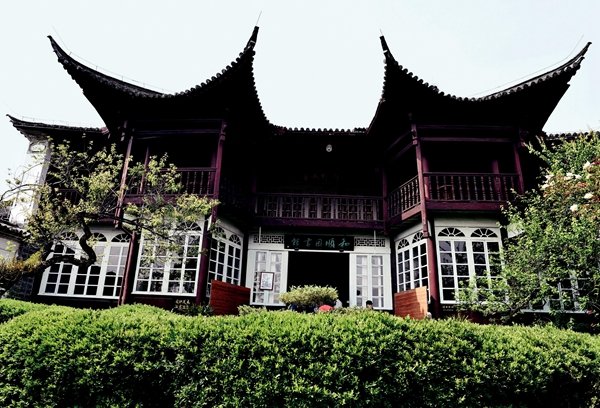 A photo of the Heshun's Library in Heshun ancient town [Women of China/Zhang Jiamin]
Many Chinese refer to Heshun, a town in Tengchong, a city in Southwest China's Yunnan Province, as a "bright pearl." The town, the history of which dates back more than 600 years, boasts one of the largest rural libraries in the country. Heshun's buildings are often referred to as "living fossils" of China's ancient buildings. In ancient times, the town was an important pass that led to the southwestern section of the Silk Road. Despite the passage of time, and the changes in their lives, Heshun's residents continue to treasure their families, and to attach great importance to promoting family education and good family traditions.
"Families are not only the dwellings of people's bodies, but they are also the homes of people's hearts. A family may thrive with a good culture while a bad culture may bring trouble to themselves and to society," Chinese President Xi Jinping has been quoted as saying. His words are engraved on a wall of Heshun's Cultural Corridor, which is decorated with stone carvings with the themes of inspiring patriotism and promoting socialist core values.
Known for its beautiful natural views, Heshun is an ecological-tourist resort. The town is also the hometown of many overseas Chinese. In 2003, Chinese National Geography and National Geographic Traveler (both of which are well-known Chinese magazines) named Heshun one of the "50 best places (in China) to travel in one's lifetime." Also, Heshun topped the list of "China's top 10 charming ancient towns," released by China Central Television (CCTV) in 2005.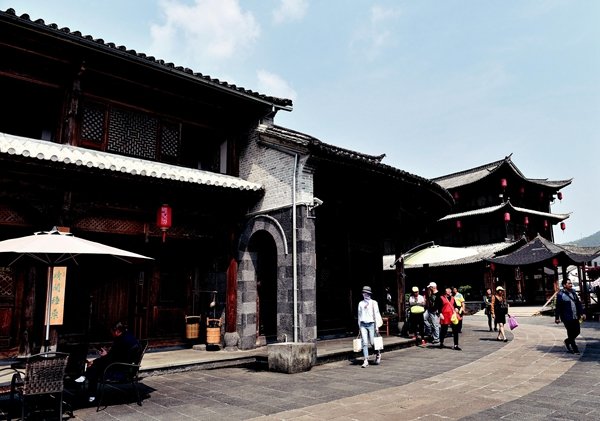 A photo of a street in Heshun ancient town [Women of China/Zhang Jiamin]
Heshun was built during the Ming Dynasty (1368-1644). More than 400 years ago, many rural residents in the town began traveling to other countries to conduct business. Given their advantages, such as their practical, down-to-earth work style, brilliant minds and keen sense of intuition, many of the residents made a fortune in the countries. After they returned home, the residents built ancestral temples in their home villages, and those buildings were integrated with both traditional Chinese and foreign cultural elements. Despite the fact Heshun's residents have experienced many historical and social changes over the years, many buildings have retained the distinctive architectural features of the Ming and Qing dynasties (1644-1911).
Heshun is commonly referred to as "one of China's most attractive frontier towns." Why? When you walk along the stone paths, and watch the distant green mountain surrounded by the river, the scenic view might remind you of an idyllic pastoral life.
A photo of a commercial street in Heshun ancient town. [Women of China/Zhang Jiamin]
If you visit Heshun's library, you will no doubt be impressed by its unique buildings, which are integrated with both traditional Chinese and Western cultural elements. The library, which occupies 1,392 square meters, is one of the largest rural libraries in the country. The colorful flowers and flourishing trees (in the garden in front of the library), against the buildings' white walls and black tiles, is a delightful sight. The library keeps more than 10,000 books, including many precious ancient books.
Many elderly and middle-aged rural residents enjoy reading in the library in their spare time, while many young people's favorite pastime is surfing the Internet in the library's e-reading room. Many local booklovers believe in the folk saying, "From clogs to clogs is only three generations, whereas the love for books will last forever."
To promote both family virtues and good family traditions, Heshun last year built a cultural corridor, decorated with stone carvings, with the themes of inspiring patriotism and promoting socialist core values. The scenes of the historical stories, which are engraved on the corridor's stone walls, may remind you of Heshun's profound culture.
A photo shows the interior design of a hall. [Women of China/Zhang Jiamin]
As Heshun has put much effort into promoting its tourism industry in recent years, many residents have rebuilt old houses into beautiful inns. Sanchenghao Famous Businessmen's Old House is one of the best examples of such an inn. The 298-year-old house was the first business establishment in Heshun, and it was built by three returned overseas businessmen from Tengchong. The wooden house has witnessed the tremendous historical and social changes during the past three centuries. Despite the passage of time, the building has retained the distinctive architectural features of the Qing Dynasty. The owners use bonsai to decorate their courtyard. The items are of high artistic and practical value.
The flowerpots were handed down from the owners' ancestors.
The local families' genealogies, family virtues and traditions, which are either passed on by word of mouth or written by residents during different periods of history, reflect the town's important social changes and development. Every year, Heshun holds activities to commend residents, especially those who have done exceedingly well in advocating family virtues and family traditions, to promote social harmony and stability.
The view of a small bridge over a flowing stream and a mountain village (in Heshun), enveloped in cooking smoke, is so enchanting that you might even forget to go home. Impressed by its simple, honest residents, you might want to live in the town forever.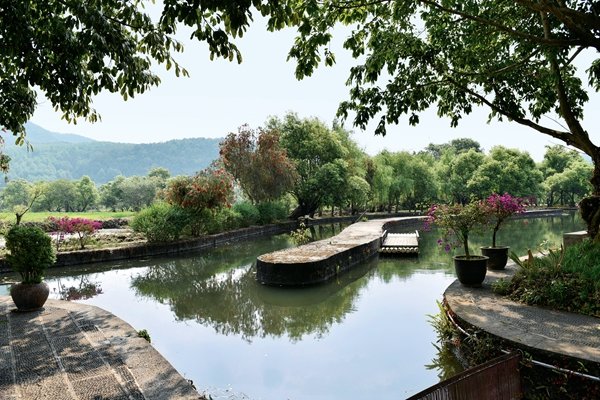 The beautiful scenery of Heshun ancient town [Women of China/Zhang Jiamiin]
(Women of China English Monthly August 2019 issue)