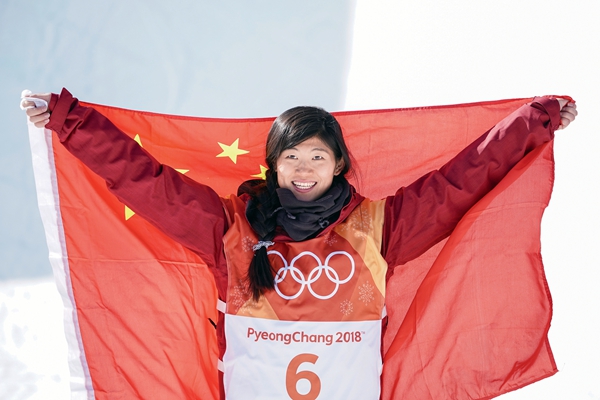 Liu Jiayu won the silver medal in the women's halfpipe event during the 2018 Pyeongchang Olympic Winter Games. [For Women of China]
Liu Jiayu, born in 1992, is a snowboarder who specializes in the halfpipe. Liu won the silver medal in the women's halfpipe event during the 2018 Pyeongchang Olympic Winter Games. She became the first Chinese snowboarder to win a medal during an Olympic competition. As a pioneer in snowboarding in China, she has achieved great success. "Snowboarding has become integrated in my life. I enjoy snowboarding, and participating in snowboarding competitions," says Liu.
Early Years
When she was young, Liu's father and grandmother loved to watch Peking Opera, and they also loved to practice martial arts. Liu has studied martial arts since she was young. Her parents hoped she would become a professional athlete. So, they sent her away to study alpine skiing.
China established its national snowboarding team in 2003. Later, the provinces in northeastern China established provincial snowboarding teams. In 2003, Liu was recruited by Harbin's snowboarding team (in Harbin, capital of northeastern China's Heilongjiang Province). In 2004, she became a member of the national snowboarding team.
People commonly say the first step is always the hardest. Liu studied alpine skiing for only one month before she began studying snowboarding. As a beginner, her body was not flexible enough. At first, she did not like snowboarding, because she found it difficult. She lagged behind her teammates. Her coach encouraged her to spend much more time and energy practicing snowboarding. She practiced snowboarding movements and techniques when her teammates were relaxing. No matter how many times she fell down, she never gave up. She eventually caught up to her teammates' skill level, and she studied the history and culture of the sport. Given her efforts, she won first place at a national snowboarding competition, when she was only 13.
In 2009, Liu won the gold medal in the women's halfpipe during the FIS Snowboard World Championships, which were held in Gangwon, in the Republic of Korea. She became the first Chinese athlete to win the gold medal in the event during the World Championships. In 2010, she finished fourth at the Vancouver Olympic Winter Games.
"Snowboarding is my life, and it cannot be separated from me. It is still a part of my life, and will be even after I retire in the future," says Liu.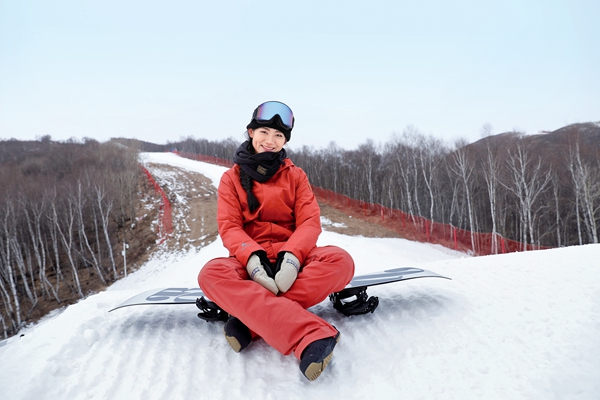 Liu Jiayu [For Women of China]
Never Give Up
"The last thing our athletes want is to get hurt. Unfortunately, I have gotten hurt several times. Being injured is a part of the life of an extreme athlete. We need to have a positive attitude about the injuries. I love snowboarding. So, I have confidence in myself. I can face up to the difficulties and injuries bravely," says Liu.
She underwent three major operations, on her shoulders, several years ago. The first operation took more than eight hours. When she could not practice, she learned more knowledge, and she improved her educational level. She learned English while recuperating from the first operation. She continued studying in her postgraduate program, at Beijing Sport University, in 2014. She did not want to waste time while recovering from surgery.
"Compared with ordinary people, it is more difficult for athletes, especially the ones in the golden age, to overcome the troubles brought by injuries. It takes much more time for us to improve our physical conditions and return to training until we can perform as well as before. Sometimes, we also need to overcome our fears about the sport. So, many athletes choose to retire after they are badly hurt. I also thought about giving up snowboarding when I was in recovery," says Liu.
"I have insisted on snowboarding in past years, as I have confidence in myself. People around me always help me when I encounter difficulties. Also, my family members trust and support me. My parents have always encouraged me, since I was young, no matter what has happened. They encouraged me that I was the best one, and if I wanted to do something, I could do it successfully. They also told me that I should have a positive attitude when I encounter difficulties. So, I can accept and solve all the problems bravely, no matter how difficult they are. I cannot achieve the success without my positive attitude," Liu continues.
Liu Jiayu [For Women of China]
Making Breakthroughs
Liu returned to the national snowboarding team in 2015, after she recovered from the injury. She wanted to prepare for the 2018 Olympic Winter Games. Finally, she won the silver medal in the women's halfpipe event during the Games. She became the first Chinese snowboarder to win a snowboarding medal at the Olympics.
"I had to confront the discussions and pressure, from other people, after I resumed training. I was at a low ebb before I participated in the Olympic Games. However, the setbacks did not defeat me. I thought being happy was most important. I enjoyed snowboarding, and the snowboarding competitions. I hoped to do my best, and to bring happiness to (spectators). I stood up once again, with a new understanding of snowboarding. I was satisfied with my performance and score … I conquered myself, and it was the best result that I had achieved. I think the greatest significance of winning the silver medal was promoting the event to more people. Now, I am more than an athlete. As a member of the 12th Executive Committee of the All-China Women's Federation, and as a member of the Beijing Organising Committee for the 2022 Olympic and Paralympic Winter Games, I hope to promote snowboarding to more people over the next few years," says Liu.
As a member of the 12th Executive Committee of the All-China Women's Federation, Liu Jiayu hopes to promote snowboarding to more women. [For Women of China]
"Many people thought that our snowboarders needed to do excessive snowboarding training. However, my training is not boring. I spend much time practicing snowboarding before the competitions. When I have free time, in summer, I go skiing, hiking, rock-climbing and mountain cycling in Australia or New Zealand. I am fond of various kinds of outdoor sports. I have done outdoor sports in nearly all of the countries that have snow in the winter. My mother thinks it is similar to a vacation. In fact, outdoor sports are affected by some uncontrollable factors, including weather and ground. I need to do exercises in an effective way, based on those factors," Liu says.
With the coming of the 2022 Beijing Olympic Winter Games, various winter sports have been promoted to more Chinese people. Many adults and children have learned snowboarding, for they think snowboarding is so cool.
"Snowboarding has brought happiness to me. I think it will also bring happiness to other people. I hope more children and skiers will learn how to snowboard in a safe, healthy way, under the guidance of a coach. Only in this way can they understand more about the sport and feel the happiness brought by it," says Liu.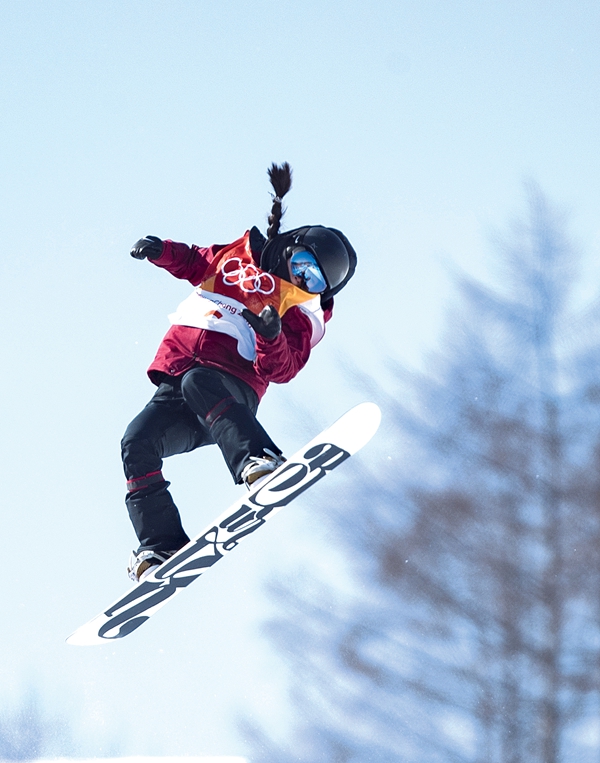 Liu Jiayu [For Women of China]
(Women of China English Monthly February 2019 issue)