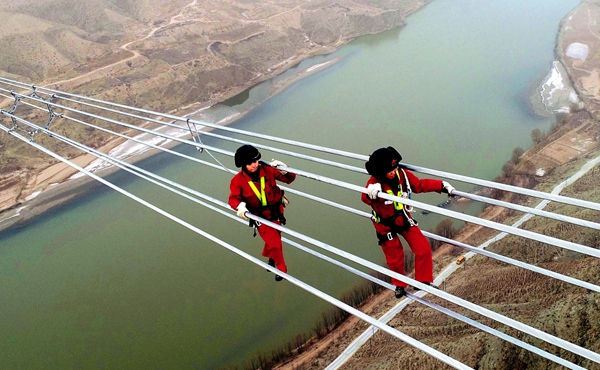 Tao Jin and Gao Fei walk on cables, which cross the Yellow River. [Zhejiang Electric Transmission and Transformation Engineering Corporation]
Carrying tools that weigh more than 10 kilograms; working continuously, for eight hours, several hundred meters above the ground; walking on cables, the average diameter of which is merely 3-4 centimeters … Those are the daily routines of members of a team of highly skilled women from Zhejiang Electric Transmission and Transformation Engineering Corporation (ZETT), in East China's Zhejiang Province. The team has 13 members, the average age of whom is younger than 26. As members of China's first team of women to work at such a high altitude in the field of UHV (ultra-high voltage) transmission, the women have been receiving high praise from their male counterparts — and from society.
Tao Jin [ZETT)
Fulfilling 'Mission Impossible'
Near the end of 2017, China Central Television (CCTV) broadcast live the construction of a UHV power line in Northwest China's Gansu Province. Members of ZETT's women's team participated in the project. The women walked on cables, which crossed the Yellow River. They were forced to cope with a strong sandstorm as they worked 300 meters above the ground.
Tao Jin, head of the team, answered a call from her parents after she had completed her mission and returned to the ground. "Jin, is that you in the live broadcast? You told us you are a clerk. Don't you work in an office? Is everything ok with you?" Tao recalled how worried her mother was when she "unexpectedly discovered" Tao's real job.
Tao graduated with a master's degree in civil engineering, from Zhejiang University of Technology (ZJUT), in 2016. At a classmate's suggestion, Tao applied for a job at ZETT. She was hired in July that year, after she completed the interviews and passed the physical tests.
What was Tao's initial impression of working at such a high altitude? "It must be a dangerous job! We must be extremely careful, to ensure our safety. No matter how skilled and experienced a worker is, he/she must do everything as required to make sure he/she is safe high above the ground," Tao says.
It is hard to imagine that Tao once suffered from acrophobia (fear of heights). She used to feel dizzy and trembled whenever she was more than 25 meters above the ground. During the training sessions, at least initially, Tao held the cables tightly, and she would stop halfway for a rest to feel better. She refused to give up. She told herself, time and time again, "I can make it!" Luckily, she overcame her fear of working at high altitudes.
Now, as head of her team, Tao encourages newcomers to believe in themselves, to be brave and to take on challenges. Her parents respect her choice of work; but, they ask her to take care of herself, to work hard and to serve the people.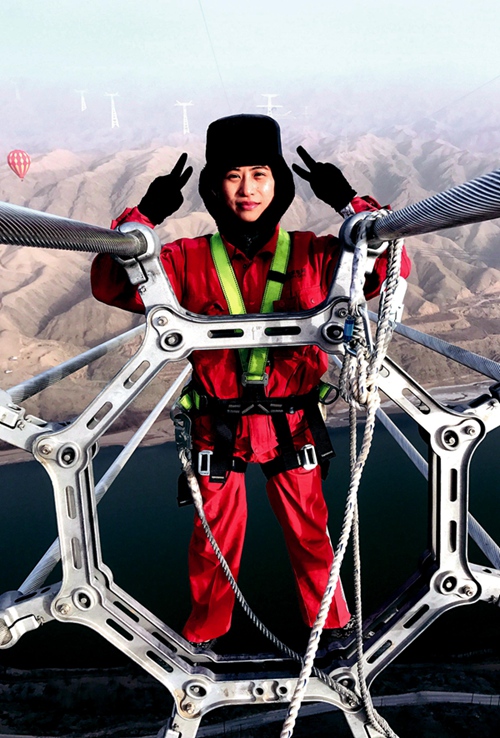 Gao Fei [ZETT]
Gao Fei, who also graduated from ZJUT, also began working at ZETT in July 2016. She and Tao were the first members of ZETT's women's team. As she recalled her experience in the project in Gansu, near the end of 2017, Gao said the team was fulfilling a "mission impossible." After she completed the mission, she better understood how difficult it was to construct a power grid.
Gao's husband, Xiang Xin, is also a work colleague. He also joined the company in 2016. Xiang is familiar with Gao's work environment, so he tends to worry about her safety when she is working at a high altitude. Still, Xiang supports his wife. They married in October 2018. On the third day after their wedding, Gao returned to her post, to continue working high above the ground. Xiang did not complain at all. He knew his support would be the best way to protect his wife.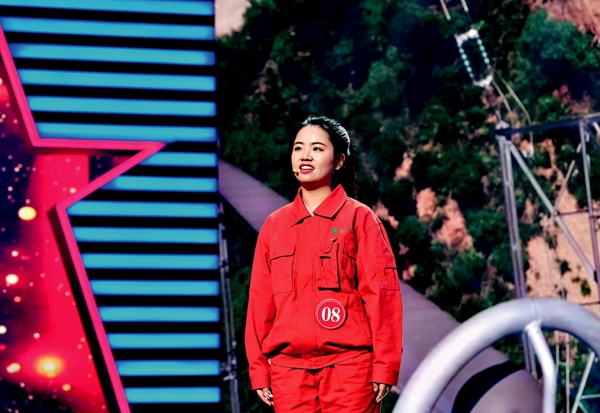 Li Jiaqi shares touching stories about her teammates during a speech contest [Women of China/Fan Wenjun]
Team's Spirit
"On our team, there is our head, who told her parents a lie to hide the truth that her job is dangerous. There is a newlywed, who returned to her post just three days after her wedding. There is a mother who asked her husband to take care of their child, so she could continue working high above the ground," Li Jiaqi, one of the team's members, said while sharing touching stories about her teammates during a speech contest in August.
Most of the team's members once considered working at such a high altitude to be a "dangerous, threatening and incredible" job. Li was no exception. "When I climbed a pylon, for the first time, I was afraid that I might fall off. As I climbed higher and higher, I became more and more nervous. But after I reached the top, and when I looked at the beautiful landscapes as I stood on the pylon, I was so proud of myself. I was glad that I became more confident and courageous," Li recalled.
She cherished the opportunity to compete in the speech contest. She said the contest offered her a platform to promote her team's spirit of overcoming all difficulties to be brave pioneers.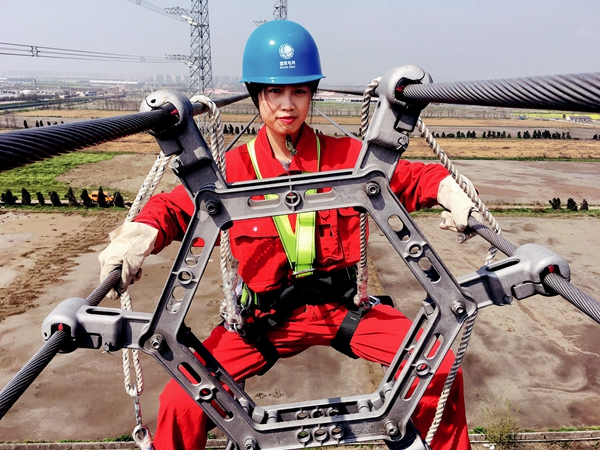 Zhou Yi [ZETT]
Zhou Yi, who graduated from Chongqing University, is a skilled member of her team. She completed her first task in 2018, when she climbed a 380-meter-high pylon in Zhoushan (in northeastern part of Zhejiang Province) to finish the final test before an electric circuit went online. Zhou and Gao both participated in the task. The visibility was poor, due to bad weather. As she walked along the cables, Zhou could not see Gao, who was ahead of her. Zhou tried hard to catch up to Gao, but failed. Zhou realized she had to rely on herself to make judgements, calmly, and to deal with various problems she encountered at that high altitude.
Qin Chengcheng is the team's newest member. She believes her work experiences at ZETT will teach her how to better give back to society. Qin is trying her best to learn climbing and other skills from senior members of the team. She is determined to pass on the team's spirit of being strong, careful and persistent.
ZETT's women's team has made great achievements during the team's participation in several of China's important electric transmission and transformation projects. The team's members have proved that women can do same well — as compared with their male counterparts — when they work high above the ground.
Qin Chengcheng [ZETT]
(Women of China English Monthly October 2019 issue)