Li Yanhua works at the soybean test field. [For Women of China]
Li Yanhua has a nickname — "Madame Golden Beans." Like a seedling, which takes root deep in the ground, Li has dedicated her life to the cultivation, agricultural research and production of soybeans.
"My daughter's name is Wang Youshu . The word ' shu' ( 菽 ), which means 'beans' in Chinese, stands for my enthusiasm for the cultivation and research of soybeans. My son's name is Li Miji. The word 'mi' ( 米 ), which means 'rice' in Chinese, represents the importance I attach to the production of crops," Li told Women of China.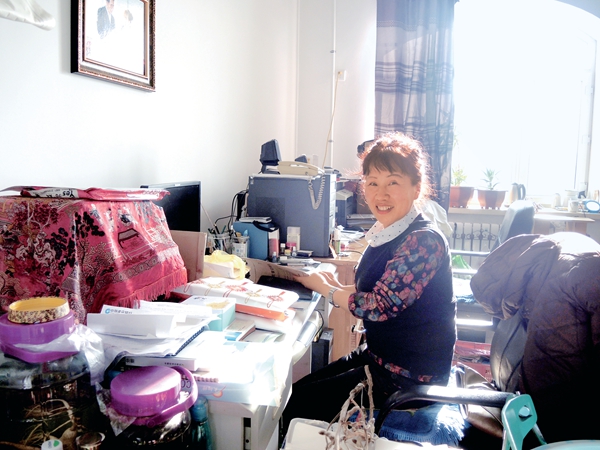 Li Yanhua works at home. [For Women of China]
Connection with Agriculture
Li is head of the research group that breeds soybeans at Northeast Institute of Geography and Agroecology, under the Chinese Academy of Sciences (CAS). During the past 30 years, Li has researched soybeans, and she has cultivated 10 top-quality breeds under China's Dongsheng series of soybeans.
Li was born in 1966 in Hailun, a city in Northeast China's Heilongjiang Province. The city is known as "the hometown of soybeans." Li says her life is closely connected with agriculture. How? "I was born into a farmer's family. When I was a child, I often saw my parents working diligently on the farm, growing beans and corn. I studied agriculture in college, and I have worked on agricultural research since graduation," she explains.
Li began working at Hailun Agro-ecosystem Experimental Station, under CAS, in 1991. She set a goal: To cultivate top-quality and high-yield soybeans, which are suitable to grow and be processed in frigid areas in Northeast China.
Due to the cold weather in winter, it normally takes one year to grow and harvest soybeans in Heilongjiang Province. But in South China's Hainan Province, where the weather is much warmer, soybeans can grow and be harvested in winter. Every year, after the harvest season in autumn, Li takes soybean seeds from Heilongjiang to Hainan, so she can continue to cultivate the seeds. She then takes the seeds back to Heilongjiang, the following spring, to continue her research.
When Li is in Hainan, she does not have spare time to sunbathe on the beautiful beaches. Instead, she stays in a shed, near the test field, so she can take good care of the seedlings . The flowering season of soybean seeds is generally short. Li has to complete cross -breeding among different breeds of soybeans early each morning. She usually starts preparations between 2-3 a.m. When the harvest season approaches, Li often sits on the ground, sorting and packing soybean seeds. "It takes a woman 10 months to give birth to a child. It is 10 times harder to breed a new type of soybean than giving birth to a child," Li says.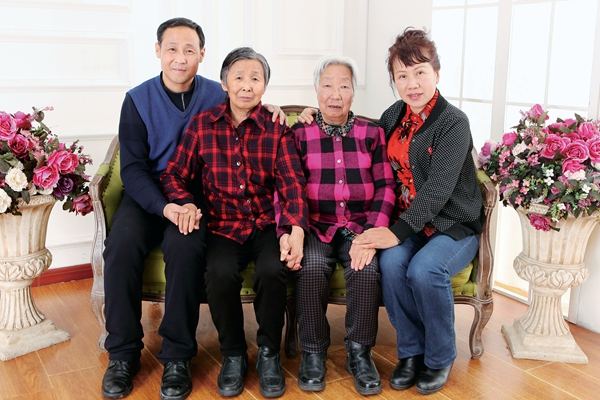 Li Yanhua poses for a photo with her family members. [For Women of China]
Support from Family
During the past three decades, Li has devoted all of her energy to researching and breeding soybean seeds. She gives much of the credit for her research achievements to the support of her family.
Li and her husband, Wang Guodong, work at the same institute. They met when they were attending the same study group . "We are familiar with each other's work schedules and demands, so we can better understand each other's needs, and so we can provide timely support to each other," Li says. For example, when Li is busy with research, Wang looks after the family.
Li gets up early every day. She heads to the test field in the morning in summer, and, in winter, she goes to her studio in the morning. Wang takes Li breakfast every day. "My daughter was born on May 15, 1996. The days around May 10, each year, is the sowing season. That year was no exception. I was still working in the field two days before my daughter was born," Li recalls.
When her daughter was less than one month old, Li asked Wang to look after their daughter so she could return to the test field to continue her research. Wang took their daughter to the field when the baby needed to be breastfed. He took their daughter to the hospital when she needed to be vaccinated. He accompanied their daughter when she went to school, and he took her home after school.
"Besides my husband, my mother and mother-in-law, who live with us, also give me a lot of support. My mother and mother-in-law often go shopping together. They used to visit me in the test field, and they used to help me with the farm work. Our neighbors admire that we live in such a harmonious family," Li says.
She and Wang teach their children to show filial piety to the elderly members of the family, and to be kindhearted to people in need. During school vacations, the children go to the test field to help their mother complete simple farm work, and/or to help their mother collect research data. They know the cultivation and research of soybean seeds are priorities in their mother's career.
Given the support she has received from her family, Li has made achievements in agricultural research, and she has received many awards. She has received honorable titles, such as a "key technical talent of CAS," one of the first group of Heilongjiang provincial "advanced women individuals in science, technology and innovation," National Women Achievement Makers Pacesetter, "Moving Longjiang" personage and 2019 Most Beautiful Scientific and Technological Worker in Longjiang.
For Li, the so-called "Madame Golden Beans," her best wish is to help feed Chinese people with top-quality, domestic soybeans.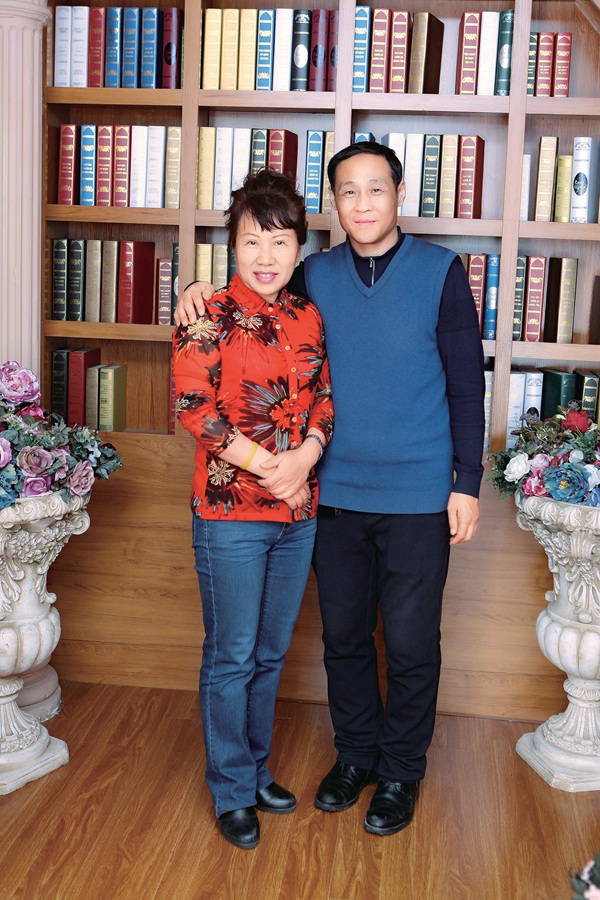 Li Yanhua and her husband Wang Guodong [Women of China]
(Women of China English Monthly September 2019 issue)