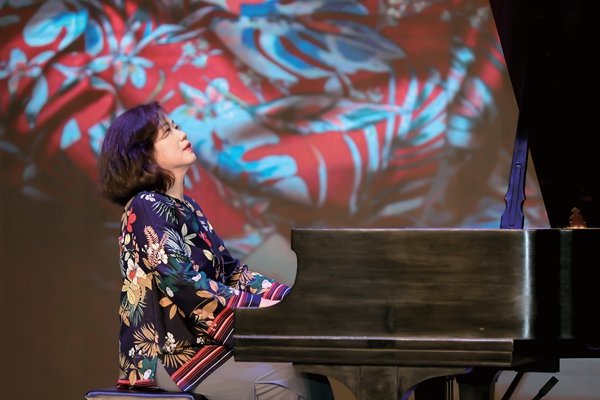 Claudia Yang performs during a lecture and piano recital in Beijing. [Beijing Overseas Chinese Chamber of Commerce]
"I found it amazing. I was only 12 years old. I felt passionate about the music, and it made my heart beat faster," Malaysian pianist Claudia Yang said, as she recalled the first time (30 years ago) she listened to the Yellow River Piano Concerto.
Yang, born in Muar, a county in Malaysia, began studying piano when she was 5. She demonstrated a talent for playing piano. In 1991, she moved to Vienna, Austria, to study piano.
Yang was taught by renowned pianists Dianko Iliew, Paul Badura-Skoda and Ludwig Hoffman at the University of Music and Performing Arts in Vienna, where she graduated in 1997. The following year, Yang studied under Orysia Sterniuk, in Ukraine.
In 1999, she held her first piano recital, in Beijing. She was invited to give lectures in several universities in China, including Central Conservatory of Music, China Conservatory of Music, Xiamen University, Jimei University and Fujian Normal University.
Yang has performed in many countries in Europe, Asia and South America. She has also worked with many famous conductors, including Lorin Maazel, Muhai Tang, Carlo Ponti and Diego Matheuz. Maazel praised Yang; in his glowing tribute, he said Yang played the piano with her heart.
Yang was awarded Pro Cultura Hungarica, by the Hungarian Government, in February 2014, for her contributions to the promotion of Hungarian Culture, especially the music by Hungarian pianist and composer Franz Liszt (1881-1886).
In 2016, Yang received the Friendship Award of the Third Silk Road International Arts Festival, hosted by the Ministry of Culture and the People's Government of Shaanxi Province, in Xi'an, capital of Northwest China's Shaanxi Province.
Love for Chinese Music
Yang lives in Beijing with her Chinese husband and their child. Yang's fondness for Chinese music, especially folk songs, comes from her multicultural background. Although she was born and raised in Malaysia, Yang has an ancestral home in Tong'an, in Southeast China's Fujian Province.
Yang won third prize in a Malaysian regional vocal contest before she joined a choir, in Muar, and gained access to a local folk-music ensemble. She learned to play traditional Chinese instruments, including erhu and guzheng, when she was in the choir.
Although Yang chose to study piano professionally in Vienna after she graduated from middle school, her love for Chinese folk music was undiminished.
When she was 12, Yang's brother, who was also a music fan, bought her a cassette of Chinese music, which contained the Yellow River Cantata and the Yellow River Piano Concerto. Yang was excited when she listened to the music.
"I had a dream at that time, that, if I had an opportunity in the future, I would perform the great work in China," Yang recalled. "I enjoyed listening to the cassette so much that I even took it to Vienna. I am never tired of listening to the songs."
Yang's dream was realized several years ago, during a performance in Fujian Province . She performed the Yellow River Piano Concerto during her piano concert. "That concert was held for the Hope Project (which helps impoverished children receive education). That was very meaningful to me," she said.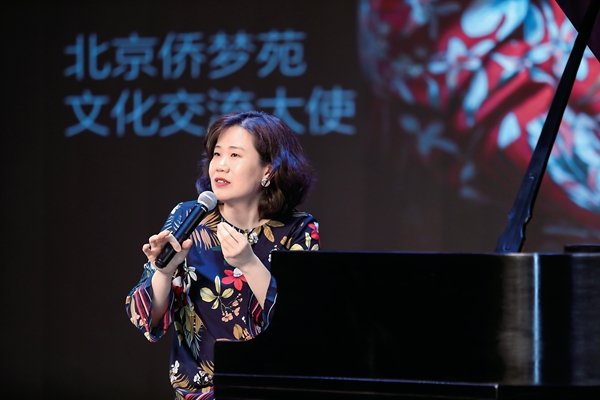 Claudia Yang talks about piano and classical music. [For Women of China]
A Modern Twist
The world premiere of the piano concerto, Dream of the Red Chamber, composed by Yang and Hungarian composer Gyula Fekete, was held in the National Museum of China, in Beijing, in September 2014. The Dream of the Red Chamber, written by Cao Xueqin during the Qing Dynasty (1644-1911), is considered one of China's greatest classical novels.
The concerto was based on the songs composed by Wang Liping for the 1987 television series, Dream of the Red Chamber. Yang performed the piano concerto on many occasions in different countries during the following three-year world tour. That tour was widely considered a big hit.
In May 2015, Yang's CD, Dream of the Red Chamber, which was recorded in London's Abbey Road Studio, with London Symphony Orchestra under the baton of Muhai Tang, was released.
Yang recomposed Dream of the Red Chamber and performed it with China National Symphony Orchestra, under the baton of Muhai Tang, in Kuala Lumpur, capital of Malaysia, in March 2018.
Last year, Yang debuted her latest work, Twelve Chinese Folk Fantasies for Piano and Orchestra, a series of modern adaptations and compositions of Chinese folk songs.
While using piano pieces and orchestral accompaniments, Yang, with Russian composer Artem Vasilliev, reinterpreted nine Chinese songs, including Caiyun Zhuiyue (Colorful Clouds Chasing the Moon), Moli Hua (Jasmine Flower) and Zai Na Yaoyuan De Difang (In That Place Wholly Faraway). "What I have adapted or written has a sense of modernity," Yang said.
Besides her interest in Chinese folk music, Yang is fascinated by the stories behind the songs. "The reason I chose folk songs is that they are close to everyday life, and they are often inspired by tales of love, scenery or festive events. They have stories."
Based on her interpretation of Chinese folk music, Yang also composed three songs from scratch, Xishui Bian (Creekside), Chuan Ge (Barcarolle) and Langfang Qing Ge (Langfang Love Song).
These songs are fairly easy to play, and Yang hopes people, even senior citizens who have just started learning to play the piano, can perform them.
The folk fantasy series was listed in the Chinese Culture Going Global project of its production company, Ennova Culture. Yang, art director of the company, showcased the series during a global tour earlier this year.
"Many Westerners today want to know more about Chinese culture, and, as a foreigner, I can take Chinese orchestras global, and let people know about China. I feel this is something I can participate in," Yang said.
Claudia Yang's lecture and piano recital, Gather with Heart and Soul, in Beijing, on August 10, 2019 [For Women of China]
(Women of China English Monthly October 2019 issue)