Li Huiwen, managing director of Huixing Eco-agricultural Technology Co., Ltd. and president of Huixing Rice Cooperative [For Women of China]
Li Huiwen, managing director of Huixing Eco-agricultural Technology Co., Ltd. and president of Huixing Rice Cooperative, is somewhat of a celebrity in Longmen, a county in Huizhou, a city in South China's Guangdong Province. Why? Given her tremendous efforts to lead farmers to escape poverty, by helping them improve production of rice, Li has received many awards throughout the years. For example, she has been named one of Guangdong's top 10 women who got rich by developing their own businesses and a March 8th Red-banner Holder in Guangdong Province.
The cooperative during the past several years has employed farmers to grow rice in its production base. The company buys farmers' rice at preferential prices, and processes the grain before selling it. The Longmen Rice, produced by the company, has been selling well throughout the country.
Li Huiwen (2rd, R) learns from farmers how to improve rice-production skills. [For Women of China]
Farmers' Field School
In 2001, Pingling (a town in Longmen) Middle School employed Li as a teacher. She was also secretary of the school's committee of the Communist Youth League. "Every time I visited a student's family (to discuss with his/her parents how to help the child grow healthily), I saw deserted farmland on my way to the family. I thought to myself, 'If a small number of farmers grow rice, the product will be in short supply in our town, let alone in other regions of the country.' So, I made up my mind to do something to help farmers promote the production and sales of rice," recalls Li. She quit her job in 2010, and she established Huixing Rice Cooperative and Huixing Eco-agricultural Technology Co., Ltd., in 2011 and 2014, respectively.
Li took every opportunity to increase her knowledge about rice production. During the daytime, she learned, from farmers, how to improve rice-production skills. Each evening, she read books to increase her agricultural knowledge . Despite her tight schedule, Li managed to find time to attend lectures, provided by several universities in Guangzhou (capital of Guangdong Province), to help trainees improve their agricultural techniques and/or business administration skills. She benefited greatly from the lectures. Li yielded fruitful results through unremitting efforts; she not only understood information about rice production, but she realized the importance of promoting the development of agricultural modernization, so more rural residents would be content with their roles of "professional farmers," as they would use scientific and technological knowledge in production.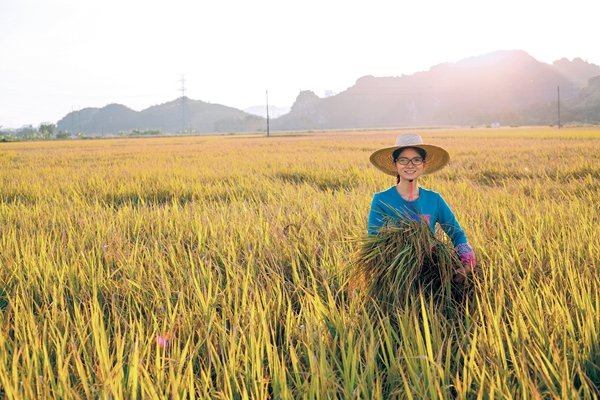 Li Huiwen poses for a photo. [For Women of China]
With that in mind, Li established the Farmers' Field School (in Longmen), and she employed agricultural experts, from several universities in Guangzhou, to provide training to rural residents, to help them improve their rice-production skills.
Li also established rules for farmers to cultivate pollution-free rice . She also adopted strategic measures to expand and her business. As the old Chinese saying goes, "Those who work hard will be rewarded." Li's efforts to develop her business have paid off, as the rice produced by her company has been well received by customers across the country. Huixing's Meixiang Sticky Rice and Yimiai Longmen Rice were named, in 2016 and 2017, respectively, well-recognized brand-name products in Guangdong Province.
"In 2015, our company established online stores (to sell rice) at Taobao (China's largest online shopping platform owned by China's e-commerce giant, Alibaba Group), Jingdong Mall and other online shopping platforms. Given our efforts to promote, both online and offline, our rice products in recent years, the stores have received many positive comments about the products from customers," says Li.
Encouraged by Li, rural residents during the past few years have cultivated more than 20,000 mu (1,333 hectares) of rice, combined, in Longmen. That, in turn, has promoted local economic development.
Li in 2016 established an ecological park, in which parents may attend lectures on farming culture, and/or grow crops in fields with their kids. Many residents have said the park's parent-child activities have helped parents both educate their children and improve their relations (with the kids). The residents have also said participating in such activities is a good way to spend time with their children.
The park has held a parent-child activity, called the "Yimiai Harvest Festival," every year during the past three years. The activity, which has been promoted by Longmen Tourist Administration, has been well received by numerous parents and children.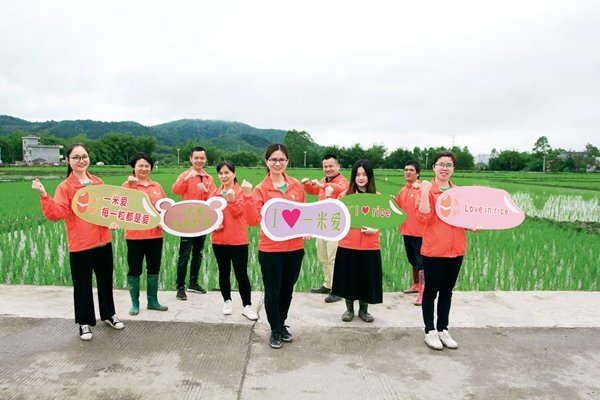 Li Huiwen (C) poses for a photo with her workers. [For Women of China]
Helping Villagers Get Rich
Li during the past few years has tried her best to help rural residents produce rice to attain wealth. Many farmers, who have applied what they have learned in production, have substantially increased their incomes.
As a woman entrepreneur, Li has felt obliged to do something to help improve rural women's lives. So, her company has provided training to the women, to help them improve both their rice-production skills and their ability to work. Given the sound development of the company's business, Li has been able to employ many rural residents (of Longmen), including left-behind women (whose husbands have left home to work elsewhere). As they work near their homes, the women can take care of their children and elderly family members.
Under the guidance of Longmen Women's Federation, the Longmen Association of Women Entrepreneurs was established in November 2018. During the past year, Li, who is president of the association, and other members of the association have held various events to help needy people.
"We will work harder to expand our business, and to help more farmers become better off by growing rice," says Li.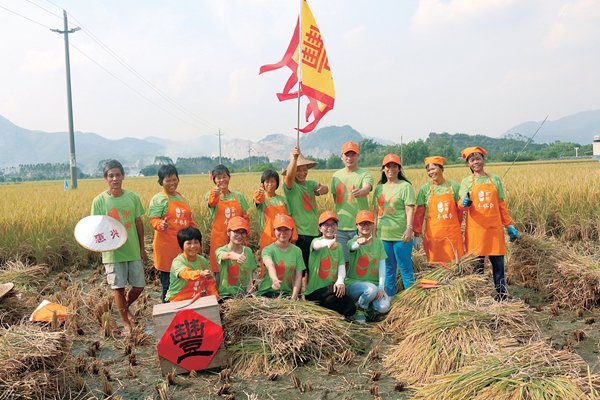 Li Huiwen and her workers pose for a photo. [For Women of China]
(Women of China English Monthly September 2019 issue)