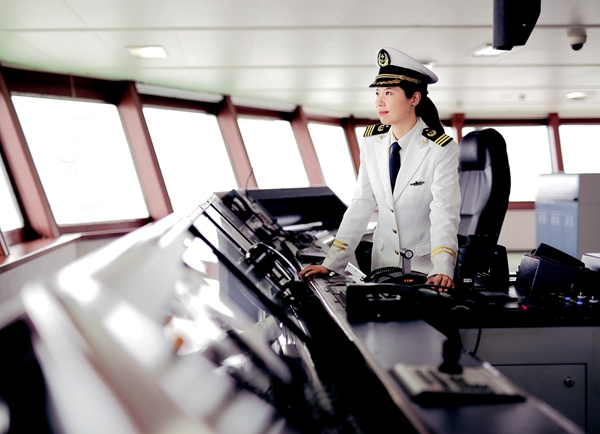 Bai Xiang'en [For Women of China]
She grew up on a bank of the Huangpu River, which runs through the seaside city of Shanghai, in East China. Since she was a child, she has been full of curiosity, and she has yearned to sail. Now, she is a first mate with a doctoral degree in maritime technology. She is also associate professor with Shanghai Maritime University. Her name is Bai Xiang'en, and she is China's first woman to sail across the Arctic Ocean.
Childhood Dream to Sail
Born in 1984, Bai Xiang'en grew up in a family with a fondness for and closeness to the sea. Her grandfather was a lifelong sailor, and her father worked for a shipping company. When she was a child, Bai's family lived on the bank of the Huangpu River. Her father often took her across the river — on a ferry.
"When we were walking along the Huangpu River bank, my father always explained the different kinds of ships. Every night, he told me sailing stories until I fell asleep. He filled me with curiosity about sailing. I yearned to one day go to sea," says Bai.
At the time Bai graduated from high school, in 2002, maritime technology of Shanghai Maritime University (SMU) was the only major in the field open to female students.
Bai, who had a childhood dream to sail, believed her height, eyesight, English comprehension level and other qualities would meet the requirements needed to enroll in the major. She decided to try. Luckily, she was enrolled by SMU.
"Back then, not a single woman had graduated from that major, and I didn't know what was ahead if I chose it," says Bai. "Fortunately, my family and relatives all supported me, though my high school classmates were truly shocked."
An excellent navigator must not only have rich experience in sea travel, he/she must also have extensive knowledge. In addition to learning theoretical maritime knowledge, Bai studied many practical courses in the university, including how to fight a fire, administer first aid and be a lifeguard.
Bai remembered her diving training, especially when she looked down from the five-meter- high platform, including how she was really scared at that moment. She told herself that as long as she made it, she would move closer to her dream of sailing. So, she closed her eyes, took a deep breath and jumped.
Bai Xiang'en [For Women of China]
When Bai crossed the gangway and boarded a seagoing vessel for the first time, in her junior year, she knew she had made the right program and career choice. The university arranged a sailing internship for Bai, and for her classmates. Although she had learned theories and practical operation at school, the feeling of actually sailing was completely different.
"I remember that for the first time as a navigator, I and a sailor were the only two people on the bridge (of the ship). Every order issued by me to the sailor directly affected the safety of the ship's navigation. I could not help but be nervous, and more excited," says Bai.
In 2009, she earned her master's degree in maritime technology, and she began working at SMU. She also became a navigation instructor on Yufeng, the university's training vessel.
Bai Xiang'en is at work. [For Women of China]
Journey to North Pole
In early 2012, China was planning its fifth Arctic research expedition, conducted by the research ship Xue Long, or "Snow Dragon." The 167-meter -long Xue Long is China's only research icebreaking ship in service.
The Polar Research Institute of China (PRIC) provided one opening for a marine officer from SMU. Bai applied immediately. The university recommended her, and she passed the interview with PRIC. She was appointed Xue Long's second mate.
Before she began sailing, Bai did a lot of preparatory work, including becoming familiar with the ship's electrical-navigation equipment, reading the notes taken during the icebreaker's polar-region expeditions during previous years, and collecting the navigation data and planning the route.
On July 2, 2012, the Xue Long departed from Qingdao, in East China's Shandong Province, to conduct geographic, climate and other scientific investigations in the Arctic.
Bai, the ship's second mate, bore major responsibility for navigation, and she needed to be familiar with the geography and the historic conditions of the route, including the location of icebergs and the effects of climate change.
Bai had to choose the right route, check the depth of the water and avoid the icebergs. The journey was challenging, in part because the Xue Long was taking a new route, and the existing charts were outdated and inadequate. As they crossed the North Pole, the thickness and density of the ice exceeded the Xue Long's capacity, and the icebreaker got stuck in a pressure ridge.
"All of the challenges required intense concentration, and it was a time of high stress," Bai says. "I had to constantly maintain my own peak performance during my shifts."
During the lengthy journey, the ship crossed many time zones. Bai was adaptable and flexible, and she managed to cope with changing time differences.
"I did many things I love, such as writing, photography, and playing chess. These were good ways to overcome loneliness," she says. Before she would go to sleep, she usually read and/or listened to light music to improve her sleep quality. "Adequate sleep is vital for maritime officers, because we need extremely high concentration."
The journey lasted 89 days. Bai became the first Chinese woman to sail across the Arctic Ocean.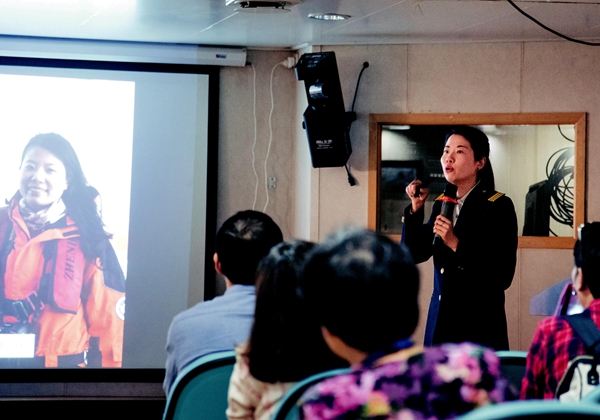 Bai Xiang'en gives a lecture. [For Women of China]
'Empowering Women in the Maritime Community'
"As far as I know, only a few women are engaged in maritime service in China," says Bai. "Some women I know, my former schoolmates for example, gave up their dreams of sailing after they got married," Bai says.
To address the gender gap in the maritime, ports, fishing and related industries, the International Maritime Organization (IMO) announced the World Maritime Day theme for 2019 is "Empowering Women in the Maritime Community."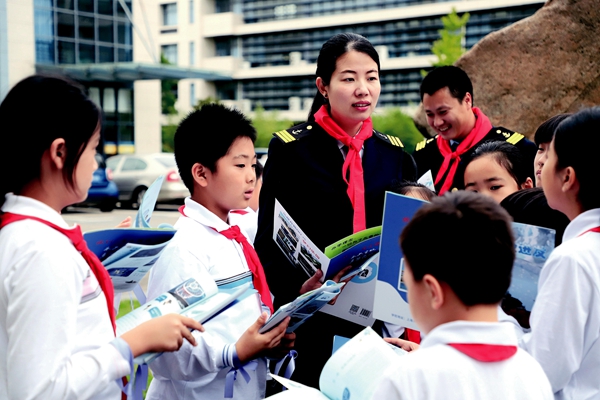 Bai Xiang'en participates in an activity with children. [For Women of China]
The aim is to identify opportunities to encourage women to pursue careers in the maritime and ocean sectors, and to call for action from maritime and other stakeholders in support of achieving the goal of gender equality.
"Of course, it's harder for women to do some heavy physical work, but women are more careful," says Bai. "Now that technology is generally more important than brawn on high- tech vessels. Thus, I believe women can also do as well in the field as men."
Bai is not only an excellent navigator, she is also a good university teacher. She believes the most necessary qualities for a sailor are good mental qualities and extraordinary perseverance. "I want to show the serious and persistent sailing spirit to my students, and to help them, who really love the sea, to realize their dreams of sailing," she says.
Nowadays, there are more and more women among Bai's students. "I believe our country is creating a better environment to empower women in the maritime industry. Like Chinese female pilots and astronauts, women will give full play to their advantages, and they will work with their male counterparts to help build up a strong maritime country."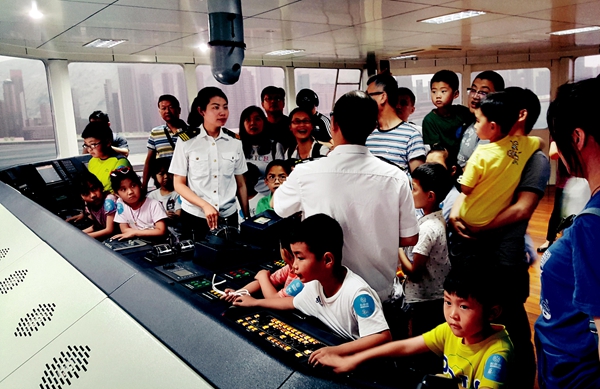 Bai Xiang'en shows the driving cab to children. [For Women of China]
(Women of China English Monthly September 2019 issue)