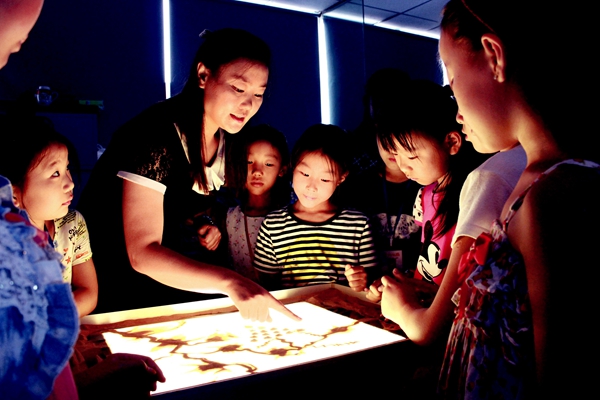 Yang Hua performs sand art to children. [Women of China/Fan Wenjun]
Can sand be transformed into a fine work of art? If you take the time to watch an artist use sand and other materials to create a sand-animation picture, you will no doubt be impressed by the artist's skill. By pouring colored sand and powdered pigments, made from minerals, crystals or other natural or synthetic sources, onto a surface, the artist creates a fixed or unfixed sand-animation picture. Given the ingenious designs and the superb workmanship, an increasing number of people the world over are becoming fascinated with the pictures created by the artists.
Many people are stunned by the beauty of sand art when they watch an artist use sand and other materials to create incredibly diverse and beautiful images, and as the artist applies the materials to a surface as he/she draws lines and figures in the sand. Sand-animation pictures' patterns vividly portray figures, animals, plants, flowers, scenes and/or buildings. Artists also create patterns of scenes and figures from operas and folk tales.
As the art form has become increasingly popular among Chinese, especially in recent years, there has been greater market demand for sand-animation pictures.
Yang Hua has become somewhat of a celebrity in Wuzhi, a county in Jiaozuo, a city in Central China's Henan Province . Why? In 2011, Yang, then 23, established the first sand-animation studio in Wuzhi.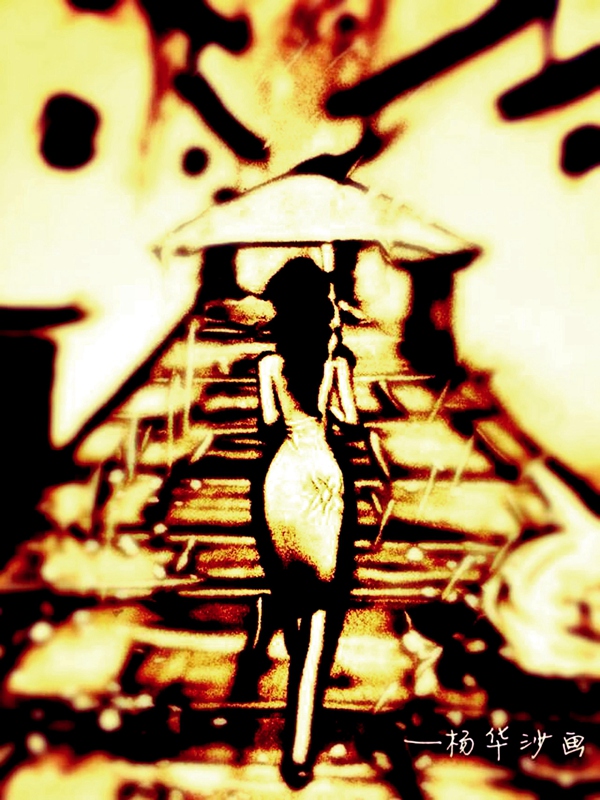 Yang Hua's sad art work [For Women of China]
Yang "fell in love" with sand art the first time she saw the art form. One day, when Yang was in her first year of middle school, her art teacher showed a video of a sand-animation performance. "The art show definitely was a sight to behold," recalls Yang.
As the saying goes, 'Interest is the best teacher." During the summer vacation, after her second year of middle school, Yang went, alone, to Zhengzhou (capital of Henan Province) to study the art form.
Yang has been interested in fine arts since she was a little girl. For her, sand animation is a novel form of art. "Sometimes, I'm deeply touched by the artistic concept of a painting or a poem … I consider sand animation to be the most direct, elegant art form to depict a concept," says Yang.
In 2010, about five years after Yang watched the video of the sand-animation performance, she learned the performer in the video had been Ferenc Cakó, the world-famous sand artist from Hungary. Over the years, Kseniya Simonova, the Ukrainian sand artist, has become Yang's favorite artist. In her spare time, she read books and online materials about fine arts and sand art.
"You might not know how arduous it is to study sand art," says Yang. "While one performs sand animation, he/she has to stand rather than sit in a chair, and he/she must concentrate on his/her work. Usually, one has to practice hundreds or even more than 1,000 times before he/she can depict, with sand, an image at ease."
For example, to make cranes appear true to life, Yang practiced depicting the large birds more than 1,000 times. Hence, her schoolmates called her "headstrong girl."
In 2011, Yang established her sand-animation studio in the county. Through her studio, she provides many services, including conducting sand-animation performances, production of films, videos and television commercials (using sand animation), and conducting sand-animation training. In addition, Yang creates sand art for commercial ceremonies and meetings, dinner parties, weddings and birthday parties.
During the past several years, Yang has devoted all of her energy to pursuing her dream — displaying the unique charm of sand animation. Now, she teaches sand art in some of Wuzhi's primary and middle schools.
"Although sand art has won the favor of countless people in some of China's largest cities in recent years, few residents in Jiaozuo have come to understand the art," says Yang. "I hope more art enthusiasts will take an interest in the art form."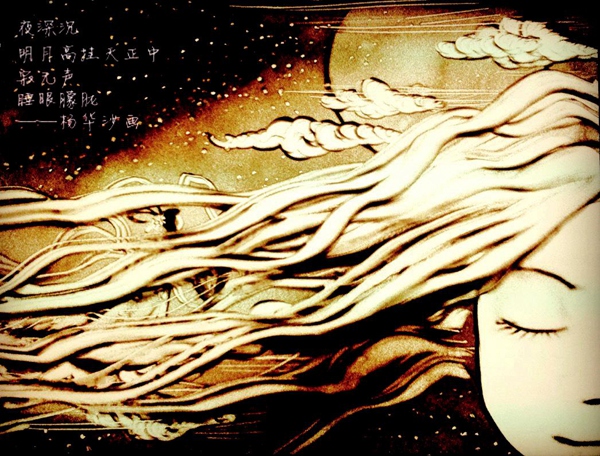 Yang Hua's sand art work [For Women of China]
(Women of China English Monthly August 2019 issue)