Xie Ai'e (L) [For Women of China]
Xie Ai'e has received many awards and honorable titles — including National March 8th Red-banner Pacesetter, National Model Worker and National Most Beautiful Rural Doctor — throughout the years. When asked about the awards, she says, "The honors represent care and encouragement given by our government leaders. The honors also represent the trust and support I have received from fellow villagers. Honors belong to the past. I will continue to do my best, in the future, and particularly to help women in my village live more beautiful and happy lives."
On Honghu Lake, in Central China's Hubei Province, more than 600 people of Chuantouzui Village used to live in boathouses. Xie used to be a rural doctor who worked on the lake. She piloted a boat to visit the people when they were ill. Xie's boat was once regarded by her fellow villagers as their "lifeboat."
In 2016, the people moved from the boathouses onto the shore. Xie established two "March 8th Red-banner Holder's workshops." As a rural doctor and president of the local women's federation, Xie has since used the workshops as a venue to treat the villagers, provide medical-care training and promote local government's supportive policies that benefit people.
Travel on the Lake
In 1992, the then 23-year-old Xie and her husband, He Taiyu, opened a clinic on a boathouse under Chuantouzui's village committee. There was no air conditioner on the boat. Xie and He had to endure the hot and humid weather during the summer months, and the chilly wind in winter. Xie learned to operate the boat, so she could visit her patients whenever they were in need.
During the following 25 years, the couple cared for more than 30,000 patients on the boat. They visited patients' homes more than 3,000 times, and they transferred 100-plus pregnant women to hospital.
"When my husband and I worked on the lake, we had limited space to treat our patients. Everything was done in a small room. In 2013, our provincial health bureau allocated more professional equipment, including a sickbed, a computer and a file cabinet. In 2016, after villagers began moving onto the shore, we established a clinic to provide much better services," she recalls.
Xie, who works as both a doctor and a woman cadre, does her best to serve the villagers. She takes notes to record villagers' difficulties and needs. She also notes to record villagers' difficulties and needs. She also helps organize training for local women, so they can learn professional skills to find jobs and earn a better living.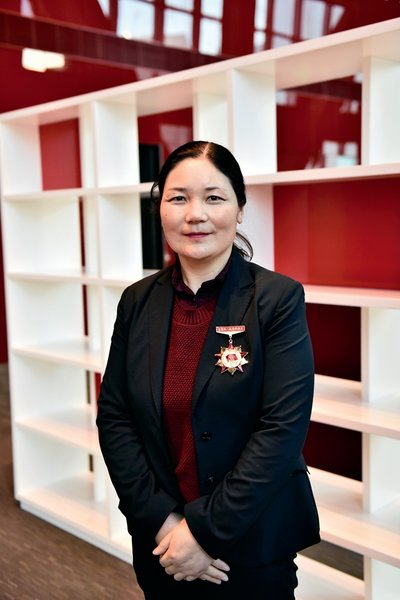 Xie Ai'e [Women of China/Zhang Jiamin]
A New Life
In 2016, some 2,640 villagers, from 930 households living on Honghu Lake, began relocating their homes onto the shore. The villagers of Chuantouzui used to earn a living by fishing. After they relocated to houses on the land, they had a difficult time getting used to the new lifestyle. Moreover, they worried about how to earn stable incomes.
Xie explained the local government's support polices. She told the villagers they could move into new flats and residents aged 60 or better could receive a monthly subsidy. "We should take the initiative to find jobs or start businesses. If anyone needs help, feel free to tell me!" Xie encouraged her villagers.
Xie has helped women from her village apply to attend free training sessions in the women's employment and start-up center in Honghu. The women have been taught practical skills, such as catering, nursing, housekeeping, hairdressing and e-commerce. She has also helped young villagers meet managers from local enterprises, so they could participate in internships and/ or professional training.
With Xie's help, 87 villagers have been employed by a shoe-manufacturing company, 13 women have joined a tourist company and three female college students have received subsidies to continue their education.
Working Like a 'Bridge'
As a recipient of many awards, and as a delegate to both the 19th CPC National Congress and the 12th National Women's Congress of China, Xie knows the significance of working like a "bridge" between the Party and people at the grass-roots level. She tells the villagers to protect their living environment, and she encourages women to "hold up half the sky" in the new era.
"All of the honors I have received have come from my fellow villagers. Without them, I couldn't have made the achievements. So, I will dedicate my whole life to serving my villagers heart and soul," Xie says.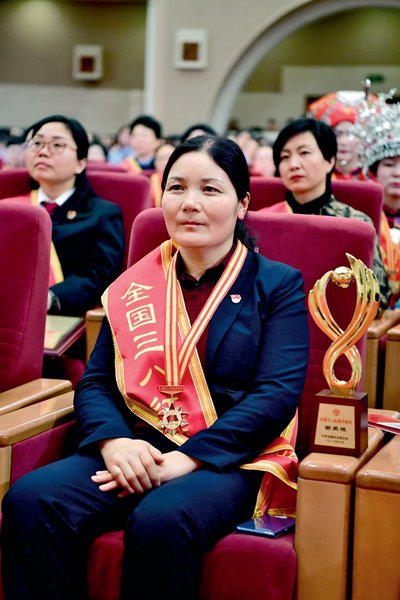 Xie Ai'e [Women of China/Fan Wenjun]
(Women of China English Monthly April 2019 issue)