A photo of Yang Xingming's family [For Women of China]
A family's motto passes good family traditions, and especially virtues, from one generation to the next generation. Virtues and good traditions help family members live in harmony. The virtues can be a form of guidance, which help educate younger generations of the family. The virtues help young members of the family grow up healthily, and the virtues teach them to give back to society.
Yang Xingming is one member of a large family that lives in Wulong, in Southwest China's Chongqing Municipality. Good virtues have been passed down through five generations of her family.
"Loyalty and filial piety are the virtues we pass down, from generation to generation, in our family. Cultural knowledge and moral virtues help us build a prosperous family. Diligence and thriftiness are the best ways to run our family's business. Modesty and tolerance keep harmony within our family …" Children of Yang Xingming's family gather at the courtyard of their house and recite those words together.
At Yang's home, in Shichuang Village, Yangjiao Town (administered by Chongqing's Wulong District), it is common to see her family members, especially the children, being taught to read the family's motto.
Yang, now in her nineties, can no longer see or hear clearly. But she remembers clearly all of the words written in her family's motto. She still teaches the young members of her family to recite the motto. The elderly woman looks happy and peaceful when she is with the children.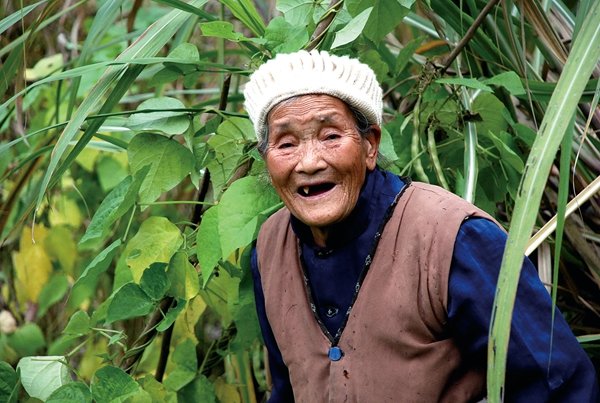 Yang Xingming [For Women of China]
Love and Generosity
Yang was born in Shichuang Village in 1923. When she was 19, she married Huang Shanghuai, who lived in the same village.
"The family's motto represents the soul of our family. If we lose our soul, our family will have big trouble," Yang says, noting the importance of her family's motto.
An inscribed board hangs high on Yang's living room wall. The board, on which the family's motto is written, is eye-catching.
After she married into Huang's family, in 1942, Yang was taught to recite the Huangs' motto. Over the past 100 years, the members of the Huang family, of five generations, have kept the tradition of reciting the family's motto at family gatherings during Chinese festivals, such as Spring Festival.
The Huangs believe "parents' love is deep, like the ocean." They know they should show filial piety to their parents throughout their lives. A husband and his wife should live in harmony. The family's virtues and good traditions are the best things that can be taught to younger generations of the family.
Huang Jicai is Yang's eldest son. He recalls an unforgettable experience in 1953, when he was 10 years old. One day, Huang Jicai played outdoors for a long time after school. He did not return home until it was quite dark. His parents were worried about him. Huang Shanghuai urged his son to recite the family's motto. "When I was in primary school, I once quarreled with my classmate, and we had a fight. My mother also asked me to recite my family's motto, as a punishment," Huang Jicai said.
When he was young, he thought it was extremely boring to repeat the family's motto — again and again. But since he has established his own family, and since he has had children, he has realized the importance of remembering his family's motto. "The motto teaches me loyalty, filial piety, diligence and other moral virtues. I have benefitted a lot through learning those virtues," says Huang Jicai.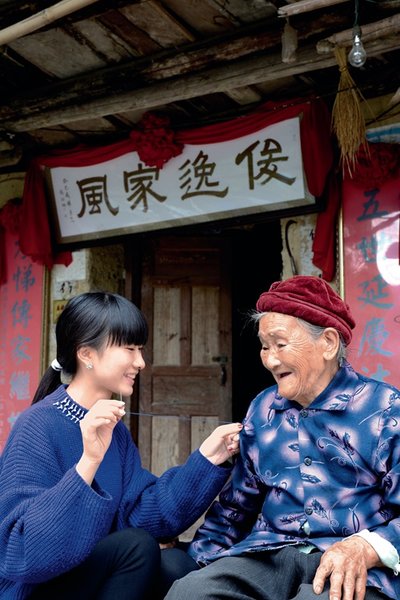 Yang Xingming (R) and a child of Yang's family [For Women of China]
Loyalty and Courage
Yang never attended school. As she recalls the past, she remembers how Chinese women's social status was very low. It was not until the founding of the People's Republic of China, in 1949, that Chinese women received equal status with men. When she compares her current happy and prosperous life with that of the past, Yang urges the younger generations of her family to cherish what their motherland has given them. She asks the young family members to be loyal to their country, and to make contributions to ensure the advancement of China's development.
Huang Chunhong is one of Yang's great-grandchildren. He joined the armed police force when he was 18. "Brothers of my grandfather joined several renowned battles to fight against Japanese invaders and liberate Chinese people. I admired their courage so much when I was a little boy. I dreamed of becoming a soldier," Huang Chunhong recalled.
"When I served in the armed police force, my father told me that a person should fulfill his/her value, not only in his/her own, small family, but also in the big family of his/her nation." Huang Chunhong says he often thought about his family's motto. Given his diligence and hard work, he won several awards as an excellent soldier.
As Huang Chunhong recalled the past 10 years, when he served in the armed police force, he was sad that he had too little time to spend with his family. "Every time I feel sorry for my family, my great-grandmother comforts me, by telling me that safeguarding our country is the best way to show my filial piety. I am grateful that I have received understanding and great support from my family," says Huang Chunhong.
Now, he urges his son, Huang Pengrui, to pass on the good traditions of their big family, and to study hard to become a useful person, who will make contributions to his motherland.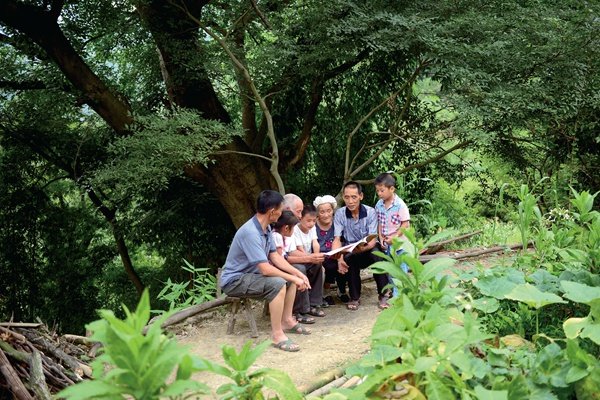 Yang Xingming's family members [For Women of China]
Kindhearted and Harmonious
"Be kindhearted and live in harmony with neighbors" is one of the important things Huang Shanghuai has taught his children.
The family was poor when Huang Shanghuai was young. After he and Yang had their children, Huang Shanghuai picked herbs from the mountains near his home, and he studied traditional Chinese medicine. However, he seldom accepted money from his neighbors when they turned to him for help.
"When I was young, my father taught me to recognize various kinds of herbs. He asked me to learn traditional Chinese medicine, so I could help our neighbors cure illnesses when my father was too old to do this job. But my father told me I should never accept money from our neighbors," Huang Jicai said. "My father told me our neighbors had helped us a lot when we were poor, so we should give back by helping them cure illnesses, for free."
Huang Jicai learned traditional Chinese medicine from his father, and he gradually became a well-known "volunteer doctor" in his village. Sometimes, the medicine Huang Jicai gave his neighbors failed to take effect. When that happened, he would visit the patients to see what was wrong. Was the effort worth it? That was a question Huang Jicai often had to answer.
"Actually, I don't think about whether it is worth doing or not. You help me, and I help you. That's the common life we have in our hometown. I am still strong enough to help others. I can earn a living on my family's farm. All of my family members support me in helping other villagers," says Huang Jicai. He is already over 70, but he is still willing to help neighbors in need.
"The Huangs form such a warm family. They love each other within their big family. They also do their best to help others. They set a good example for everyone in our village," says Zheng Anhai, one of the villagers.
Many of their fellow villagers have educated their children according to the family virtues promoted by the Huangs. Influenced by the Huangs, some villagers have also summarized their own families' mottos.
The Huangs have received many awards, including Moving Chongqing Top 10 award, the National Most Beautiful Family award, the National Civilized Family award. All of the certificates are displayed in the living room of Yang's house. "We give credit for all of those awards to the motto, which has been passed down for five generations of our family," Huang Jicai concludes.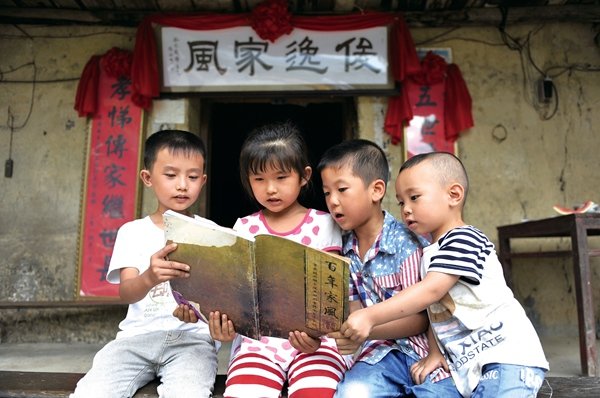 Children of Yang Xingming's family [For Women of China]
(Women of China)