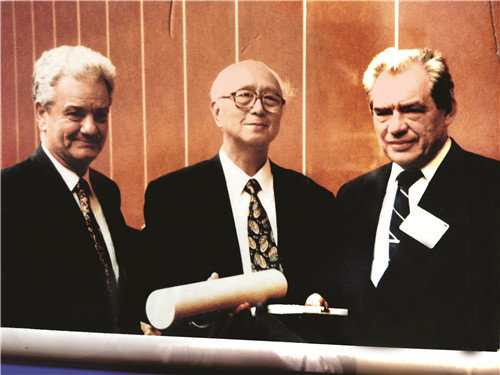 In 1996, Xu Bailun received the Comenius EduMedia Award.[For Women of China]
Xu Bailun, who began working as an engineer with Beijing Institute of Architectural Design in 1955, was one of the first generation of China's architects after the founding of the People's Republic of China in 1949. In 1971, he lost his sight due to retinal damage. He was 41 years old at that time. Soon after that, Xu began writing stories about blind people. In 1985, he and Ji Yuqin, his wife, established Gold Key Education Research Center for Sight-impaired Children. Also that year, Xu launched the Gold Key Project, to help sight-impaired children receive education. During the past three decades, the couple has helped more than 10,000 blind children receive an education with normal children. In recognition of the couple's contributions to the creation of a "gold key" to the bright world for blind children, their family was honored as a "National Most Beautiful Family" in 2018.
Realizing His Potential
Xu in 1930 was born into an intellectual's family in Yixing, a city in East China's Jiangsu Province. After he graduated (in 1955) from the department of architecture of Nanjing (capital of Jiangsu Province) Institute of Technology, he became one of the first generation of architects in the People's Republic of China.
In 1971, Xu lost his sight due to retinal damage. After receiving one year of treatments, his left eye regained partial vision.
During the first few months after he went blind, Xu was driven to the brink of desperation. Then, he began writing literature. He wrote, in various literary forms, about his experiences, especially how he dealt with his feelings (despair, anxiety and irritation) after he went blind. Although his articles were rejected by publishing houses, he did not give up on his dream of realizing his potential as a writer. In 1982, Xu's first short story was published. After that, he had a dozen projects (novels, fairy tales, fables and poems) published. Xu's experience exemplified the saying, "When God closes a door, he always opens a window for you."
Enlightened by the words of one of his friends, Xu in 1983 decided to do something to help blind children. So, he began studying how to read and write in braille. In 1985, China Braille Press published the first edition of Xu's magazine, Chinese Blind Children's Literature. The magazine is the first of its kind in the country. Xu offered (for free) copies of the magazine to rural blind children in different regions of the country. Within a short time, Xu received numerous letters from blind children, and/or their parents, who offered positive comments about the magazine.
To enrich the children's lives, Xu in July 1986 organized a summer camp for blind children, from different regions of the country. Many of the children said they would never forget the camp, during which they visited many places of interest (in Beijing), including the Imperial Palace, Tian'anmen Square and the Great Hall of the People.
During the following few years, Xu took the lead in organizing various activities (for blind children across the country), including summer camps, art shows and various competitions. As a result, more Chinese helped and cared for blind children.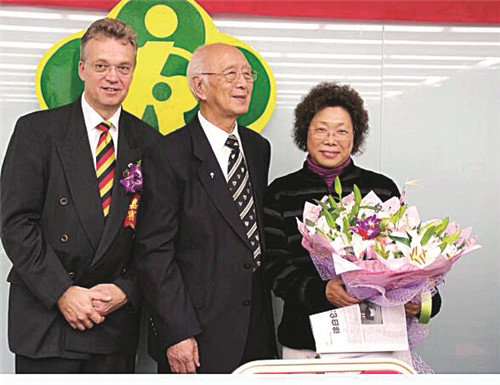 Xu Bailun and his wife attended the handover ceremony of the Gold Key Education Research Center for Sight-impaired Children in 2010. [For Women of China]
'Gold Key' to Bright World
In 1985, as he read letters from teachers with special-education schools and parents of blind children, from different regions of the country, Xu learned that less than three percent of blind children (across the country) received education. Why? Many regions (in China) lacked the capital to establish special schools for blind children.
Learning from advanced-international-education experiences, Xu in 1987 developed the Gold Key Project, an experimental project, to enable blind children to attend primary schools (near their homes), so they could study with normal children. Xu suggested education departments should provide training to the schools' teachers, to help the teachers improve their ability to educate blind children. Also that year, Xu and Ji established the Gold Key Education Research Center for Sight-impaired Children.
The couple cannot remember how many times they have traveled, during the past several decades, to remote, poverty-stricken areas (in China) to tell blind children and their families about the project. Despite the hardships and difficulties, Xu and Ji are delighted to see the children make progress in their studies, and to see the children live happy lives.
The couple during the past several decades has exerted every effort to promote the project. The project has been implemented in 12 of China's provinces or autonomous regions. Many foreign educators refer to the project as the "Gold Key Education Mode."
In recognition of Xu's efforts to educate blind children, UNESCO (United Nations Educational, Scientific and Cultural Organization) in 1996 presented him with the Comenius EduMedia Award. Xu became the first Chinese and the only blind person (in the world) to win the award.
On October 15, 2010, Xu transferred the center's administrative power to China Disabled Persons' Federation. Also on that day, the couple donated their books and documents about the project to Beijing Municipal Archives.
As he was approaching 80, Xu compiled the Operation Manual for the Gold Key Project. "I hope more blind children will realize their potential, to prove to the world that they can achieve whatever they desire or dream."
Happy Family
The like-minded Xu and Ji have been working together to help and care for blind children during the past three decades. The couple are excellent work partners — Xu makes plans to promote the project, while Ji helps Xu implement plans and manage the center.
"My wife 'holds up half the sky' of our center," Xu has been quoted as saying. At first, Xu and Ji were greenhorns in the education of sight-impaired children. As they implemented the project, they gradually became experts in educating such children.
For dozens of years, the couple has constantly been in each other's company. Ji often says to Xu, "I'll be your eyes and cane throughout my life." Every morning, Ji reads newspapers and books to Xu. Then, they stroll, hand in hand, in a park (near their home). Sometimes, they listen to music. After they have a meal, they clean the table and wash the dishes. Both believe it is a blessing to be in each other's company.
Due to Xu's impaired sight, Ji has filled their house with bright-colored furniture, such as orange-red sofas and light-yellow chairs and book shelves. She has also stuck strips of red paper on switches, so Xu can easily turn the lights on or off. The house is also filled with the couple's photos, taken together during the past 30-plus years.
The couple often invites their friends to their home. Ji has transformed their balcony into a small "cafe," to entertain their guests.
As a member of her community's volunteer group, Ji in recent years has tried her best to promote harmony within the community. Xu launches into a spiel whenever anyone mentions Ji's virtues. Xu says, "Ji is sincere and is always ready to help others ..."
When Xu's three sons, with their wives and children, visit the elderly couple during weekends, Ji hugs each of them, saying "I love you." Ji often helps Xu's sons, who have tight work schedules, take care of their families.
Ji and Xu, who have gone through thick and thin over the years, are content with their lives. When asked how a couple can live in harmony with each other, Xu and Ji both say a couple should not only appreciate each other for their virtues, but also be tolerant with each other.
At the end of 2018, China Braille Press published Kafka's Reverie, a science fiction story written by Xu Bailun. [For Women of China]
(Women of China)