Sheng Lijun receives the honorable title of "Shandong Provincial Excellent Doctor." [For Women of China]
"I have no regrets, but I still miss my father very much. I still feel sad when I realize we cannot be together anymore," says Sheng Lijun, a recipient of this year's National Most Beautiful Family award. During an event (in Beijing in late May) that highlighted stories of good family virtues, Sheng Lijun recalled how she had looked after her father, Sheng Qi, during the 10 years when Sheng Qi battled cancer.
Giving Back
Sheng Qi used to be a doctor. In Sheng Lijun's memories of her childhood, her father often left home, late at night, to deal with emergencies at the hospital. Sometimes, Sheng Qi invited patients, who were from impoverished families, to his home to have meals.
"I chose to study clinical medicine as my major in college, because I hoped to inherit the kindheartedness of, and the responsibilities shouldered by, my father, who was a doctor. In fact, given the influence we have received from our father, two of my siblings and I have chosen to work in the field of medical science. Seven members of our big family are currently working on the 'frontline' of medical care. We are truly a family of doctors," Sheng Lijun says.
When Sheng Lijun was young, her father often reminded her that "one should show his/her filial piety to his/her family as early as possible." Sheng Qi turned those words into deeds.
For more than 10 years, Sheng Qi insisted on living with both his mother and mother-in-law, so he and his wife, Zhang Yuling, could take good care of their mothers. Both of the elderly women lived happily with their children and grandchildren until they passed away, both in their nineties. It was from her parents' deeds that Sheng Lijun realized the importance of showing one's filial piety.
Bad news shocked the Shengs in September 2004. Sheng Qi was diagnosed with lung cancer. "My father was 67 that year. Mother and I made up our minds that we would accompany him, and give him as much love and care as we could," Sheng Lijun recalls.
Over the next 10 years, Sheng Lijun and her mother gave Sheng Qi massages almost every day. They chatted with him, to help ease his pain. Due to the illness, Sheng Qi had to lie in bed and rely on his wife and daughter to take care of him. Sheng Lijun looked after her father carefully, the same way her parents had looked after her when she was a child. Sheng Lijun believed it was the right time for her to give the love and care, which she had received from her parents, back to her father.
Sheng Qi told his family he wanted to complete a family tree and leave it to future generations, so they would better understand the history of the Sheng's family. Sheng Lijun and her three siblings started to contact family members, to record their information. It took them a few months to compile, and have printed, a book of their family tree.
During the decade that he suffered from cancer, Sheng Qi cherished each minute — and even each second — he could be with his family. One day, in September 2014, Sheng Lijun noticed her father's mouth was slightly crooked. Given her 20-plus years of work in cancer treatment, Sheng Lijun immediately realized her father's health might be turning worse.
Sadly, the result of a craniocerebral MRI (magnetic resonance imaging) test proved the cancer had spread to Sheng Qi's brain. Sheng Qi wrote a long poem, entitled "Don't Cry," to express his love and gratitude for his family. He had to shave his head. He told his four children they must take good care of their mother, who was his beloved wife.
Also in 2014, Sheng Lijun was promoted to assistant dean of Shandong Cancer Hospital and Institute, in East China's Shandong Province. She remembered her father had told her that healing patients and saving lives were the top missions for a doctor. Through the years, Sheng Lijun has tried her best to turn her father's words into action.
During the last days of Sheng Qi's life, his wife and children decided to end his medical treatment. They hoped Sheng Qi would have a comparatively peaceful time in the final stage of his life. On September 27, 2015, the Shengs celebrated the Mid-autumn Festival, and that day was also Zhang's birthday and the golden (50th) wedding anniversary of her and Sheng Qi's marriage. Their children gathered in Sheng Qi's bedroom and held a golden wedding party. They brought a cake and flowers to celebrate the important anniversary. For the first time, Sheng Qi presented beautiful flowers to his wife, and he gently held her hands in front of their children.
"Gratefulness, apology, everlasting love, and farewell — I give my hands to you, so you will find me after our lives turn to a new round," Sheng Qi told his wife. Sheng Lijun remembers those words, and how her father died just days — on October 10, 2015 — after he spoke them.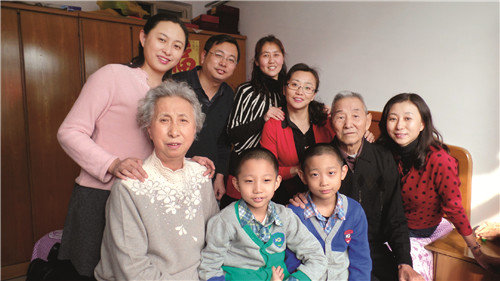 Sheng Qi's children and grandchildren used to visit him almost every weekend.[For Women of China]
Sheng Lijun and her family take her mother to travel.[For Women of China]
Passing on Family Virtues
Two years after Sheng Qi died, some video clips, which documented his daily life with his family, as he was fighting cancer, were shared by Sheng Lijun in a documentary, entitled "Choice and Dignity." Most of the clips were taken by Sheng Qi's family. "Sometimes we get together, and then, we part from each other. We have to say goodbye to someone during each 'stop' throughout our lives. If we have to say farewell to someone, we ought to enjoy — happily and peacefully — the last moment when we can still be together. Especially for our family members, we must create remarkable memories of our family," Sheng Lijun says.
Sheng Qi planted a small tree near Sheng Lijun's home after he was diagnosed with lung cancer. He told his daughter she could look at the tree whenever she missed him. Now, the tree is much taller. Sheng Lijun likes to stare at the tree every time she passes by. She feels as if her father is with her when she looks at the tree.
Sheng Lijun says her family virtues include loving parents and loving all family members, working hard and living an honest and thrifty life. Those virtues have been passed down to each member of the Sheng's family.
Sheng Lijun is an experienced doctor, who specializes in the treatment and prevention of tumors. She has encouraged many patients to fight bravely against cancer, and to never give up hope for survival. She not only tries her best to ease patients' physical pain, she also comforts them mentally. She chats with her patients, and she helps them become happier when she visits them. After she returns to her office, she discusses — carefully and seriously — with her colleagues how to adjust the patients' medicines.
Sheng Lijun's patience, diligence and excellent medical skills have won her the trust of her patients. She has received the honorable title of "Shandong Provincial Excellent Doctor." She gives 50-60 lectures, every year, to promote health-care knowledge.
Sheng Lijun's husband, Li Hongxin, is a cardiac surgeon who works at Shandong Provincial Hospital. As chief surgeon, Li does more than 800 operations every year. He has a solid reputation in minimally invasive surgery for treating heart diseases.
Sheng Lijun and Li Hongxin's daughter, Li Mengning, has learned from her parents the importance of self-discipline, and being self-reliant. A graduate from the University of Cambridge, Li Mengning has returned to China to help advance the development of her mother country.
The Shengs believe gratitude and filial piety are the best gifts in their family.
Sheng Lijun celebrates the Lantern Festival in hospital with her patients and their family members.[For Women of China]
(Women of China)