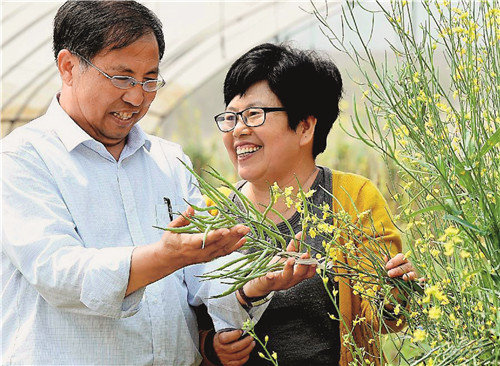 Ru Zhengang(L), a specialist in the planting of wheat, Yuan Lianzhuang(R), an expert in the planting of Chinese cabbage. [Women of China/Fan Wenjun]
There is a particular Chinese couple, both of whom are agricultural scientists, in Central China's Henan Province. The husband, Ru Zhengang, is a specialist in the planting of wheat, while his wife, Yuan Lianzhuang, is an expert in the planting of Chinese cabbage. Given their achievements in their respective fields, Ru and Yuan are referred to as "the couple talented in agricultural breeding," the so-called "Dad Wheat and Mom Veg," and "the Curies in China's agricultural industry." This year, Ru and Yuan are ecstatic, as they have been named recipients of the honorable award of National Most Beautiful Family.
Make Every Seed Count
The icon Ru uses for his WeChat account is a picture of himself wearing a straw hat, and standing in a clump of wheat. During the past 30-plus years, Ru has spent most of his work hours studying and researching the breeding and planting of wheat. He has a dream: To fill granaries across China with China-produced wheat.
Ru was born in 1958 into a farmers' family in Qinyang, a city in Henan Province. He and his siblings did not have enough to eat when they were young. During his childhood, Ru dreamed of one day producing a lot of wheat, to ensure all Chinese would not go hungry.
In 1981, Ru was selected by Huang Guangzheng, a renowned Chinese expert specializing in agricultural breeding, to enter the breeding industry. Over the past three decades, Ru and his team have developed several new types of wheat, which are resistant to insects and cold weather. Ru has led his team in developing scientific theories and methods for breeding wheat. They have established molecular biology labs, artificial-climate rooms, intelligent greenhouses and outdoor-trial fields to explore and test innovative techniques.
Ru, currently a professor with Henan Institute of Science and Technology, is an expert, known nationwide, in the breeding of wheat. He is also a recipient of China's State Science and Technology Award.
When asked about his achievements, Ru says, "Without my wife's support, I could not have achieved so much. I give the larger part of the credit to my wife."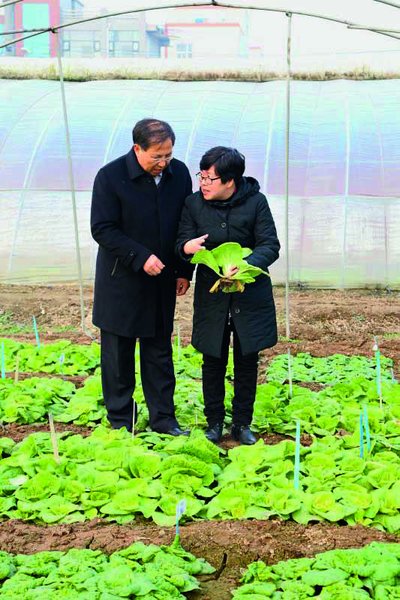 "Dad Wheat and Mom Veg" in the fields. [Women of China/Fan Wenjun]
Ten-Year Appointments
Ru and Yuan, who were schoolmates, married in 1984. Ru respects and admires his wife very much. "My wife has dedicated herself to working with her team. She tries her best to provide technological support to ordinary people who grow vegetables in the countryside. I remind my wife, time and time again, that she should take good care of herself. But she still insists on the principle that 'work always goes first.' I am deeply moved by her devotion to work," Ru says.
Yuan is a researcher with Xinxiang Academy of Agricultural Science, also in Henan. She specializes in the breeding of vegetables. She has cultivated 10-plus types of Chinese cabbage.
Ru and Yuan have fulfilled two "10-year appointments" they made with each other. Explains Ru: "For the first '10-year appointment,' we competed with each other to see who would be first in cultivating new types of seeds and make a breakthrough in our research. We joked that 'the loser would be responsible for doing more housework.' But we came out even during the first 10 years.
"For the second '10-year appointment,' we competed to see who could better promote the newly developed seeds. Again, we made the same achievements in this regard. Then we had another 'appointment' — to better understand each other, and to inspire each other to develop innovative ideas and make new contributions in our respective research fields."
They have fulfilled that third "appointment." Inspired by Ru's new theory concerning the breeding of wheat, Yuan has developed a cross-breeding method between typical Chinese cabbage and a species of cabbage growing in East China's Shanghai Municipality. Ru has also adopted some advanced techniques, which have been developed by Yuan, in artificial-climate control for breeding wheat.
With mutual understanding and support, the so-called "Dad Wheat and Mom Veg" have made contributions to improving food quality in China.
A bumper crop of wheat.[Women of China/Fan Wenjun]
Recording Life in Poems
Ru and Yuan lived separately for the first 15 years after they got married, in 1984. During those years, they lived in different cities. They wrote letters — and poems — to keep in touch. Why did they write poems? "Because both of us were quite busy, and we did not have much time to write long letters. For us, a poem was a good way to express our emotions in just a few sentences," Ru answers.
For example, Ru wrote a poem to Yuan after she moved to Beijing to continue her studies and research. "My beloved headed for Beijing, studying new techniques and experiencing a cold winter in the metropolis. Living alone and far away from home, I know how much you miss our home. But don't you feel lonely, because you have my concerns wherever you go. Looking forward, with my heart and soul, to the day you will return to the South, and to our home," Ru wrote. Touched by her husband's words, Yuan replied with a poem to express her "Longing for Home from Beijing."
Due in part to their work-related pressures, Ru and Yuan did not have much time to look after their daughter. "My wife and I felt regret. We tried our best to spare time accompanying our daughter. We also tried our best to set a good example for her, urging her to be an earnest and diligent person," Ru says.
He wrote a poem to his daughter once when he failed to celebrate International Children's Day (June 1) with her. "You are a component of the vast universe. You have a duty to decorate the future of our world. So come on, kid! Make your strength count, kid!" Ru wrote.
As a recipient of this year's National Most Beautiful Family award, Ru hopes to promote his understanding of family to more people. "A family's members must understand and support each other. My family has a goal: To enrich the food ordinary Chinese people eat in their daily lives, and to help them feel a sense of happiness and pride when eating those foods. My family members are working earnestly and diligently to fulfill our goal. As each family represents a 'cell' of our society, if each 'cell' is healthy, our country will grow stronger — and with more positive energy," Ru concludes.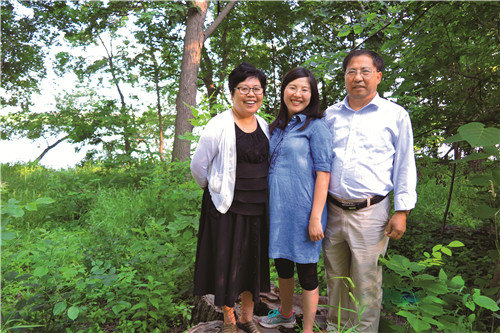 "Dad Wheat and Mom Veg" with their daughter. [Women of China/Fan Wenjun]
I Am China's Wheat Grower
— A poem written by Ru Zhengang and Yuan Lianzhuang
I am a wheat grower, who has my soul rooted in vast farmland, and who thinks about people's need of food all the time;
I am a wheat grower, who broadens my horizons all over the world, and who brings best genes of wheat back to where my home is;
I dream of looking at the farmland as it turns golden, with tons and tons of top-quality wheat;
I am a wheat grower, who is fascinated by the roaring sound of machines and the beautiful wheat grains;
I am a wheat grower, who has a great goal to bring top-quality wheat to millions and millions of people in our home;
I dream of looking at the farmland as it turns golden, with tons and tons of top-quality wheat;
I am a wheat grower of China, of our home!
(Women of China)