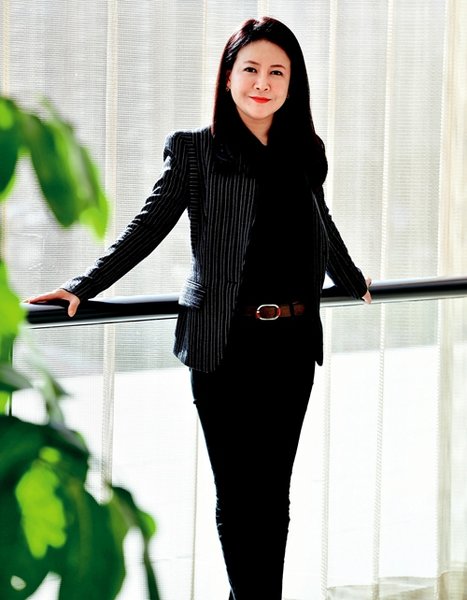 Lü Aihui, deputy chairperson and managing director of Yanbian Xumu Kaifa Co., Ltd. [Women of China/Fan Wenjun]
Lü Aihui, deputy chairperson and managing director of Yanbian Xumu (Animal Husbandry) Kaifa (Development) Co., Ltd., is somewhat of a celebrity in Yanbian Korean Autonomous Prefecture (in Northeast China's Jilin Province). Why? Despite the changes in her status — from a director with CCTV (China Central Television) to overseas returnee, and from a cadre with an educational institution to an entrepreneur — Lü during the past 13 years has stuck to her dream of helping residents of Yanji (capital of the prefecture), her hometown, live better lives by promoting locally produced beef products throughout the world.
"When I was a little girl, my father, who was then an employee of a company (in the prefecture) dedicated to developing animal husbandry, and I often lived on the pasture. Influenced by my father, I then sowed the seeds of the dream of promoting our beef
products worldwide," recalls Lü.
Giving Up 'Iron Rice Bowl'
In 1996, Lü's teachers recommended her, one of the top students in the Middle School Affiliated with Northeast Normal University, to study in the undergraduate program on the Korean language at Beijing Language and Culture University. In 1998, Lü won the championship during the Beijing Korean Language Speech Contest . Between March and September 2001, she attended a course on the Korean language at Ewha Womans University, a private women's university in Seoul, capital of the Republic of Korea.
Soon after she worked as director with China Reports (in August 2000), a news program with CCTV International, Lü began studying English, to improve her competitiveness. Within a year, she passed the IELTS (International English Language Testing System) test. From November 2001 to June 2003, Lü studied English at the University of Westminster (in London). In April 2005, she earned her master's degree, in management science, at the University of Surrey.
Lü returned home a month after she earned her master's degree. Within a short time, she began working at an educational institution dedicated to promoting the development of school curriculum and textbooks. She was assigned to the team dedicated to the promotion of the national primary and middle schools' new curriculum reforms. However, she couldn't apply what she learned about management science in the decent job. Recognizing the potential business opportunity, to develop Yanbian's beef products, Lü decided to establish an enterprise to develop the products. In April 2006, she gave up her "iron rice bowl," or her lifelong job with benefits, at the center, and established Yanbian Xumu Kaifa Co., Ltd.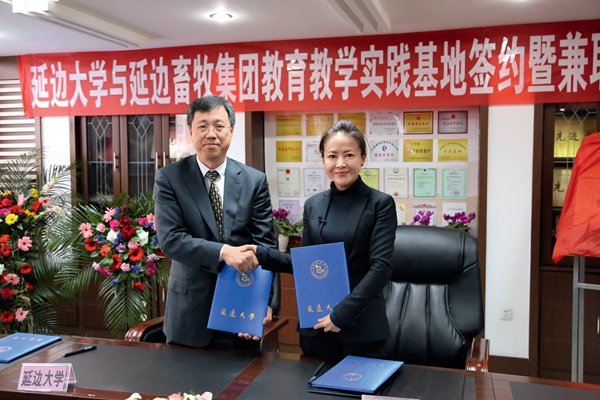 Lü cooperates with Yanbian University. [Women of China]
Developing a Century-Old Brand
China's Ministry of Agriculture in March 2008 announced Yanbian cattle, a new breed of cattle cultivated by Lü and scholars from several agricultural universities in Jilin Province, was a significant achievement in China's history of breeding beef cattle.
In May 2007, Yanbian Xumu began operating a modern cattle-processing line. Three months later, Lü established Longjing Changbaishan Benfu Meat Industry Co., Ltd.
"When I studied in England, my landlady asked me if I had a TV set at home. I was surprised at how little she learned about China. That strengthened my determination to develop a world-famous century-old brand in my hometown," recalls Lü.
On behalf of Benfu, she signed a contract with Marriott International in July 2011. Under the deal, Benfu would sell beef products to several of Marriott's flagship hotels (in different parts of the world). Six years later, Lü signed an agreement with Marriott to process Benfu's livestock products.
Lü in recent years has put much effort into promoting scientific and technological innovation, and that has helped her expand her business. In July 2016, Yanbian Xumu and Northwest A&F (Agriculture and Forestry) University (in Northwest China's Shaanxi Province) established a base for cultivating scientific and technical personnel, who are dedicated to the promotion of Yanbian's beef products. The base is the first of its kind in the country.
"Among the excellent cattle breeds designated by China's Ministry of Agriculture, only our Yangbian cattle has been granted intellectual property right. I'll strive to promote our hometown's beef products," says Lü.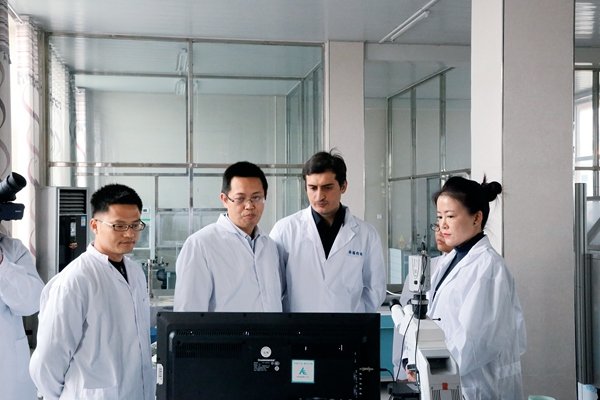 Lü [R, 1st) and her colleagues [For Women of China]
Field of Hope
"Our Benfu beef was chosen as the best food, the top prize for the First China Beef Cuisine Competition, which was held in Beijing in September 2012. Since then, Benfu has become known far and wide. Now, our beef has sold well in the whole country through online sales platforms," Lü recently told media.
Lü in recent years has offered a helping hand to those in need, to repay society for the care and assistance she has received. She has established 45 bases to help impoverished residents find work in Yanbian. As a result, more than 15,000 families have escaped poverty by raising cattle.
As an increasing number of residents (of Yanbian), who had left home to work elsewhere, have returned home to raise cattle, the cattle-raising industry has become a new, bright spot in revitalizing the local economy. Given Lü and the residents' efforts, the wilderness has been turned into a field of hope.
Lü also told media she will lead her employees in developing Yanbian Xumu into a listed company. She said the company will provide multiple services (including dieting, accommodation, entertainment and shopping services) to customers, to create tremendous social and economic benefits.
Given Lü's remarkable achievements, she has received many awards throughout the years. For example, she was honored as a National March 8th Red -banner Holder in March 2016. She was honored as one of the "Young Women Innovators" at the 2013 APEC (Asia-Pacific Economic Cooperation) Women and the Economy Forum, held on Bali Island, in Indonesia.
Lü is grateful to cadres of women's federations, at all levels in Yanbian, who have vigorously supported her as she has developed her business during the past decade. "I'll make greater efforts to expand my business, so I can offer more job opportunities to rural women. Yanbian Xumu will provide opportunities to female university students to study abroad, to help them realize their dreams," says Lü.
"You should strive to be the best yourself," Lü has been quoted as saying. Indeed, the strong -willed woman, who has achieved great success in her career, has no regrets from her youth.
Lü particiaptes in the First Shanghai Cooperation Organisation Forum on Women. [Women of China]
(Women of China English Monthly February 2019 issue)