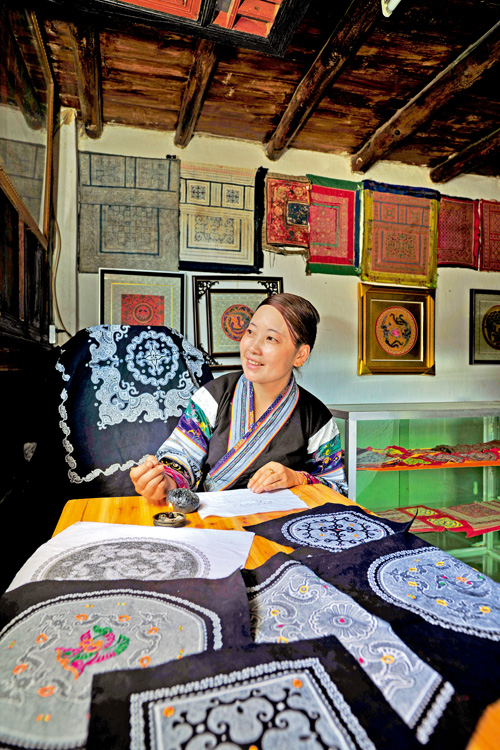 Cai Qun was born in Dazhai in 1974. She was a deputy to the 12th National People's Congress. During the past decade, she has helped many Miao and Buyi women, in her hometown, escape poverty by creating batik embroideries.
Batik, also known as resist-print dyeing, dates back more than 2,000 years. Resist printing is a method used to apply a design on a fabric. It requires the covering of parts of the fabric in a way that will prevent the dye from penetrating the material. The cover may be a variety of materials. Other than flat-bed silk screening and rotary silk screening, resist-printing processes are completed by hand. Wax is used in batik, while string or rubber bands are used in the tie-dye process. Many Miao villages in Central China's Hunan and Southwest China's Guizhou, Yunnan and Sichuan provinces have long been known for their top-quality batik works (including clothing, bedding, handbags and paintings). With white, true-to-life patterns of flowers, animals, plants and landscapes on an indigo background, the exquisite artworks embody the ethnic group's traditional cultural elements. The Miaos' batik craft was added to China's list of intangible cultural heritage in 2006.
Creating Miao's Batik Works
Batik, which originated during the Han Dynasty (206 BC-220 AD), resulted from the wisdom of Chinese craftsmen and craftswomen. Batik is a technique of resist-print dyeing applied to a whole cloth. Batik is made either by using crayons to draw patterns on the cloth, or by dipping melted wax on the cloth to form various patterns. The applied wax resists the dyes and therefore allows artisans to color the material selectively by soaking the cloth in one color, removing the wax with boiling water, and repeating if multiple colors are desired.
According to legend, a young woman, who lived in a Miao village, pondered ways to dye various flower patterns on cloth. One day, she dozed off while she was looking at flowers. In a dream, a fairy maiden led her to a big garden. Fascinated by the beautiful flowers, the young woman did not realize many bees had rested on her floral-patterned skirt. When she woke up, the woman discovered the beeswax marks on her skirt. She tried to remove the marks by dyeing her skirt indigo. To her surprise, the marks turned into white flowers after she washed her skirt with boiling water.
Enlightened by her finding, the young woman invented the technique of resist-print dyeing. She also taught the villagers how to use beeswax to make patterns on their clothes.
The batik works by residents of Danzhai, Anshun and Zhijin, counties in Guizhou Province, represent the acme of the Miaos' batik craft. In accordance with the counties' customs, every Miao woman teaches the craft to her daughter(s).
Various geometrical figures and the Chinese zodiac (the 12 animals, which represent the 12 Earthly Branches, and which symbolize the years in which people are born) are common patterns on batik works. Miao women also create patterns of scenes and figures from folk tales.
Cai Qun, a native of Dazhai, a village in Zhijin County, in recent years has put a lot of effort into promoting the Miaos' batik craft, and in helping local women attain greater wealth by selling their batik works.
In April 2006, Cai opened a small restaurant in her village, which is three kilometers from Zhijin Cave, one of the county's top tourist attractions. Many customers were attracted by the batik embroideries (created by Cai) displayed on the restaurant's walls. Some of the customers paid high prices for some of the artworks.
Recognizing the business opportunity, Cai established a small workshop, and she employed more than 10 women to make and sell batik embroideries. In 2007, Cai won third prize for one of her batik works during the Guizhou Competition of Tourist Products.
In 2008, Cai established Tuoluo Batik Embroidery Tourist Products Co., Ltd. She employed more than 200 women to create and sell the products. A year later, her company's profits hit 500,000 yuan (US $72,463).
Given Cai's success, virtually every Miao family in the county has been creating batik works in recent years. By 2013, Miao women had set up more than 20 studios that sold batik embroideries.
Cai's company collects the studios' batik embroideries and processes the products before selling them. The products have sold well in many countries, including Canada and the United States.
Cai Qun
Cai Qun's work
(Women of China English Monthly December 2018 issue)