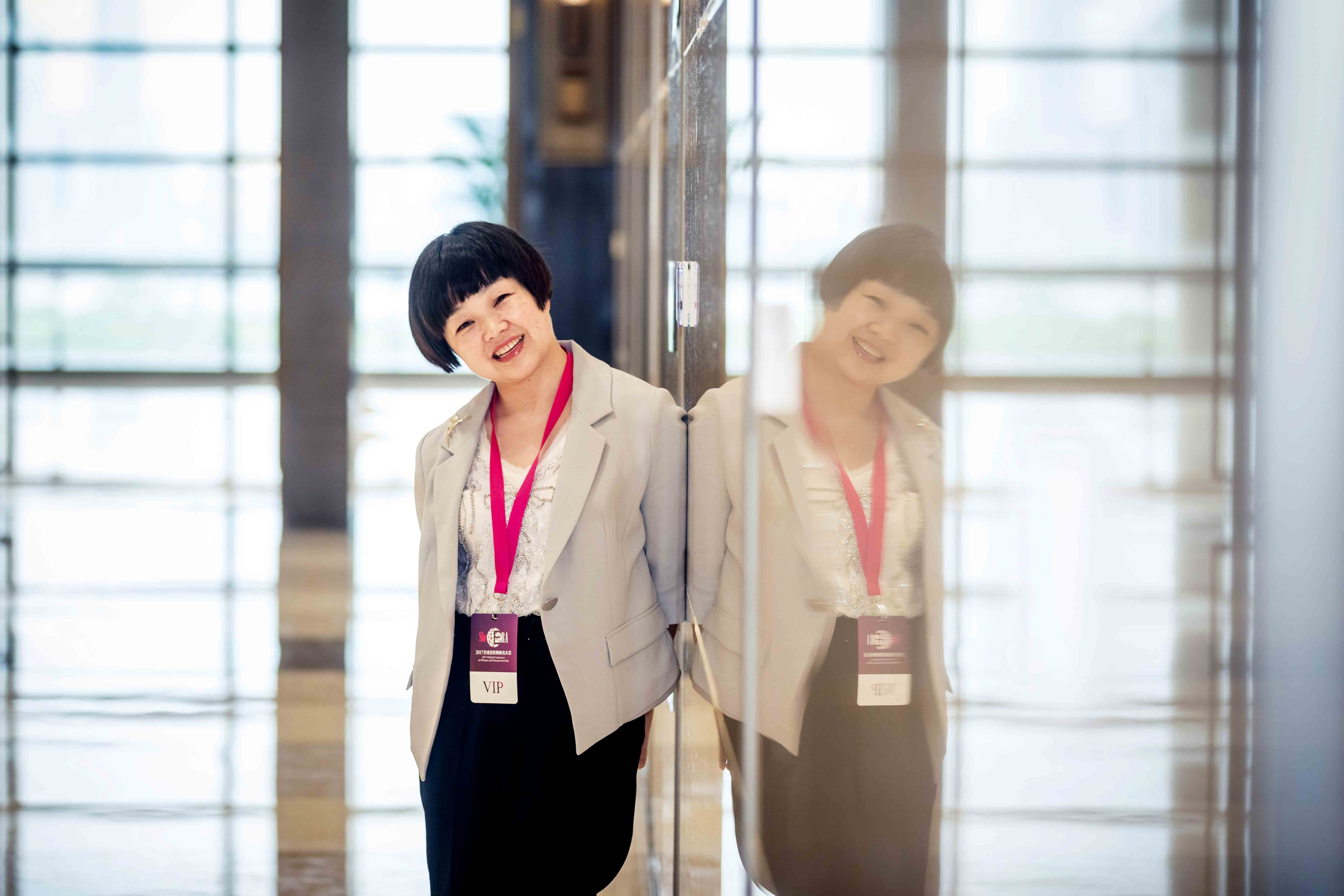 Huang Yinhua
Huang Yinhua, 43, is somewhat of a celebrity in Qingshan, a district in Wuhan, capital of Central China's Hubei Province.
Why? Many residents, especially impoverished and/or disabled residents, consider Huang, President of Wuhan Yangguang Vocational Training School (which provides training to help disabled residents start online businesses) and Hubei Zhihui Yangguang Online Business Investment Co., Ltd. (both in Wuhan), their benefactor.
Huang, who is crippled, in recent years has helped more than 20,000 of Hubei's residents start businesses and/or find work online.
Online Shop
Huang in 1974 was born into a farmer's family in Ezhou, a city in Hubei Province. When she was a little girl, Huang dreamed that one day she would become a dancer. However, her dream was shattered after she was crippled as a result of osteomyelitis (a bone infection). Huang, then 13, had to quit school.
In the following years, Huang read books and taught herself how to write. When she was 17, she wrote an autobiographical novel, Flying Dream.
Two years later, she decided to learn tailoring skills, so she could later earn her own living and help her parents pay their debts; they had borrowed money from their friends and relatives, to cover the costs of Huang's medical treatments.
Early in 1993, Huang decided to try her luck at starting a tailoring business. Her family supported her decision. Within a short time, Huang and her mother went to Qingshan.
With her mother's help, Huang established a tailoring booth on a street. Soon after, Huang signed up for a course to improve her tailoring skills, and to study fashion design.
Two years later, Huang established a clothes store (in Qingshan), which she named "Yunshang" (which literally means "clouds' dresses").
In 1995, Huang established a bookstore near her clothes store.
Three years later, she began using a computer-management system, to run the store. "I was one of the first private bookstore owners (in Hubei), who used such a system to manage a store," Huang recalls.
Huang in 2001 opened a cafeteria (in Wuhan), to create a favorable environment for single residents to get to know each other. Due largely to Huang and her cafeteria's employees' persevering efforts, the cafeteria's business boomed.
A few years later, Huang got married and gave birth. However, life was not always smooth sailing. She got divorced at 35, and her bookstore went bankrupt. Despite the setback, Huang never gave up hope.
Huang in 2009 became one of the beneficiaries of "Magic Bean Moms," a charitable project of Taobao, one of China's largest online-shopping platforms, owned by China's e-commerce giant, Alibaba Group.
The project helps impoverished mothers establish online shops. After attending a five-day training session, provided by Taobao, to help poverty-stricken women establish online businesses, Huang received a computer and 10,000 yuan (US $1,493) in start-up capital from Taobao.
Five days later, she opened her online shop, at Taobao, to sell second-hand cameras. Since then, she has had a new lease on life.
While she managed her online store, Huang learned how to take pictures of her cameras to advertise online. She also made friends with several camera suppliers.
When she learned that she earned two million yuan (US $298,507), in one year, by selling cameras online, Huang marveled at the "magic power" of the Internet.
Establishing School to Help Disadvantaged
As she pondered ways to help disabled people find work, Huang came up with a brilliant idea: Establish a school to provide training, to help disabled residents start online businesses at Taobao. Early in 2010, Huang established Wuhan Yangguang Vocational Training School.
In 2011, Huang received financial assistance from Alibaba to run her school. Gradually, she developed the school into disabled residents' online start-up incubator.
As vice-president of Hubei E-commerce Association, Huang often shares business information with disabled retailers and disabled people, who want to start online businesses.
Huang in recent years has participated in the implementation of "Magic Bean Moms." Given her outstanding performance (she and her team have ranked first in China in terms of her online shop's sales), Alibaba has invited her to share her experience in starting and developing her online business with businesspeople the world over.
When Jack Ma, one of the founders of Alibaba Group, met Huang in 2012, Ma asked Huang how she managed to help so many disabled people open online shops, so they could make a decent living.
Huang replied, "Despite the difficulties, I and my employees have carried on ... We are grateful to those who have helped us develop our business."
Five years later, Ma met Huang again, during the Second Global Conference on Women and Entrepreneurship, hosted by Alibaba in Hangzhou, capital of East China's Zhejiang Province. Ma and Huang made an agreement: To work together for a century, and to provide public-welfare services to Chinese.
Given Huang's efforts to help disabled residents start online businesses, she has received accolades and special titles, including the National May 1st Labor Medal, March 8th Red-banner holder in Hubei Province and One of the Outstanding Entrepreneurs in Hubei Province. Huang hopes to help more disadvantaged people to live better lives.
Huang Yinhua (C) at the conference
Huang Yinhua (R) with Jack Ma
(Source: Women of China English Monthly 2018 March Issue)