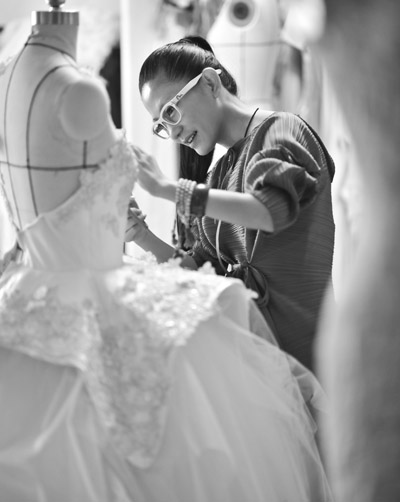 Lan Yu works on a dress. [courtesy of Lan-Yu Studio]
Lan Yu opened her own fashion studio in 2005, when she was a sophomore at Beijing Institute of Fashion Technology (BIFT). In 2008, after she graduated from BIFT, Lan continued to study fashion designing at the Fashion Institute of Technology (FIT) of the State University of New York. After Lan returned to China, she created her own fashion brand — Lan-Yu. Lan, born in 1986, is a "new talent" in China's fashion-design industry.
From Dancer to Designer
Lan Yu began studying ballet when she was five; at that time, she thought ballet dancers were very beautiful. From the time she was young, Lan's dream had been to study at Beijing Dancing Academy. At one point, Lan was determined to become a dance teacher. Those thoughts were short-lived, though, as Lan's mother exerted tremendous influence over her. Lan's mother, a pattern maker, is an expert in Suzhou embroidery. Lan often watched her mother and other relatives as they embroidered clothing. Lan was impressed by their work. When she was 17, Lan watched the movie, In the Mood for Love, during which she developed a lifelong interest in the cheongsam, the traditional dress for Chinese women.
Lan opened a cheongsam shop, to sell the dresses, when she was a second-year high school student. That was how Lan discovered her interest in and talent for designing clothing. She eventually gave up on her dream to be a dance teacher and, instead, decided to study fashion design.
Wanting to be a fashion designer was a great dream, and Lan worked hard to make that dream come true. She helped draw some designs when she was a freshman at BIFT. Lan earned between 80-100 yuan (US $13.11 to $16.39) per page. She managed to save 4,000 yuan (US $655.74) within one year. Lan used that money to rent a workroom, and she began to design and make the clothes that she wore and, in short time, her neighbors began to pay her to make their clothes. "Before I set up the shop, I never wondered if I would have customers … and I never conducted market research … It was fortunate that my neighbors became my first customers," says Lan.
Beginning of a Brand
When Lan opened her workroom, in 2005, she did not have her own brand; in fact, she was a second-year university student who produced clothes in her spare time. She worked hard, gained tremendous experience and, at one point, received the top prize during the Traditional Chinese Formal Wear Design Competition in 2006. Chinatex Corporation bought Lan's workroom in 2008, after she graduated from BIFT, and Lan stayed on as director of the workroom until she moved to New York to continue her studies. Lan learned a lot while employed by Chinatex.
Lan, who studied at FIT for one year, returned to China in September 2009. She believed that Chinese fashion designers were on the cutting edge, so she purchased her former workroom from Chinatex, and then she created Lan-Yu, her own fashion brand.
Lan believes "luck" favors her, as it is not easy being a fashion designer in China. She has received numerous accolades and awards throughout the years. For example, in 2009, she was named a "National Top Ten Fashion Designer" and "Most Media Attention Designer" by the China Designers Association.
Lan had a watershed year in 2010, when she had the opportunity to show the world her talent as a fashion designer. Luo Haiqiong, a Chinese actress, was planning her wedding, and she asked Lan to design a unique wedding dress. Lan was happy, as the request meant she had won the trust of others.
Luo was shooting a TV show in Quanzhou, a city in Fujian Province, at that time, so Lan and her assistant flew to Quanzhou several times to discuss and finalize all of the details. As she watched Luo wear the gown, Lan realized fashion designing would be the focus of her life.
Lan hopes each woman who wears one of her custom-designed wedding dresses will feel loved and cared for. Lan incorporates Chinese elements in her wedding dresses; in fact, her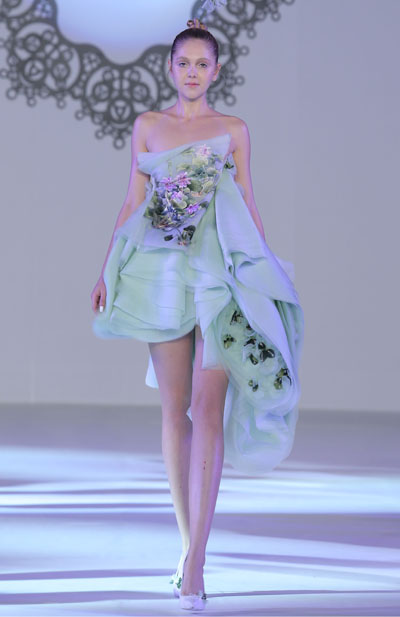 Wedding dress by Lan Yu [courtesy of Lan-Yu Studio]
specialty is combining Suzhou embroidery and high-quality Western materials, such as vintage lace.
Always Creating
Lan constantly studies Suzhou embroidery, and she likes to make embroideries for her friends and valued customers. Once, Lan was asked by a counselor from the British Embassy to design a dress for his daughter's 10th birthday party. The counselor told Lan that it was getting harder and harder to find handmade clothing. After she heard that, Lan decided one must have a strong sense of social responsibility when he/she is providing high-quality clothing. That is why she tells her customers which designs have been made by hand, and which ones have been completed by a machine.
Lan says fashion designers are not only craftspeople, but also open-minded artists who have a broad vision. One should be skilled in music, chess, calligraphy, painting, poetry, wine and tea, so he/she can have good designs, Lan says. Designing is a lifestyle, and the lifestyle is a form of art. If one does not live a good life, one's designs will not impress others, she adds.
Lan believes women designers have certain advantages — including being attentive, sensitive, patient and good listeners. Women designers can easily understand customers' demands.
Lan has received considerable attention from important people within China's fashion industry. Why? They have been impressed by her unique designs. Lan is representative of the young fashion designers in China. She has customized wedding dresses for several celebrities, and she has designed formal dresses for numerous A-list Chinese actresses. Lan's designs have rocked the fashion industry in China.
Lan hopes to read more books and take more leisure trips; in fact, Lan enjoys reading, traveling, designing high-quality clothing and seeing her customers smile.
(Source: Women of China English Monthly December 2013 Issue)