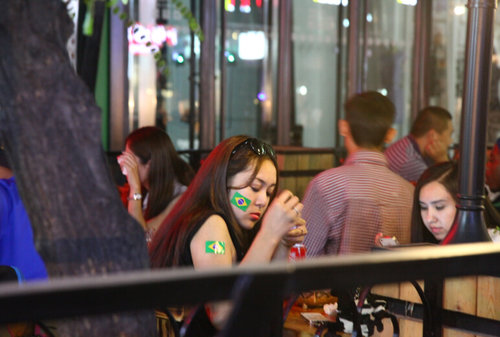 Female football fans in Sanlitun. The 20th World Cup has now finally begun, and the opening game, Brazil vs. Croatia on June 13 (Beijing 4 am) has brought great fun for all football fans, and that also includes female football fans.[Women of China/Zhang Chi]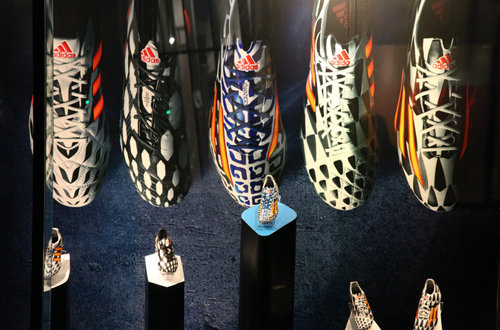 The 20th World Cup has now finally begun, and the opening game, Brazil vs. Croatia on June 13 (Beijing 4 am) has brought great fun for all football fans, and that also includes female football fans.[Women of China/Zhang Chi]
Despite all the negativity surrounding this World Cup --- from tear gas being used to quell striking protesters in Sao Paulo to unfinished stadiums --- the 20th World Cup has now finally begun, and the opening game, Brazil vs. Croatia on June 13 (Beijing 4 am) has brought great fun for all football fans, and that also includes female football fans.
Women of China is brining the latest update on the obsessive female football fans in Beijing and how they plan to enjoy this one-month tournament.
The stereotype of women during the World Cup is usually that they are waiting at home, looking bored and angry at their husbands or boyfriends for watching the game and ignoring them. However, there are legions of female fans across the world who plunge themselves in to celebrate this traditionally masculine sporting spectacle.
At Sanlitun, a famous bar street in Chaoyang District, Beijing, containing the most popular bars and pubs in Beijing, all of which were over crowded on the morning of June 13, stuffed with patrons ready to watch the opening ceremony and the first game. And of course, a huge flat screen in almost everywhere bar we went to.
Ye, a PhD student in one of the universities in Beijing, was watching the World Cup with her friends outside the bar, and told this reporter that her favorite team is Germany.
"I have been a huge fan of the German team since 2002, which was the first time I watched the World Cup, and yes, which was the year the Chinese team made it," Ye laughed.
"She is the only one, and we are all supporting Brazil this year," another girl interrupted.
"It used to be the sports stars and the atmosphere. I did not know anything about football in 2002. I didn't even know what 'offside' mean. I just fell in love with the feeling of being part of a great sport, but over the years I have grown more and more interested in the sport itself. I mean, all sports stars will retire one day," added Ye.
Fans of the host team --- Brazil absolutely dominated the Sanlitun area. Everywhere in Sanlitun fans were seen painting Brazilian flags on their faces and sparkling yellow and green uniforms are everywhere. Only one girl in a Croatian uniform was spotted.
"Of course Brazil will win this year! They are the host!" shouted enthusiastic fans on street.
The opening game of the tournament is no doubt one of the most crucial games of all, because it sets a template for the rest of the competition.
Brazil, as the host of the games, has been popular all the way. Its new star Neymar is quite confident and stressed about wining, as he told the press before the tournament.
In the end, Brazil won the first game 3-1; all four goals were scored by Brazilian players.
"It's a good game. I kind of hoped Croatia would at least score," Ye smiled.